This week Starbucks announced the ability for consumers to tweet a cup of coffee to a friend or follower, which likely amounts to the death of the Twitterverse as we know it, but also provides Starbucks with further opportunity to anger its faithful customers by misspelling their names on their lattes on an even greater scale than its baristas already do. The Tweet-a-Joe campaign adds one more layer to the communication channel between the customer and his/her coffee, and we all know what happens when more humans enter the conversation: Reid becomes Reed, or worse, Pete.
After conducting considerable research last month into the company's customer sentiment patterns using a technology tool that tracks social media channels like Instagram and popular review sites like Foursquare, I found that Starbucks' greatest number of customer complaints on the local level stemmed from its baristas' misspellings of its customers' names on their drink cups. In fact, upwards of 15 percent of customer complaints were related to this issue. Do a search on Google and you'll find the offense runs deep on the web with websites and Tumblr blogs devoted to the issue, such as 'StarbucksSpelling' and 'That's Not My Name, Starbucks.'
In honor of Starbucks' Tweet-a-Coffee announcement, I present the Starbucks' Name My Cup Web Hall of Shame, starting with the most offensive fail of all time:
1. Most Offensive - headline states; "Starbucks Writes 'Vagina' Instead Of 'Virginia' On Cup, Customer Posts To [Hong Kong] Facebook." No further commentary needed.
2. Most Dangerous -- Starbucks managed to mess with NSFW Corp Founder Paul Carr and didn't get its coffee burned. Good thing he doesn't cover coffee franchises, or this could have gotten ugly for the poor social media manager handling Twitter. No one likes a Tweet-Fight more than Carr and no one gets the last word better than Carr. It is best to apologize, walk away quietly and pretend nothing happened where he is concerned.
3. Most Viewed -- the 'StarbucksSpelling' Tumblr blog mentioned above gets the most press and most web traffic. Then there's the fan-generated 'When Starbucks Gets Your Name Wrong' Facebook page, which has generated over 35,000 likes. It is too funny to miss.
4. Most Current -- this tweet from the Barney Stinson parody account, which has 585,427 followers, is currently going viral with almost 500 retweets: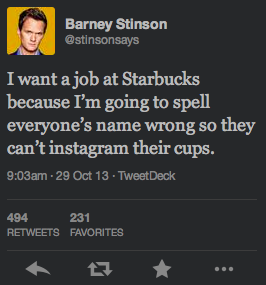 5. Most Personal -- on the rare occasion I visit a Starbucks I get a new name each time: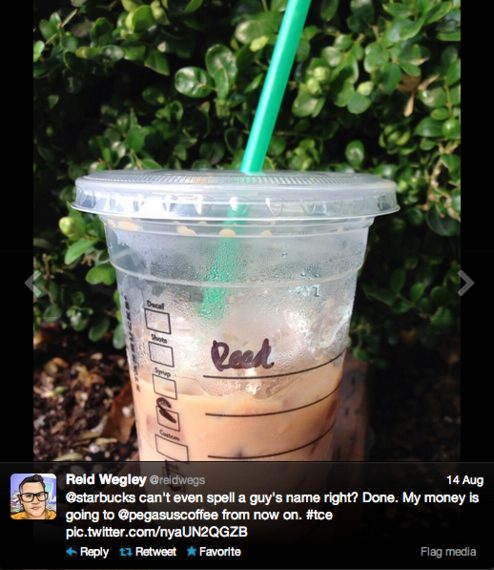 Obviously cup personalization is an issue that has been discussed for some time in web circles. Starbucks is most definitely aware of it, but has it done anything about the problem? 15 percent of customer sentiment dedicated to one issue should be cause for alarm. Perhaps the executive team feels the benefit of 'cup personalization' outweighs the negative sentiment and bad press stemming from the campaign's rigorous grammar requirements? If that's the case, is the company ready for an onslaught of new complaints related to cups of coffee being Tweeted with butchered name spellings? Cup personalization, in store and online, is a brand failure in my opinion and one that, were it terminated today, might save the company some money in addition to respect.
Consider the savings on Sharpie expenses alone in this (English major and therefore amateur math-driven) equation:
Pack of 12 Sharpies - Fine Black (Amazon.com) = $7.40 per month, per store (accept for losses, use, theft, etc.) x 20,891 stores (Wikipedia.com) = $154,590 saved per month. Multiply that by 12 months = $1,855,050 could be saved on Sharpie expenses per year.
Certainly Starbucks gets a better rate on Sharpies that what is quoted above, and the stated Sharpie attrition rate might be high, but either way it proves a lot of money is being spent on a program that has negative returns from a customer sentiment standpoint. And now that users can send coffee to friends and colleagues in a Tweet, the problem stands to reach epidemic proportions.
Need more proof @Starbucks? Watch this funny clip: