RALEIGH, NC-- Press from around the globe descended upon small-town Raleigh to see Hillary Clinton and Barack Obama face off at the North Carolina Democratic Party's Jefferson-Jackson Dinner. Those expecting to see sparks, however, were disappointed. Clinton, who has been clamoring for a debate in the state, never got a chance to trade wits with Obama. On the contrary, she ended up playing warm up for her rival, who was the clear favorite among the crowd.
Each campaign received a 1000 tickets to distribute, but there was an obvious imbalance in the numbers of supporters who showed up. Obama supporters were plentiful and vociferous. They chanted, "Yes we can!" and "We will, we will Barack you!" and "OBAMA! OBAMA!"
The smaller number of Hillary supporters tried to marshal forces, but only let out the slightest huzzah for their candidate.
The Press was bursting at the seams. All the familiar faces on MSNBC were in attendance. Jonathan Alter, for example.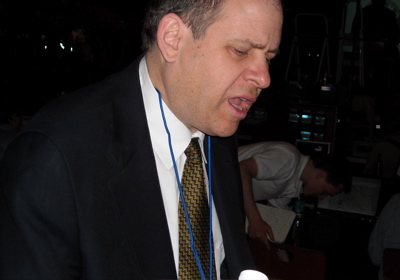 Lynn Sweet, brought a copy of the latest "Enquirer" with a photo of Barack and Michelle Obama splashed across the cover with a headline about their alleged marital woes. She let me read it. It's nice to know Chicago reporters read high-minded stuff, not all that junk tabloid trash.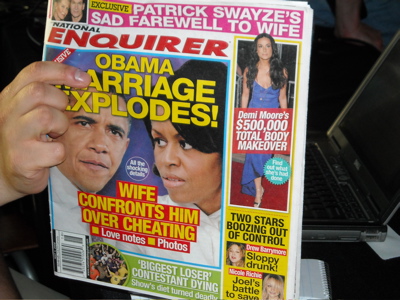 I have to mention an obnoxious toadie from FOX, Aaron or Eric, who I was told was traveling with the Clinton campaign. He came over to the press table and and immediately disrupted everyone's work by unplugging the power strip, disconnecting laptops. "Why didn't you say something before you unplugged the strip?" I asked. His smug rejoinder: "Aren't you on battery back-up?" He couldn't understand the problem and was persistent in asking why everyone was annoyed. Argh. Of course, I hadn't saved the last paragraph I wrote.
"What's your problem, Why wont you talk to me? Huh, huh, you 're a fuckin' psycho..," He definitely lived up to his station's bellicose and stentorian standards. Since when does ignoring a self-centered moron from FOX make you a "fuckin' psycho"? Every time I left my seat, Dr. Phil-lite disconnected my laptop. Traveling with HRC, mmh, I wonder where he learned such immature dirty tricks?
Hillary Clinton did her round of thank yous, and when she mentioned the NC Governor, the crowd gave a thunderous round of "boos." "That's the good thing about this country, we're free to support anyone we want," was HRC's response. Tenacious must have finally got the memo from the party elders because she tried to show she was a team player. "No matter who the nominee is, we will be united as a party. If senator Obama is the nominee, I will make certain we take back the White House and I know he will do the same for me."
HRC went on to give her normal stump speech. "I have first-hand experience as to how tough this job is. It's the toughest job in the world. It'll be especially tough after George Bush. The pressures of a political campaign are nothing compared to the rigors of the job of being president. I stood up to Wall Street, health care, oil companies. It wont be easy, but one thing you know about me, I'm no shrinking violet. I always get back up, no matter what. I believe America is worth fighting for. In 1774 the women of Edenton, boycotted taxation without representation. That was the first time women stood up for their rights in the U.S. Because of them, Senator Obama and I stand on this stage tonight."
Clinton ended with: "Together we will seize this nation. Democrats, let's go forward and deliver on the promise of America."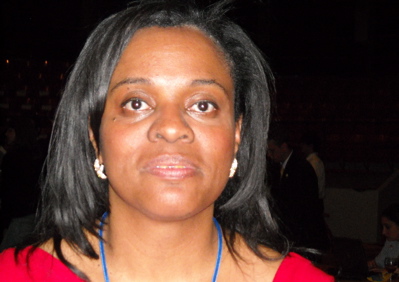 I talked with Kerra Bolton, NC Democratic Party Communications Director.
"We Sold out all available tickets we had. There was a high interest in this event. I don't know why there are so many empty seats. We had 20,000 requests for tickets from around the state. We were expecting 5,000 but I'd say a it's a little over half full including the seats on the floor which went for $1000.00.
"I haven't made up my mind who I will vote for. I'm impressed by what each one has to offer. I'll make up my mind in the booth on Tuesday. I'm old fashioned, I like to vote on election day.
I asked her about the Reverend Wright controversy in North Carolina, where the Republican Party ran an infamous this month against down-ticket Democrats that featured Obama and the Reverend Wright performing one of his YouTube "greatest hits."
"Some people feel Senator Obama has addressed the [Rev. Wright] issue and want to move on. For others, it's a distraction," she said but was then interrupted. "I don't want you to get the wrong impression about my answer on Senator Obama. I want to give you a better response to the question about Rev. Wright. I'll be right back....[pause] I meant to say that, from a Party perspective, what we feel is that we received lots of calls from people who feel the Republicans are politicking the issue with their ad. I received lots of calls. That's what I meant to say."
SUBSCRIBE TO & FOLLOW THE MORNING EMAIL
The Morning Email helps you start your workday with everything you need to know: breaking news, entertainment and a dash of fun. Learn more