Let me make this perfectly clear, no way, no how, no parts, no nuttin, no to the no, to the don't even think about it no, do I want any part of my donation to Senator Obama to be forked over to Tenacious C to retire her "$20 million dollar" campaign debt, per Howard Wolfson, on FOX Sunday.
I was appalled to read that Senator Obama would even consider bailing out that deadbeat. To quote that great sage from the East, New Jersey, Whitney Houston, "Oh hell to the naw!" That woman and her husband made over 100 million dollars in seven years, let her pay for her own folly. Or perhaps, one of her "non-college educated hard working white Americans" could throw her her bowl-a-thon.
She didn't win the nomination, so she goes through this little exercise of spending money she doesn't have in WV and KY. Another example of her fiscal irresponsibility. Now she has the gall to try and blackmail Senator Obama into paying her off, to do something that good sense and dignity forced the other potential nominees to do.
While Senator Obama is the official Democratic nominee, Hillary Clinton is now officially the Effie White of the party. Who is Effie White, you ask? She was the fat, loud, ghetto "Dreamgirl" who was kicked out of the group but refused to go. I have a sinking suspicion that Tenacious C in between giving her tired stump speech, is warming up her pipes to belt out, "And I am Tellin' You, I'm Not Going," at the convention this summer.
Even if she's not ready to fall into the acceptance stage of her grieving, I noticed her husband had no problem with it. The Sunday before the NC primary, I followed him in the hills of North Carolina. He not only seemed resigned to the idea that she was not going to be the nominee, but he appeared relieved. He started out his address to an audience assembled in front of a quaint outdoor train depot, in Marion, NC, "I didn't come here to tell yall to vote for Hillary..." Oh really? That's not what the press release stated.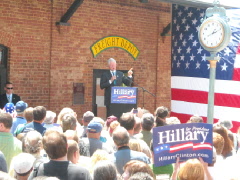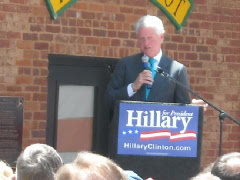 Bill Clinton must have taken a look at their joint checking account and those outstanding notices from Dunkin Donuts and the health insurance for the campaign staff, and realized, he couldn't afford to play the supportive spouse to a loser. At least Monica only cost him a gift card from Borders.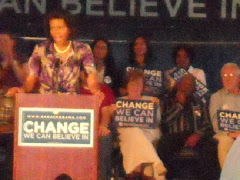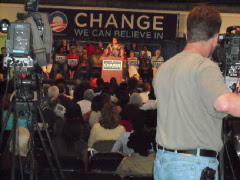 Even though Barack may be, as they say down south, tender hearted, I take solace in believing that Michelle isn't, and will encourage "good sense." Michelle declared at a stop in Durham, that she wanted a "United States President with some sense." Well, here's an opportunity for Barack to prove he has some, by putting the kibosh on that retiring Clinton debt idea.
SUBSCRIBE TO & FOLLOW THE MORNING EMAIL
The Morning Email helps you start your workday with everything you need to know: breaking news, entertainment and a dash of fun. Learn more