About three weeks ago, I received an email invitation to drive to Nevada to canvass for Senator Obama. Last week, I accepted the invitation and invited Kevin, a new friend, who expressed an interest in getting involved with the campaign, to join me. We were asked to be in Vegas on Friday, so we could start canvassing early Saturday morning; however, we didn't receive notification as to the specifics of the trip until Thursday night, at 8:30 P.M. Thus, we were left little time to book accommodations and since the campaign offered no suggestions regarding lodging, were left on our own.
Kevin and I decided to leave early to avoid the traffic and desert heat. I looked online for a hotel and saw there were plenty of hotels available and we decided to select one when we arrived. My bags were packed by the door so I would be ready when Kevin came to pick me up at 5:30 A.M.
When I awoke it was 6:45 AM and I could see the sun coming up. What happened? Where was Kevin? How come he didn't call me when he was on his way as I asked him to, I wondered.
I called Kevin, "What happened? Where are you?" "On my way to Vegas," he answered. He went on to tell me that he called me many times and let the phone ring over and over again. I was incredulous because I purposely sat the phone receiver by my ear, which were stuffed with ear plugs, but the receiver that close usually penetrates the plugs. Kevin went on to recount how he drove to my house, even though he received no phone response, and proceeded to "pound' on my door until he roused my neighbors. I never stirred, and as I listened to him, I still couldn't believe all that transpired, while I slept soundly.
It was 7 A.M., at that point,and Kevin was in Barstow, California, the half way point to Vegas. The question then, was how I was going to meet up with him. Driving my own car, would've been a waste. I thought it would've been helpful if the campaign provided a list of names of drivers to Vegas in my area, since they didn't I went online and checked out alternatives. A plane ticket was expensive and impractical. There is no Amtrak service from L.A. to Vegas My last option was the bus. Yup, the Greyhound bus.
I called another friend to drive me to the bus station. Neither of us had been there before and were a little lost. We spotted two Hispanic male cops, who were not very amiable when they directed us in the wrong direction. Quickly realizing that L.A's not so finest were wrong we corrected our course and arrived with a half hour to spare before the 11 AM bus departed.
A normal four hour trip took seven and a half hours on the bus. It was rather uneventful, except for when the bus driver couldn't find the on ramp in San Bernadino and he got on the microphone and asked, "Hey, does anyone know where I can get back on the freeway at?"
I asked some of my fellow passengers if they were going to vote, and a Caucasian woman who sat behind me volunteered, "I can't, I'm a convicted felon." There was a Black man across from me, who I learned from overhearing his conversation with another passenger, was a truck driver from Michigan, who spent fifteen years in prison in California. He responded to my inquiry, "I ain't votin', what for?" He went on to say he didn't trust politicians and where he came from in Watts, CA, things have not changed. His struck a chord of hopelessness and appeared contemptuous of the government.
After I explained I was going to Vegas to get out the vote, he said, "My wife she gonna vote for Obama and my kids be tellin' me to vote but I don' think it will do no good." I didn't launch into a sermon or try and persuade him otherwise, I just smiled and said, "That's your choice, but you may want to consider what you're teaching your children by doing nothing." We drove along, and finally reached downtown Vegas, where Kevin and I finally met up.
The following morning, Kevin and I checked out of a Travelodge, and met up with the other Californian volunteers at the Obama headquarters. We were an impressive size group who were replaced with an equally impressive group when our orientation was done.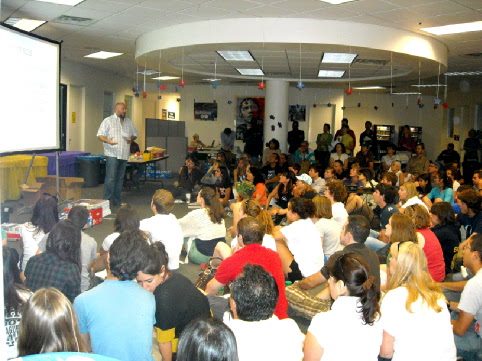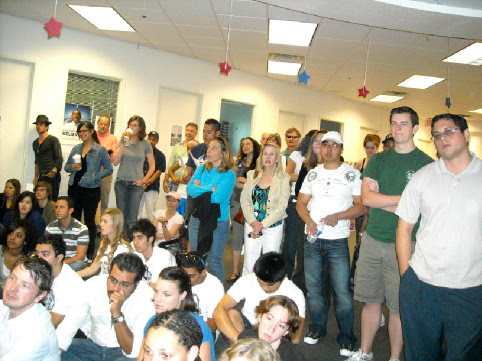 The orientation was lead by a good-natured fellow in thongs. As he passed out neighborhood assignments he gave a brief description, "I have an urban neighborhood with a lot of transients and young people we need 15 cars, who wants this? We also have a gated community with older people, this neighborhood tends to respond better when the canvassers are white, just stating the facts, not to discourage you if you're not white."
He also went over the literature they wanted us to leave behind, which included info on "Early Voting" and a flier for Dina Titus, who's running for Congress, and embroiled in some "double-dipping" controversy. She was not very popular on our route.
The "Do's and Don'ts" list caught my attention. "Hey guys, don't talk to the press, refer them to our comm. office. The McCain camp is looking for anything to criticize," the leader cautioned. Also on the list, "Don't blog about your experience in Nevada." What? Who's running this operation, Goebbels? I guess I'm in danger of being blacklisted and slapped silly by Joe the enforcer, a kissin' cousin of Joe the Plumber.
I spoke to some of the volunteers who drove from all over California, but primarily southern California. I was curious about an older woman in a back brace, Jennifer, from Palm Springs. She didn't canvass, she stayed at the office and worked the phones. Even though she could have made calls from home she still wanted to come. "I will do anything to prevent that trailer trash from getting into office." She was not shy about expressing her sentiments about Sarah Palin. In fact, many of the volunteers cited Mrs. Palin as their motivating factor for driving to Vegas. There was a large group of students from UCLA, seniors from Pasadena, and a varied and sundry of folks, all committed to turning Nevada blue.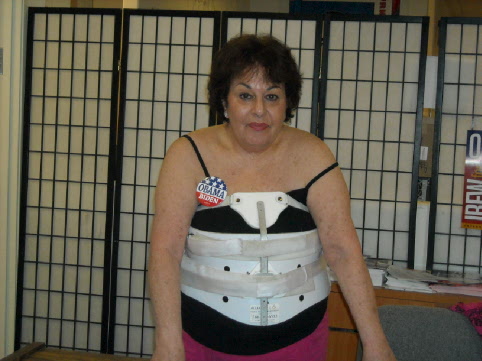 The orientation concluded with them handing out tickets to see Senator Obama, at a get out the vote rally later that afternoon. Kevin was very excited and was willing to forgo a good part of the day to get to the rally early. I reminded him that we were there to recruit new supporters, so we had to finish canvassing, before heading to the rally.
The campaign's ground organization is very efficient and well oiled. We were sent to a house where we were given our assignment. We left armed with a list of registered voters, mostly democrats, and a pack of literature. The neighborhood we canvassed was middle income with white and Mexican residents.
The first house we went to was owned by an elderly couple. The woman, Rose was about to leave with her friend, Adrian, originally from South Africa. When we told them who we were they both said, "Don't worry, he already has our vote. My husband will vote for him or he wont live here." They also gave us their blunt assessment of Sarah Palin. They also gave us an earful about Dina Titus.
Kevin and I had not been out an hour out before we got on each others nerves. I was annoyed he left the car windows down with all our luggage in the car, he was annoyed that I didn't rush people who wanted to share their thoughts on the race, I was annoyed he had to be right all the time, he was annoyed that I usually was. I attribute most of our snappish behavior due to the oven like heat. Note to self, next Vegas trip canvass alone, at night. Not really.
After we handed out all our literature, and some door tags given to us by another worker who saw us and asked us to help him, we headed back to the house to return our list. There was an older Black gentleman, Bruce, 72 years old, calling voters. I asked him what this election meant to him and he said, tapping his heart, "Words can't express how I feel." That seems to be the omni-sentiment among older Black people. They really seem to have a special sense about this election, not that older people of other races don't, but they hold something very private and precious about this time in history and their role in it.
Bruce revealed that the first President he voted for was Eisenhower, "He wasn't a real Republican," he noted. Bruce also offered insight on Jesse Jackson, "He's struggling with his ego, he use to be the man in Chicago and now Barack is and he ran for President but he was too Black." In regards to other Blacks, like the man who begged McCain to "take it to him," Bruce said, "That man, and people like him, are simply misguided."
Kevin and Bruce made a touching tableau, two generations of Black men working to elect the first Black president. The irony is that they were two of a handful of Black men at the orientation. I noticed this odd phenomenon in Los Angeles and North Carolina. I've seen older Black men and some black college students, but their numbers aren't equal to other races or Black women of every age who have thrown themselves into the campaign. I've queried as to why this is, and it made me think about the man on the bus who expressed hopelessness about change for people like him.
The rally was at three o'clock and it was ten minute til when we started out for it. When we arrived a half hour later, we were informed the rally was over. Apparently, they started ten minutes early, and Barack spoke for just a few minutes. Kevin was upset and blamed me for not quitting our canvassing earlier. A man drove by and asked what was going on, and when we told him, he became upset as well, "I work for them all day handing out fliers and no one told me anything." He and Kevin commiserated, "We paid to come here on our own and still didn't get to see him," Kevin countered the paid employees gripes.
We saw quite a few of the people from the orientation who also came too late for the rally. An older couple from Pasadena, shared, "It was packed and we could only see his white shirt." They were dedicated volunteers who had driven to Vegas most weekends. After talking to them Kevin was assured that he would have had a better view from CNN. We chatted about our experience going door to door that day and Prop 8 in California. They were lovely people, a professor and museum guide.
There's a real communal feeling in the Obama Campaign. Whether it was in the deep south or out in the desert, the volunteers are happy to be there and part of history. When we were leaving the rally, I saw a young black man in the parking lot and I went over and asked if he was volunteering with the campaign, he laughed and said, "Nah I'll vote for him but I aint gonna do no voluteerin'" It made me think again, perhaps there is a stigma among young Black men that's it's not cool to volunteer or work without a pay off. There seems to be little premium placed on alms giving, which, if true, is very disturbing.
Kevin and I drove back to L.A. and as the sun set and the temps cooled our moods mellowed. We chatted freely about our experience and various issues, and I got some insight into perhaps why young Black men weren't as heavily represented as others in the volunteer corps. When you grow up being a target for cops and your biggest accomplishment is escaping jail or a bullet, it's difficult to imagine that someone who looks like you could be making decisions that affect a nation and that you could help change strangers mind to see him and you as worth taking a chance on.
Bill Clinton famously said electing Obama was like a roll of a dice, and like anyone running for President, he is, but compared to the alternative, he looks like a safe bet. In Vegas he's the odds on favorite. A postmen we met said, "Ya know, I haven't seen any McCain people, and ya can't win if you're not in the game." You betcha!

READ MORE AT POLITICS NOT AS USUAL
SUBSCRIBE TO & FOLLOW THE MORNING EMAIL
Start your workday the right way with the news that matters most. Learn more