Today's monthly employment report from the Bureau of Labor Statistics offers encouraging signs that the labor market has stabilized, private sector hiring is picking up, and our nation has started down the road to recovery.
While the jobs report doesn't merit high-fives or fits of bragging, it's quite a bit better than what we've been handed each month over the past two years. The economy added 123,000 private sector jobs in March, the most since May 2007. Overall, the economy added 162,000 jobs, including 48,000 Census positions. Census hiring accounted for less than one third of the new jobs while private sector hiring made up over two thirds of the employment gains.
During the first quarter, we had an average monthly gain of 54,000 jobs, compared to an average monthly job loss of 753,000 in the first quarter of 2009. This may not be success, but it is definitely progress.
Again this month, we see bright spots in manufacturing, which after losing jobs for three straight years, has now gained jobs three months in a row, and in the temporary help sector, which added another 40,000 jobs and 313,000 positions since September. The construction sector, which has been pounded during the recession, didn't lose jobs for the first time since June 2007.
I was also pleased to see that hours of work was revised upward for February and increased even more in March. This increase is a sign that part-time workers are getting more hours, another leading indicator of new hiring.
Data at the state level reinforces what we're seeing nationally. In February, twenty-three states reported increases in private sector employment. Employment gains, which had been concentrated in education and health throughout the recession, began to reach new sectors in February, with 13 states seeing employment increases in manufacturing, 12 experiencing gains in leisure and hospitality and 12 recording gains in professional and business services. I was encouraged to see that my state of New York was one of only two states to see improvement in all three of these sectors.
We are moving in the right direction. We are making progress. I am optimistic, but also realistic.
No two ways about it, this economic recovery will take time. Regaining the 8.4 million jobs lost in the Great Recession will take years, not months. Even after recessions that were not as deep or long as this one, it has taken many months for job growth to return and the unemployment rate to decline.
Our two most recent previous recessions, March 2001-November 2001 and July 1990-March 1991, lasted just eight months. In both recessions, unemployment continued to climb for more than a year after the recession had ended.
So, we need to keep our nose to the grindstone, focused on creating jobs. The recently-signed HIRE Act, providing businesses with incentives to hire unemployed workers, will help. And Congress will do more to support state and local governments hit hard by the recession, to help workers update their skills and build new ones, and to get small businesses the loans they need to expand their operations.
We still have much work to do. 15 million Americans remain unemployed and 44 percent of them have been out of work for more than six months.
We are not out of the woods by any stretch, but we're on a path to get out.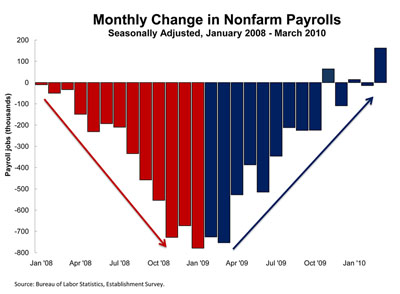 Congresswoman Carolyn B. Maloney represents parts of Queens and Manhattan in the U.S. House of Representatives where she is the Chair of the Joint Economic Committee.

SUBSCRIBE TO & FOLLOW THE MORNING EMAIL
The Morning Email helps you start your workday with everything you need to know: breaking news, entertainment and a dash of fun. Learn more