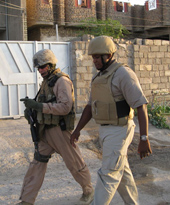 I have just returned from leading a Congressional delegation to Iraq during this August recess and I wanted to share this video blog with the Huffington Post community about my trip to Iraq.
Timelines.
Benchmarks.
Accountability.
Bringing our troops home.
That is what the American public is demanding from its leaders, and that is what the U.S. Congress must deliver.
The American public and the Democratic majority believe that this war must end. When will President Bush and the Republican minority agree?
Congressman Kendrick B. Meek (D-FL) is a member of the House Armed Services Committee and House Committee on Ways and Means. He has traveled to Iraq three times since being elected to Congress in 2002.