Last week, my husband Jim and I went to watch the annual Congressional
Baseball Game, where Democrats and Republicans play ball against each
other to raise money for charity. We took our newborn son, Joaquín,
who was dressed for the occasion in his LA Dodger's onesie and blue
cap. As we sat in the stands and cheered on the players, it seemed
everything was in place: the nicely trimmed turf, the smell of
popcorn and hotdogs, the bright lights, and the announcer's booming
voice. But there was one thing missing on the field: women.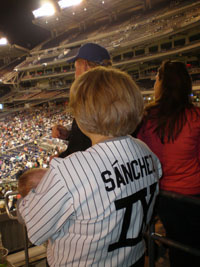 In past years when I've played hardball with the boys, I have tried to
encourage and recruit other women to come out and play. It is one of
my favorite times in Congress and such a great experience.
Unfortunately, I've had no takers. So this year -- because I have
temporarily hung up my cleats to focus on my son (who already has a
grip for a Louisville slugger), the Democratic team was all male. I
was reminded of the importance of representation both on and off the
field for women, who comprise largest percentage of our population.
Today, we commemorate the 37th anniversary of one of our country's
most important civil rights laws. The enactment of Title IX of the
Education Amendments of 1972 banned gender discrimination from all
education programs and extracurricular activities in federally funded
schools. It was one very simple -- yet profoundly effective -- sentence
that gave American women a new opportunity to aspire and succeed. The
great legacy of Title IX is most often talked about in the context of
sports. Before the law passed in 1972, girls made up only 7 percent
of high school sports participants. Now, more than 40 percent of high
school athletes are female. But its impact reached far beyond
sports, from the academic to the arts and sciences, and even to the
boardrooms of the Nation's top enterprises.
As a Member of Congress, I'm often reminded that in baseball as in
diplomacy, you have to know when to hit, when to run, and when to show
grace. I've used my experience from playing sports in almost every
aspect of my life. Playing soccer is where I found my voice and
playing softball was where I learned precision, and in every game I
learned to play as a member of a team -- to work not for my own glory,
but for a shared goal.
Despite Title IX's success in advancing equality for women, it
continues to come under attack and has been frequently challenged in
court. As our economy trembles and colleges and universities deal
with budget cuts and shrinking athletic budgets, Title IX's
achievements are in grave danger of being scaled back.
Gender equality cannot be achieved by cutting programs that allow
girls to get the same chance to compete, learn, and play. The United
States has had a solid history of commitment to its female athletes
and expanding opportunity for women and it is imperative that we
continue on this path.
The most telling effect of Title IX is the fact that today, more women
than men are attending college. Today, well over half of all
undergraduate college students are women -- and women outnumber men in
graduate school enrollment, including high-paying, high-powered
professional programs like law. Title IX deserves its place in the
law so that no field will be missing its female athletes.
Congresswoman Linda T. Sánchez represents the 39th Congressional
District of California. For the past 3 years, she has been the only
woman to get a hit in the Congressional Baseball Game.