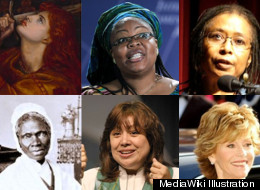 Did you know that a woman helped "bankroll" Jesus' ministry and the earliest Christian movement? If not, it's because our stories too often get lost in the mix -- or intentionally erased. If you did know, it's because someone thought to tell you the story. And because there have been some extraordinary prophets, preachers, activists and educators who have changed the world through their radical leadership, and at times, at the expense of their lives.
And in regard to the recent political firestorm about contraception, did you know that the head of Planned Parenthood Federation of America, Cecile Richards, and the head of its board, Cecilia Boone, both of whom Auburn is honoring next month at our Lives of Commitment Benefit Breakfast, are people of deep moral conviction? If you didn't, it's because people who may not have the best interests of women in mind have taken responsibility for defining our values and telling our stories for us. If you did, it's because we are getting better at getting the word out about our own lives, our powerful leadership, our core values, and the women and men who have given their lives to get us to this moment in history, a moment in which we taste equality and see true freedom on the horizon for all our daughters and sons.
So let me be one of those people who take responsibility for telling our stories, so that they don't get lost in the mix.
Let me start with Janet Edwards and Joan of Arc, ridiculously under-armed women of relatively small stature who have taken on the powers that be and have changed history in the process.
Next, I think of Jane Fonda and Felicity, Melissa Harris-Perry and Perpetua -- people who stand their ground no matter what.
I think of Sojourner Truth and Leymah Gbowee -- the same one who said "Ain't I a woman?" to white women organizers, and the other who said to men at war, you'd better not turn to me for love if you continue to wage your wars of hate.
I think of Dorothy Day and Bishop Minerva Carcaño -- both committed to the working poor --one who served the Catholic Church with no official credential and grew famous, while ineligible for ordained leadership; the other, who broke through the glass ceiling as the first Latina woman to be ordained a United Methodist Church bishop.
And finally, I think of the women who have given their lives not only to the fight for equality, but for beauty and joy as well. I think of Lydia, a seller of purple, and Alice Walker, the conjurer of the same -- even though Alice needed to leave the Christianity of her youth because her people's former masters had forced it on her like a shackle. Even so, Alice Walker's art birthed one of the most important Christian movements of our time: womanist theology.
Of course, I really want to tell you about my mother and my daughter, the two faith-filled women whose daily heroism makes me pause in silent awe, even as I write this.
So I ask you to think of your list, near and far, and to write it. For we are legion; we are flanked by unsung heroes and buried champions. With each story we tell, we reveal the truth of our nature and render the image of God as reflected in all our myriad faces.
Christian Women You Should Know
Perpetua and Felicity, a married noble and her slave, an expectant mother, who were martyred in the third century for their Christian beliefs. (Photo: Stained-glass window of St Perpetua of Carthage (church of Notre-Dame of Vierzon, France, 19th century): martyrdom of St Perpetua and her fellows in the stadium of Carthage; Saint Felicity on her left.)

Lydia, "seller of purple," a businesswoman and homemaker who opened her house to Paul and Silas, and is considered the first recorded European convert to Christianity. (Photo: A modern outdoor chapel on what is said to be the site where Lydia was baptized by Paul.)

Joan of Arc, a Roman Catholic saint, who was burned at the stake at age 19.

Sojourner Truth, an African-American abolitionist and women's rights activist who famously asked, "Ain't I a woman?"

Dorothy Day, an American journalist and devout Catholic, who co-founded the Catholic worker movement.

Janet Edwards, Presbyterian minister from Pittsburgh, Pa., board member of More Light Presbyterians, who was tried and acquitted by her church in 2001 for presiding at the wedding of two women

Jane Fonda, feminist, activist, and actress who co-founded the Women's Media Center with Robin Morgan and Gloria Steinem.

Leymah Gbowee, Liberian peace activist, and winner of the Nobel Peace Prize, organized a women's peace movement that helped to end civil war in Liberia in 2003. (Photo: Leymah Gbowee, a 2011 Nobel Peace Prize laureate, speaks during the presentation ceremony of the International Women of Courage Awards at the State Department March 8, 2012 in Washington, DC. Ten women from around the world were presented with the awards during the sixth annual ceremony to recognize their courage and leadership.)

Alice Walker, whose art birthed one of the most important Christian movements of our time: womanist theology.

Melissa Harris-Perry, American scholar and host of the Melissa Harris-Perry Show on MSNBC. (Photo via UCtelevision on YouTube.)

Bishop Minerva Carcaño, who broke through the glass ceiling to become the first Latina bishop in the United Methodist Church.

Delores Williams, one of the founders of black womanist theology.