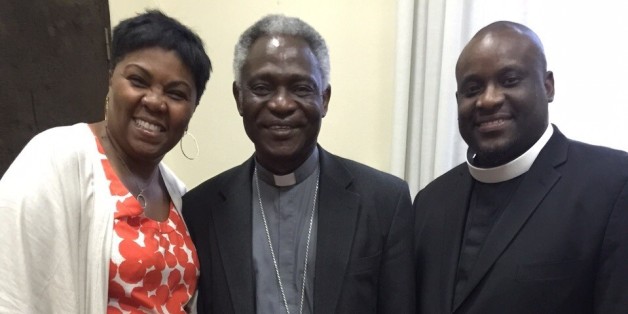 Learn to do well; seek justice, relieve the oppressed, plead for the widow. -- Isaiah 1:17
This week, we join a delegation of PICO National Network clergy and lay leaders who will engage in a week of discussion and reflection with key Vatican leaders and advisors of Pope Francis. Without a doubt, this global religious leader has made a universal impact on the moral conscience of nations across the world. His honest words sit at the moral centers of humanity urging us all to care for and embrace the poor and marginalized around us.
Through a friendship and ministerial partnership, forged in the crucible of the Ferguson uprising, we have traveled to many communities, joining a chorus of clergy leaders and faith-based networks, prophetically calling the systems of racial oppression to account. We are taking that same message we've spread in the United States to leaders at the Vatican. The voices leading the Black Lives Matter movement that call out to us from the streets of Ferguson, Baltimore, Oakland, Chicago, Philadelphia, New York, Miami, Detroit and New Orleans is calling out to the largest religious institution in the world for a response.
We are going to invite the Holy Father, head of the largest Christian denomination to join us in this holy endeavor: Affirming the dignity and image of God for vulnerable and marginalized people of color who are experiencing the effects of sinful principalities and powers through the evils of mass incarceration and state sponsored violence.
This week we are carrying with us the stories of wailing mothers, angry youth, terrorized fathers, exploited women, marginalized families and vulnerable communities. We are naming the sins of racial oppression made concrete through economic exploitation. We want to make visible the impact looting has in our neighborhoods by global financial institutions. We want to elevate the searing of our souls and minds through psychological and physical violence at the hands of political leaders and law enforcement. We want to welcome Pope Francis' voice into the clarion call, affirming black, brown and all the lives of the marginalized matter, by calling us all to see in one another's faces, our shared reflection of the Divine. We want to strengthen the public resolve and voice of the Roman Catholic Church to stand boldly and united against the forces of institutionalized oppression and systemic racism which effaces the Image of God in all of us.
Our delegation comes from many Christian denominations: Catholic, Pentecostal, UCC, Baptist, Methodist, and non-denominational. We are male and female. We are black, white and brown. We stand in a long tradition of prophetic preaching, organizing and justice ministry. This tradition has helped to inform one of the many theological influences of many Catholics known as liberation theology. This idea that Jesus is the ultimate and greatest liberator is not a tangential dogma for us. Nor is it a peripheral practice of Christian faith. We believe the work of justice is the result of faithful discipleship after the ways of Jesus.
As Pope Francis prepares for his trip to the United States this fall, we traveled across the ocean to seed our hopes and prayers at the Vatican. We journeyed to Rome to offer our humble stories to Pope Francis' advisors, knowing that we overcome by the things we have witness and the words of our testimonies. We stand at the intersection of faith and race with many of our clergy and lay leaders from varied racial, economic and political backgrounds, praying that we may see the kingdom of God, on earth as it is in heaven.
This is why we are at the Vatican. And we are bringing the voices of our communities with us. May the God of all peace, power and grace guide our feet, open our ears, speak through our mouths and fill our hearts.
SUBSCRIBE AND FOLLOW
Get top stories and blog posts emailed to me each day. Newsletters may offer personalized content or advertisements.
Learn more