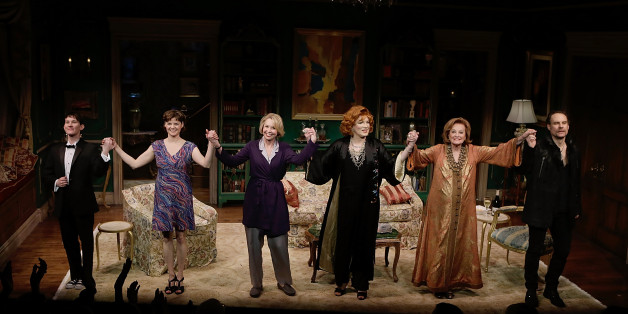 If you need a good laugh (and these days, who doesn't?) you can always count on Charles Busch. In or out of drag, he's a movie-obsessed queen of comedy whose plays such as Vampire Lesbians of Sodom and Tale of the Allergist's Wife have kept me in stitches for years. His new romp, produced by New York's Primary Stages, is called The Tribute Artist. It's a hoot.
Here is Mr. Busch, once more into the breach, as a fearless champion of the Dynel wig and the poitrine formidable, playing a penniless female impersonator between jobs and zip codes named Jimmy Nichols, permanently house-guesting in the lavish Greenwich Village town house of a rich old New York friend named Adriana (Cynthia Harris), a retired couturier who bears more than a small resemblance to the late Pauline Trigere. Jimmy hates the term "drag queen" and prefers to be called a "celebrity tribute artist". But times have passed him by. His masterpiece is Marilyn Monroe, but today's audiences in Vegas are so stupid they just think he's doing Christina Aguilera.
Adriana has seen better times, too. She has a weak heart and hasn't been out of her chic mansion in years. Convinced her days are numbered, her only two friends left over from a lifetime of debauchery and bold-face fame are Jimmy and a lesbian real-estate maven named Rita, played by longtime Charles Busch repertory-company co-star Julie Halston, the funniest woman in New York. True to her word, Adriana drops dead on the sofa. All Rita wants to know is, Who gets the house? The light bulb breaks. Jimmy and Rita decide if he pretends to be Adriana long enough for them to sell the house, they could split $12 million and be set for laugh. The plan seems foolproof with the right wigs. But what neither of these amateur crooks plan on is Adriana's only surviving relatives -- greedy niece Christina (Mary Bacon) and her transgender son Oliver (Keira Keeley) -- who arrive from Wisconsin to prevent Aunt Adriana, now impersonated by Jimmy in all of the dead designer's best gowns, from selling off their only asset. Joined by Adriana's old lover Rodney (Jonathan Walker), who discovers the hoax after a painful and confusing threesome with Jimmy and the crazy lesbian Rita, and threatens to turn them over to the police. It's mad as a tree full of tap-dancing leprechauns.
Rita is not the best defined role she's ever played, but it's a barrel of fun to watch Julie Halston swagger about in men's suits delivering vicious one-liners. A sizable ingredient in almost every Charles Busch play, she's always hilarious even when she's searching in vain for a punch line. Any punch line will do. Looking straight into the audience with one eye at half-mast like Eve Arden, she can do serious damage to your funnybone. Jonathan Walker's seedy Rodney, a macrobiotic ex-addict, is a great counterpart. But it is still Charles Busch who keeps everyone grounded. Rasping like Tallulah Bankhead, rolling his mink-lashed eyes like Bette Davis, and doing shameless double takes like Roz Russell, he even does a purring impersonation of Marilyn singing "Running Wild" from Some Like it Hot. He's busy, and you find it hard to catch your breath.
Unfortunately, the play is busy, too -- sometimes too much so. In Act Two, the plot soon gets permanently detoured and The Tribute Artist is all over the place. Rita pursues Christina, Jimmy/Adriana lusts after Rodney, and Rodney tries to murder them all. Eventually Mr. Busch puts the whole thing on pause and reverts to what he does best -- serving up snippets of old movie classics in the styles of the ladies who made them famous: a little Mary Astor in The Maltese Falcon, a dose of Bette Davis in Now Voyager, a snippet of simply everybody at MGM in The Women. It never quite achieves the carefully wrought, gender-bending frenzy of his older and better plays, but under the direction of Charles Busch alumnus Carl Andress, this lovable lunatic still provides a menu of laughs in The Tribute Artist extensive enough to keep you sated.