If you are an antiques enthusiast like I am, you search for shops and markets to visit when traveling to other cities. What about when traveling abroad? I have acquired some of my best finds overseas. The merchandise tends to be completely different from what we typically see at American markets. Treasures that are hundreds of years old sold out of the trunks of cars, splayed out on blankets in fields, and in stalls that span city blocks.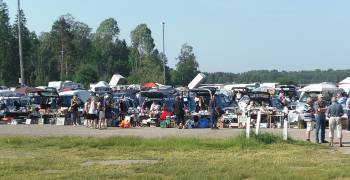 Photo: Östhammar/Sweden Market(Credit: Marko Kareinen)
Over the years many exciting things have turned up in flea markets overseas. For example, several years ago in a flea market in France a painting was purchased for approximately $2,500 that turned out to be an original Vincent Van Gogh valued at around $3,500,000.
Below are a few of my favorites, and tips on what you can expect to find at each:
TOKYO, JAPAN
Togo Antique Market -- This is the biggest of all the antique markets in Tokyo. Open every first, fourth and fifth Sunday.
Vintage kimonos, woodblocks, Imari and even American products such as antique toys, Barbies, radios, and movie posters.
HELSINKI, FINLAND
The Hietalahti Flea Market -- Also known as "Hietsu." Open from May to September, Monday - Friday, 9am - 7pm and on Saturdays from 8am - 4pm, Sundays from 10-4pm.
A lot of Mid Century Modern Finnish design, some Scandiavian and Russian products. Dealers are prohibited from selling new products! Lots of tourists come to this market.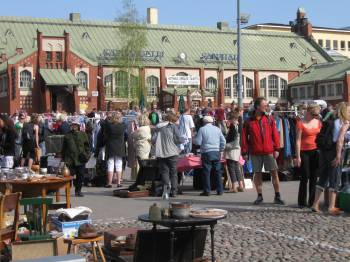 Photo: Helsinki, Finland Market (Credit: Marko Kareinen)
VIENNA, AUSTRIA
Naschmarkt -- Vienna's most popular market. It has existed since the 16th century and is open every Saturday from 6:30am - 6pm
There are over 200 dealers selling every type of antique imaginable. Furniture, collectibles, books, sculpture, art and more!
TONGEREN, BELGIUM
Veemarkt Square -- The largest flea market in the Belgium-Netherlands-Luxembourg region. It opens from 7:00am and closes at noon, so you want to arrive early!
Just about anything can be found here from furniture to glass, chandeliers to vintage hardware.
LONDON, ENGLAND
Portobello Road -- England's largest flea market. Open every Saturday beginning as early as 5:30am. Most stall dealers are there by 8am. Over 1,000 dealers offering some of the finest trash to treasure each week!
Arts & Crafts Period, Art Nouveau, Art Deco and Mid Century Modern are the mainstay of this market though you can find Old Masters paintings, early architecture, books etc as well.
BERLIN, GERMANY
StraBe des 17. Juni -- The most popular and classy flea market in Berlin. Open Saturday and Sunday from 11am - 7pm
Less junk at this flea market! This is a more upscale antiques market where you are less likely to find a "bargain," but certain to find fine quality goods.
SUBSCRIBE TO & FOLLOW LIFESTYLE
We're basically your best friend… with better taste. Learn more