REYNE GAUGE: Opals are this girls best friend!
It's been said for years that diamonds are a girls best friend, and while I'm not one to turn my nose up to a great diamond, I also have a soft spot for opals.
Recently a press release for an upcoming auction in Austin, Texas caught my eye when I saw a photo of one of their highlighted items in the sale: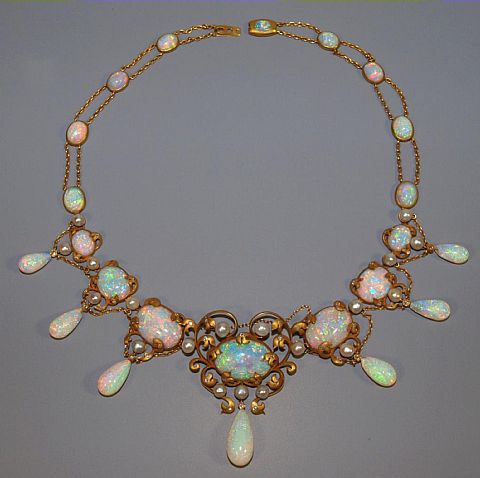 This necklace is not only yummy, but it is said to have been the property of legendary interior designer, Elsie de Wolfe. In case you don't know, Elsie de Wolfe (1865-1950) was America's first interior decorator to the rich and famous. Her high-profile clients included The Duke and Duchess of Windsor, as well as members of the Vanderbilt, Morgan and Frick families in New York.
As if those credentials weren't enough, she was a pillar of high society. She married British diplomat, Sir Charles Mendl and became known as "Lady Mendl"
The necklace was originally showcased on the Keno brothers television show "Find!" They felt the necklace was exceptional. They called in jewelry expert Peter Shemonsky to look it over. He noted that the necklace offered 23 opals, 52 diamonds and 19 freshwater pearls. He also considered it unique and very difficult to replace. Insurance value on the necklace was placed at $60-80,000.
It goes on the market the 18th of April with a opening bid of $30,000. Sounds cheap!
Austin Auction Gallery notes "While we cannot prove that the necklace belonged to Ms. De Wolfe, it certainly exhibits the quality that a woman of her social position would have demanded."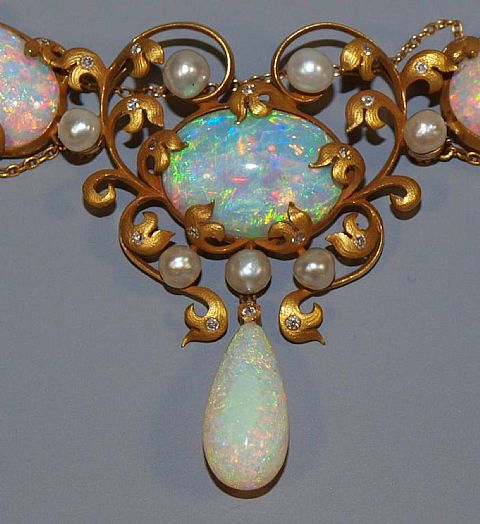 If you have interest in learning more, visit the website for Austin Auction Gallery at
http://austinauction.com
If you are thinking of bidding, keep me in mind. I'd wear it proudly, and would make sure to give you kudos here!
Happy Hunting!
Reyne
SUBSCRIBE TO & FOLLOW LIFESTYLE
We're basically your best friend… with better taste. Learn more