While some of Christie's and Sotheby's consignors are feeling the pinch of art collectors abroad, the owner of the below David Hockney diptych hit a homerun.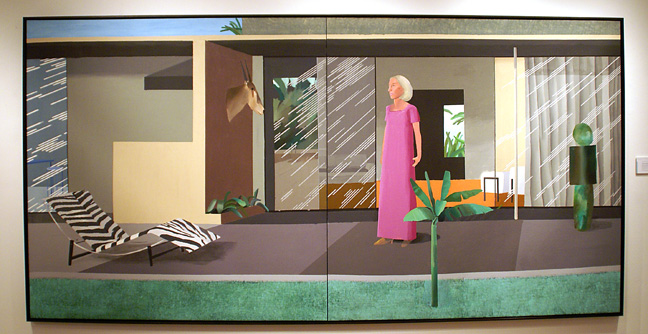 "Beverly Hills Housewife c. 1966-1967) by David Hockney hammered at $7.922 million dollars this past May 13th. It was a new world record for the artist.
Hockney was an English painter. Moving from a distorted, semiexpressionist form of pop art, Hockney developed a highly personal realistic style, producing images saturated with color that are witty and uniquely in the moment. Much of his work is also informed by his long-time residence in Southern California, for instance his many joyous paintings of swimmers in undulating, light-struck pools. His superb draftsmanship is evident in his drawings, paintings, illustrated books, and several series of prints, notably The Rake's Progress (1961-63).
Hockney is also known for his photographs, his mosaiclike photomontages, and his imaginative stage sets for ballets and operas. His customary subjects include still lifes, portraits, and aspects of homosexual life. Later in his career Hockney became interested in the historical relationship between representational painters and optical devices, maintaining in his book Secret Knowledge: Rediscovering the Lost Techniques of the Old Masters (2001) and elsewhere that from about 1430 to 1860 many painters in the Western tradition used innovations in visual technology such as lenses, mirrors, the camera obscura, and the camera lucida to produce their strikingly realistic effects.