While glass has been made for centuries, around the globe and by thousands of makers, only a few can still tout being in business today. Surviving different economies, changing consumer tastes, and the rising costs of materials and payroll can't be easy. Those that were able to overcome all of these hurdles, have also, in some instances had to rethink formulas used over the years in order to become eco-friendly today.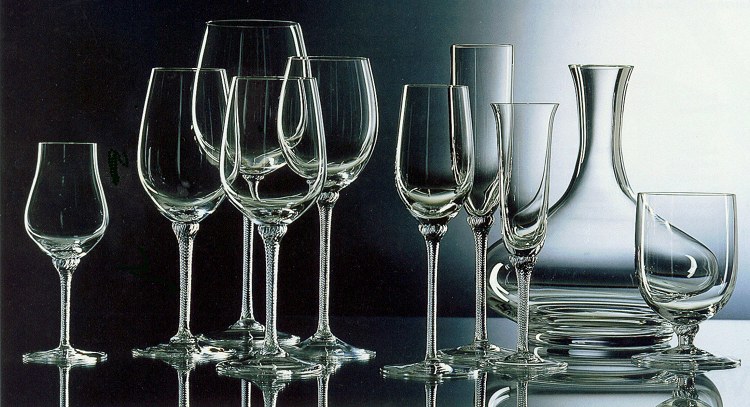 Poschinger Glass
A few very recognizable glass companies are leading the way in using recycled materials, or recycling their own glassware.
In the US, there is the Fenton Art Glass Company, founded in Ohio in 1905, then in 1907 they moved to their current residence, West Virginia. When Rivanna Natural Designs tapped Fenton Art Glass to create art glass awards for them, but by using recycled products, they jumped at the opportunity. They located a local source for recycled bottle glass and a new start up was formed.
In Italy, the Murano Glass Company began designing glass as early as 1291. The tradition of blowing glass has been handed down to numerous generations. Many of the designs being produced today are inspired by the artisians working there over a hundred years ago. They are known for making affordable treasures for tourists to take home as a momento of their trip to Italy, but some of their artists wares can command several thousands of dollars. Today, Murano does not dispose of their broken or irregular glass, but keeps the glass to be recycled for use another day.
Finally, in the Black Forest of Bavaria is a well known glass company by the name of Poschinger. Poschinger has been in operation since 1568, and is still owned and operated by the same family. Poschinger Glass produces utilitarian products along with decorative items and have recently started selling in the United States. The company uses 40-45 % recycled cullet in the glass melt.
Not only do these companies have the "green" theme in common, but each one of them can be found in numerous museums around the globe.
To learn more about these eco-friendly products, visit their websites:
Fenton Art Glass: www.fentonartglass.com
Poschinger Glass: www.bavariankunst.com
Murano: www.muranoglass.com
Reyne Haines is the co-host of The Art of Collecting on NBC, and an appraiser of Fine Art/Antiques
reyne@reyne.com