In the sleepy little town of Round Top, Texas (population 77) lies the best foodie secret; Royers Round Top Café.
Royers is a third generation owned and operated café in the center of town. The outside of the building offers a porch to sit on while you wait for your table to be ready. The owner, Bud Royer is there every day, sitting on the porch with you calling out names, and offering little tidbits of information about the town and the café while you wait.
Inside is chaotic. It's a small place, but it feels very homey. Depending on how many are in your group, you might be seated with a few other patrons. You never know who you might be seated with. It could be a family Houston, a farmer from the neighboring town, or the governor of Texas.
While I have yet to have one of everything on the menu, I am slowly working my way towards that goal. So why am I blogging about a restaurant you aren't close enough to eat at?
"Buttermilk Delight Pie"
You might not be able to savor one of their filet mignons (too bad for you) but Royers is also known for their most delicious pies. I know I know, you're thinking - Pie...REALLY?
The pies the Royers bake up are not your every day Mrs. Smith pies; oh no! These are the kind of pies that rival your grandmothers. In fact, I just had one sent to my mine!
I'm not the only one who thinks their pies are something special. Royers has been featured on The Food Networks "Road Tasted", CBS "Sunday Morning", Texas Country Reporter, and they were even written up in the Washington Post's wine column (yes, pies and wine do go together!) Bon Appetite rated their pies in their listing of Top 10 in the country!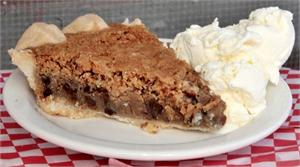 "Chocolate Chip Pie"
Have I tempted your taste buds yet?
If you need more tempting, take a look at what pies are available:
* Ann's Pecan Pie - Not too sweet, and they only use Texas pecans, which are a treat alone!
* Bud's Butterscotch Chip Pie - A delicious butterscotch pie, with a twist - chocolate chips!
* Bud's Chocolate Chip Pie - This pie outsells all the others, 4 to 1. If you love chocolate chip cookies, this is the pie for you!
* Café's Buttermilk Delight Pie - This is not your grandma's buttermilk pie. Take buttermilk pie, and throw in some chocolate chips, coconut and pecans. YUM!
* Buttermilk Pie - If you aren't a fan of coconut but love buttermilk - they've got ya covered!
* Coconut Chess Pie - If you love coconut, get your fork ready. You'll never look back!
So I saved the best news for last. Everyone not planning a trip to Round Top, TX in the near future can still enjoy a great pie, or two. They ship nationwide!

Visit their website and place your order. Heck, order a few for your friends and family. You'll be thanking me! (and if you want to send one to me, I'll email you my mailing address!)
SUBSCRIBE AND FOLLOW
Get top stories and blog posts emailed to me each day. Newsletters may offer personalized content or advertisements.
Learn more