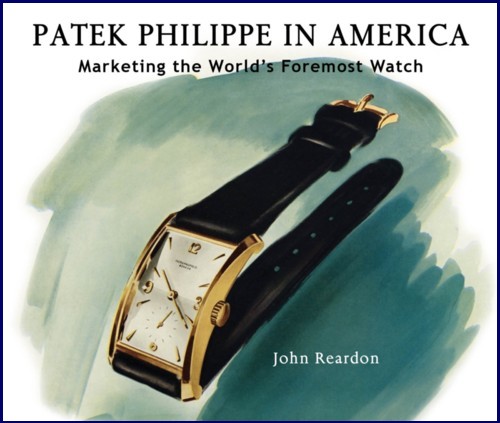 Recently I was contacted by a fellow writer and watch enthusiast congratulating me on my new book on collecting vintage watches. I learned he recently penned a book on watches, however his was strictly on one company; Patek Philippe.
That alone peaked my curiosity, as Patek has always been one of my favorite watch companies.
The author, John Reardon, was no newbie to the watch collecting world. Reardon first became interested in horology while interning at the American Watch and Clock Museum in Bristol, Connecticut. While completing his degree in history and languages, he worked as a curatorial assistant at the Willard House and Clock museum in Grafton, Massachusetts. Eventually, he landed a job at Sotheby's, New York where he became a noted expert in watches and clocks.
In 2001, Reardon joined the firm, Henri Stern Watch Agency (Patek Philippe USA). This job would fuel his passion for Patek Philippe, and his interest in the story behind the company.
When I received his book in the mail, I was immediately impressed. It is a unique size, hardcover, and offers a beautiful high gloss dust jacket. The cover image is taken from an early advertisement. That made me a fan before I had even read the first page.
You see, I've been a paper memorabilia collector for quite some time. In my opinion, original catalogs, brochures, and advertisements tell a great story. For those of us not around or too young to appreciate such fine things when they first hit the market, we must rely on the tales of dealers, and reference books to broaden our knowledge.
Over the years, stories often change, artists and workers pass away, and we are left to attempt to put the pieces of the collecting puzzle together.
This book covers the history of Patek Philippe from the very early days, to the late 1980s. It's an impressive 359 pages long, and is chocked full of in-depth historical information, copies of original advertisements, and offers a timeline of events from the beginning until the late 1980s. Each chapter left me wanting to know what happened next. Reardon chronicles every move the company made.
Unlike so many reference guides on the market, there are no prices listed in this book. I like that!
By the way, this isn't just for the wristwatch enthusiast. It also features Patek pocket watches, which reminds me - I have a client looking for one of these...John - can you help?
If you are looking for a gift for your friend or family member, this would fit the bill. Make sure to get one for yourself while you're at it. This book was limited to 1500 copies. Act fast!
Patek Philippe in America - Marketing the World's Foremost Watch by John Reardon
http://www.patekphilippeinamerica.com/Orders.html

Follow Reyne Haines on Twitter: www.twitter.com/ReyneHaines