I'm always looking for that something "unique" to give each holiday. Since I'm big into collecting, I tend to give something antiques or collecting related.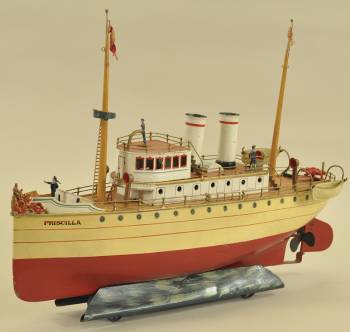 Leading the fleet of more than 20 antique boats from premier German manufacturers is an exquisite circa-1909 hand-painted Marklin "Priscilla" steamboat, 19 inches long, with provenance from the collection of the late Bill Bertoia. Estimate $35,000-$45,000. Bertoia Auctions image.
This Nov. 12-14, Bertoia's has an auction titled: "Toys for the Mantle."
Toys are something that always makes people smile. I think it's the inner "kid" in everyone that attracts them to collecting vintage toys. Perhaps it's a trip down memory lane. Needless to say, this auction is offering something for every big kid in your life.
From cast iron to tin toys, Japanese to early American, wind-up and battery operated -- something for everyone also means something for every budget.
For the seasoned collector, there are numerous hard-to-find items in the sale. For example: In the cast iron category there is a hard-to-find "Sundial" model. Mechanical bank rarities are Jonah and the Whale, Chief Big Moon, Darktown Battery and numerous others.
When I was a kid, my Barbie had a limo to take her friends around town; however, it was plastic and probably not worth much these days. Barbie would be riding in style now if she had one of the European luxury limos in this sale!
If that someone special in your life has wanted a boat of their very own, skip the money pit of a real one and bid on one of the Marklin boats in the sale. There are more than 20 to choose from, and I can promise you, the expense of one of these stops after the initial investment!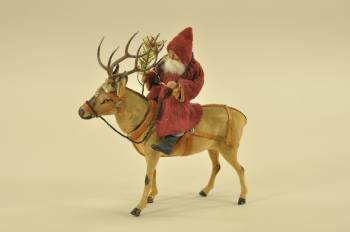 Finely crafted, an early 10-inch by 11-inch German Santa riding a reindeer candy container wears a fabric suit, sports a rabbit-fur beard, and separates at the neck for access to candy. Estimate $3,200-$3,500. Bertoia Auctions image.
Comic characters also found their way into this sale. I've always been a fan of Mickey Mouse (who hasn't?) and friends. Up for bid are a Mickey Mouse waddler and also Mickey on a rocking horse. A few lots will also include Donald Duck and Minnie Mouse items.
Speaking of the holidays... this sale will also include 500+ lots of Halloween and Christmas collectibles. Claire Lavin's collection of Halloween advertising pieces, jack-o-lanterns and much more will be sold including uncatalogued holiday box lots for those who attend the sale (can you say bargains?). The Christmas inventory consists of glass ornaments, Dresden items, Santa trade simulators, and so much more.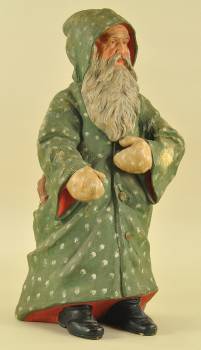 From a selection of more than 500 holiday antiques in the Sunday session, a rare chalkware Father Christmas figure, 26 inches tall (store display size), exhibits exceptional detailing to its face. Estimate $6,000-$7,500. Bertoia Auctions image.
FOLLOW HUFFPOST