After leaf peeping around Colorado's high country I returned to one of my favorite places for fall color: Boulder's South Mesa Trail. While there are no aspens down here, the sumac are bright crimson and the grasses and shrubs are rusting.
Since the impending snow and cold will soon end the visual fireworks I went out to capture some pixels and to take a 3.5 mile hike. I know you are busy reading your political blogs but hiking helps to relieve angst so come along with Mandy, the dog, and me for a brief virtual tour...
To get to the trail head we go 1.7 miles west of Highway 93 (South Broadway) on Eldorado Springs Drive (Highway 170). It's a spectacular ride as you head west towards Eldorado Canyon and the State Park. The trails are mostly dog friendly and a Boulder Voice and Sight green tag permits your dog to let you off leash in many places. On-leash areas are well marked and should be observed to protect wildlife and not tick off the bears and Rangers. I recommend printing the OSMP Circle Hikes Guide for a map and helpful information about hiking and regulations.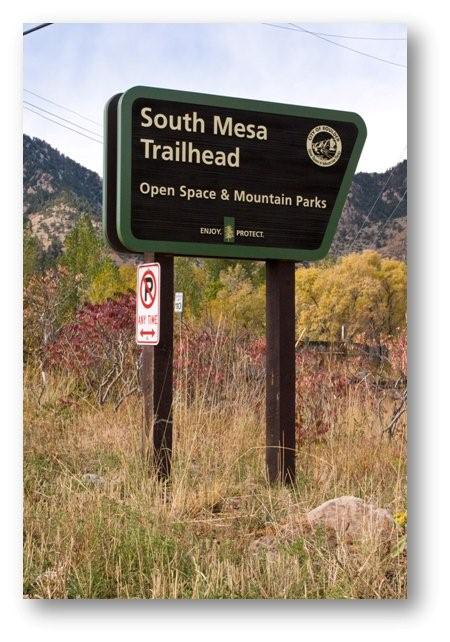 This trail head area has everything: pit toilets, creekside benches, beaches and picnic areas...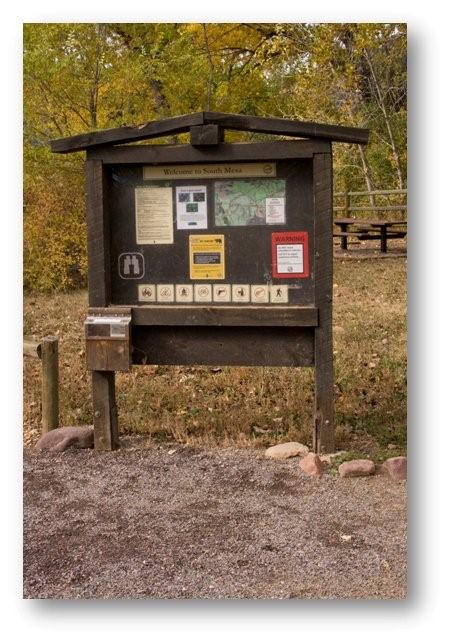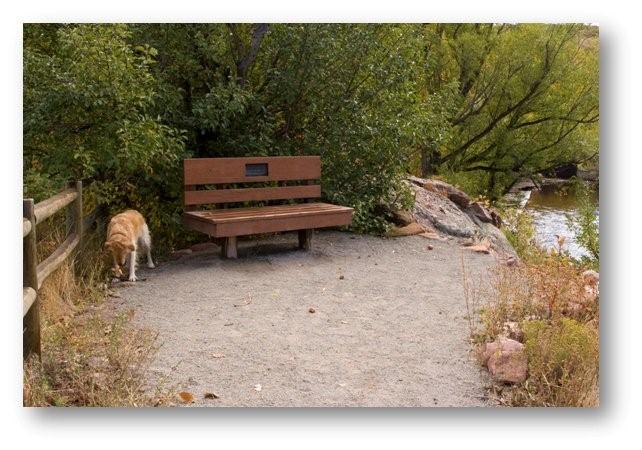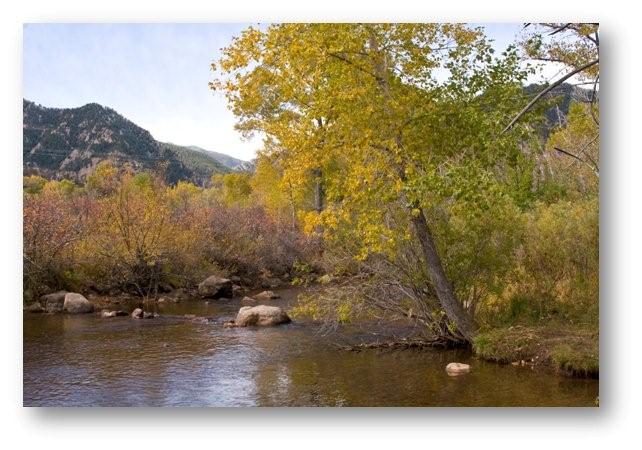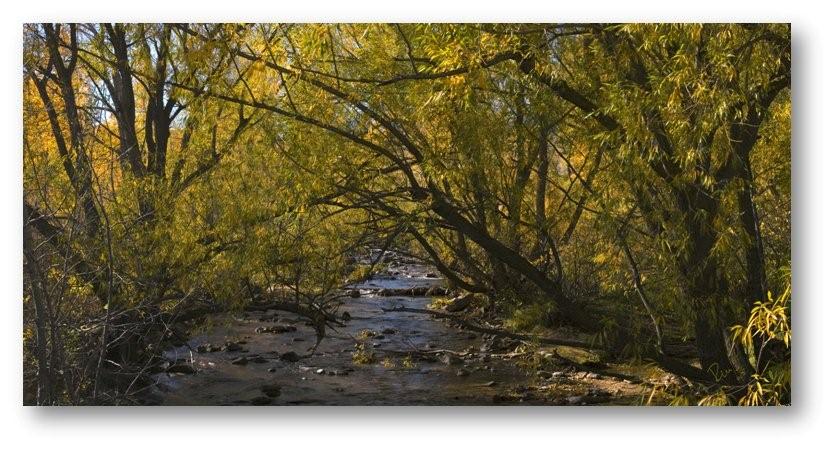 The trails from here provide sweeping mountain and prairie vistas and a rich cultural landscape as well. Click on this link for a Cultural Resources Map provided by Boulder's Open Space and Mountain Parks Department.
Mandy and I started our hike by taking the bridge over the South Boulder Creek...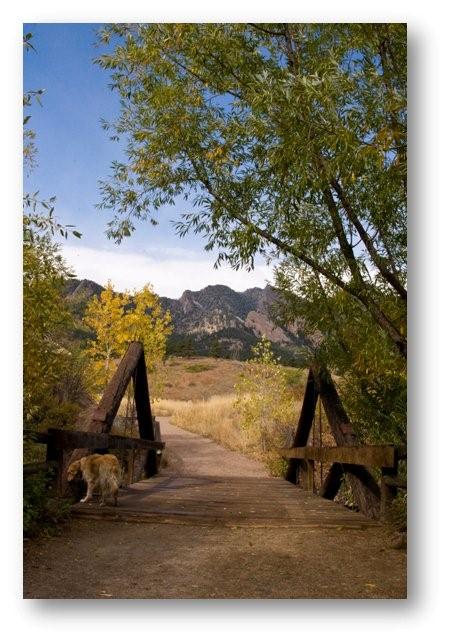 once over the Creek we followed the Homestead Trail west past the Dunn House (at moonset)...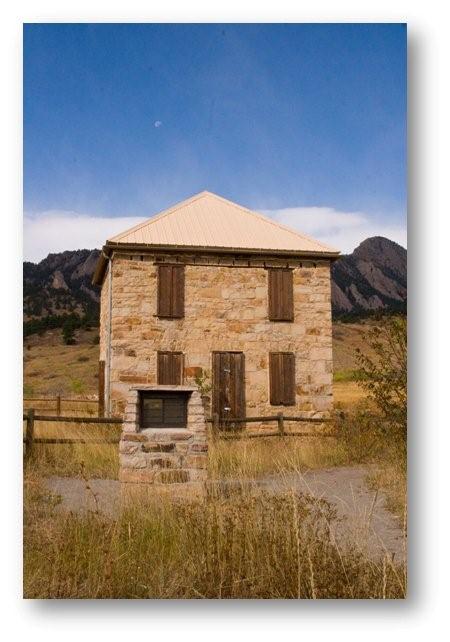 Soon the trail heads north leaving the South Boulder Creek to cross a wide valley where the view west reveals Eldorado Canyon and the southern foothills...


Climb the steps up the mesa where forest views give way to spectacular foothill vistas ...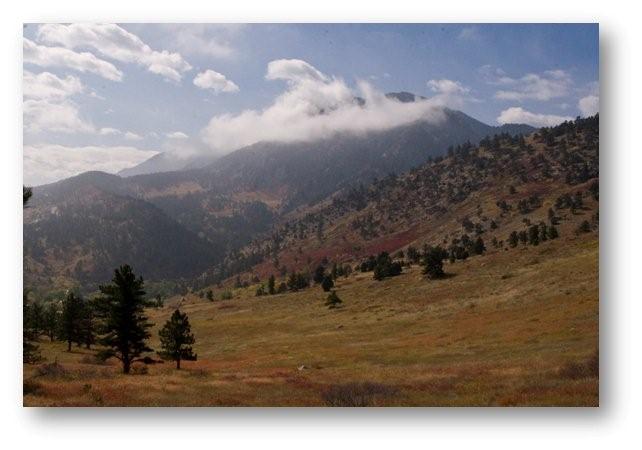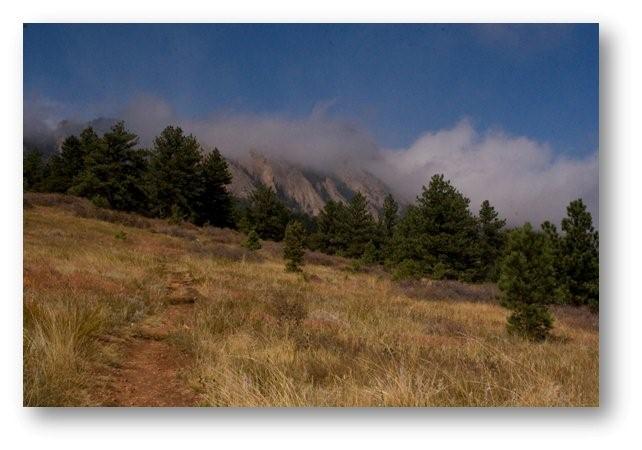 Mandy thanks Boulder's Open Space department for the handy water bowls...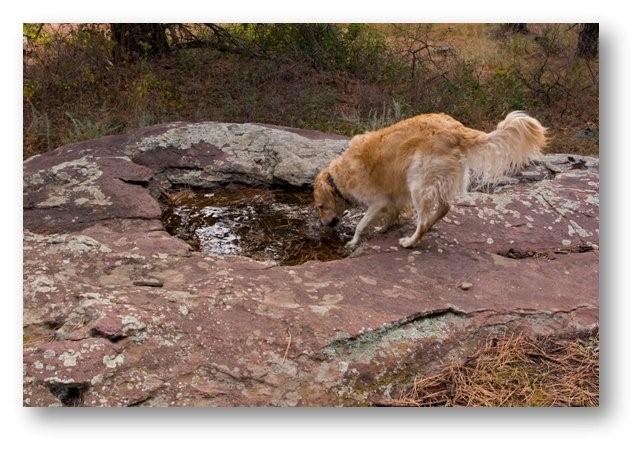 After 1.1 miles we reach the junction of the Towhee and Homestead Trails...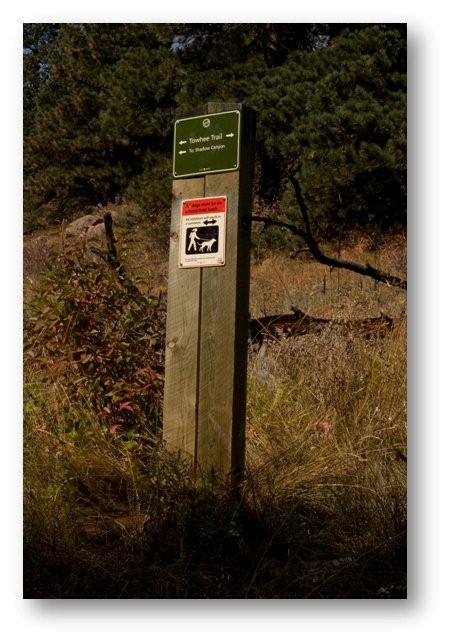 Follow the Towhee Trail for .2 miles along the creek toward Shadow Canyon... dog guardians will need to leash up for this stretch...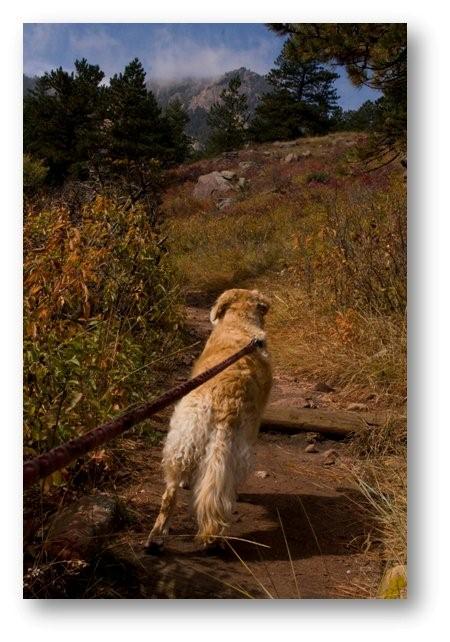 As we proceed west, The Matron appears at the entrance to Shadow Canyon. This rock is home to raptors and a challenge for climbers (but not at the same time)...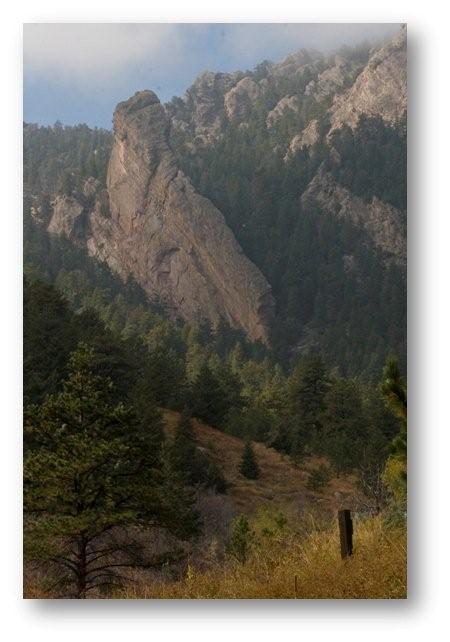 We continued west to the Shadow Canyon Trail. I can free my green tag pooch since we are back on a Voice and Sight trail ...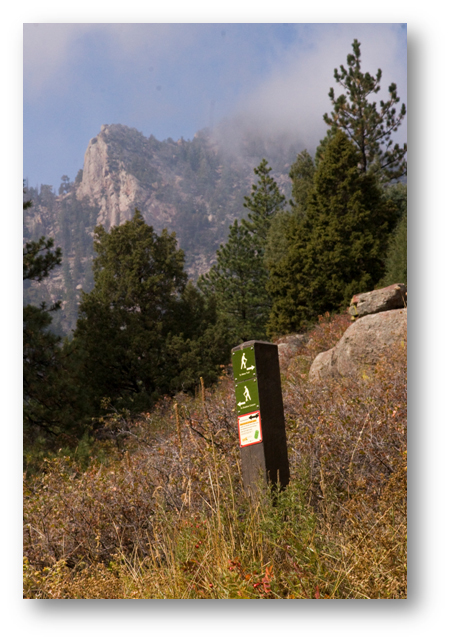 Once on this trail I went left (west) about .1 mile to get this photo of the McGilvery Cabin (good location, needs work)...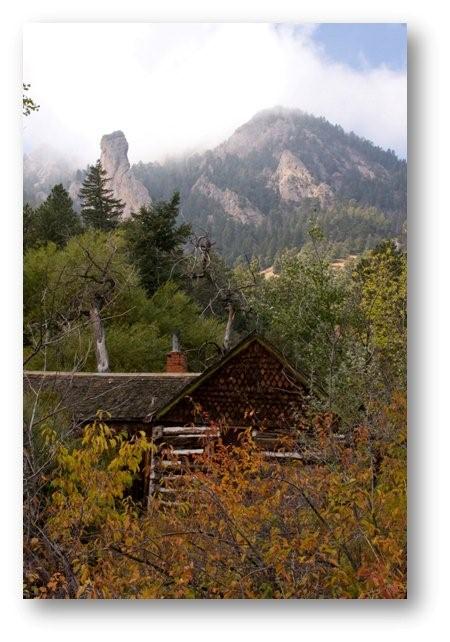 If you continue west on this trail for another .1 mile it leads to a great view of The Matron...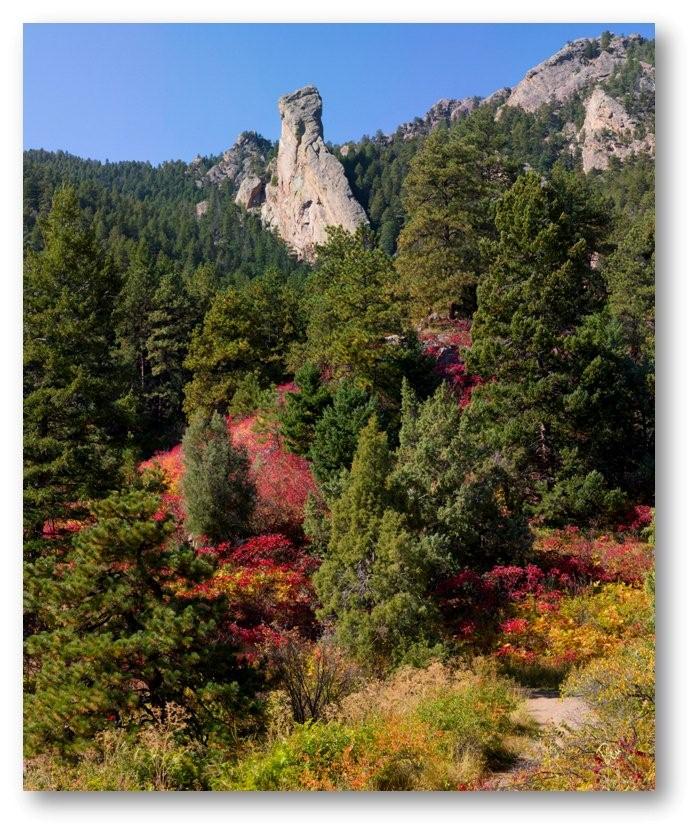 The Shadow Canyon Trail west connects to the Mesa Trail at two places before continuing up the Canyon. We turned back east here and reconnected with the Mesa Trail in about .3 miles. The trail gently descends back down to the South Boulder Creek and the South Mesa trailhead......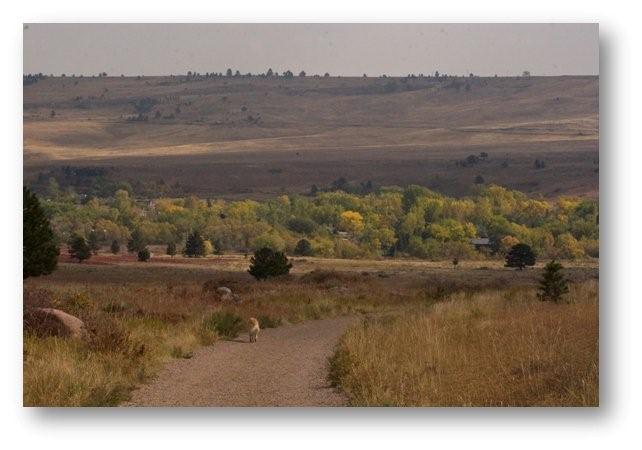 As if providing a visual finale this hike offers spectacular views looking west...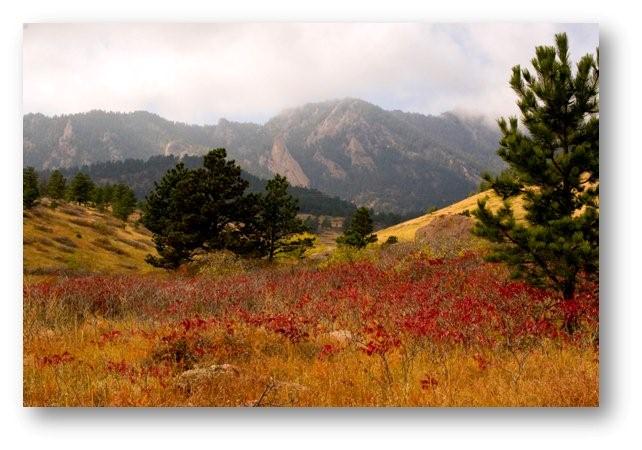 Thanks for the hike!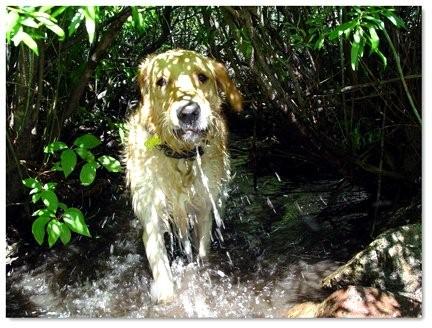 SUBSCRIBE AND FOLLOW
Get top stories and blog posts emailed to me each day. Newsletters may offer personalized content or advertisements.
Learn more