As reported in the Daily Camera, the City of Boulder's Open Space and Mountain Parks Department has decided to indefinitely close the popular Boulder Falls Trail after finding it too expensive to fix the area's rock-fall danger. This historic spot near the confluence of the North and Middle Boulder Creeks was given to the City of Boulder by Charles G. Buckingham in 1914 for recreational purposes, hence "saving this beautiful spot from the encroachment of the great tungsten boom."
It was the furthest, shortest, most visited and most spectacular trail in the 130 miles of the Boulder trail system. In addition to its natural beauty the easy access from Boulder Canyon's SR 119 made this the place to meet and greet people visiting and admiring Boulder from all over the world.
It seems a shame that after 85 years this trail is gone. If any of you are interested in exploring personal, public or corporate fund raising for a solution to reopen this trail please post your comments.
Fortunately I was able to capture this image from the base of the Falls last summer before the closure. I will miss hanging out at this spot ...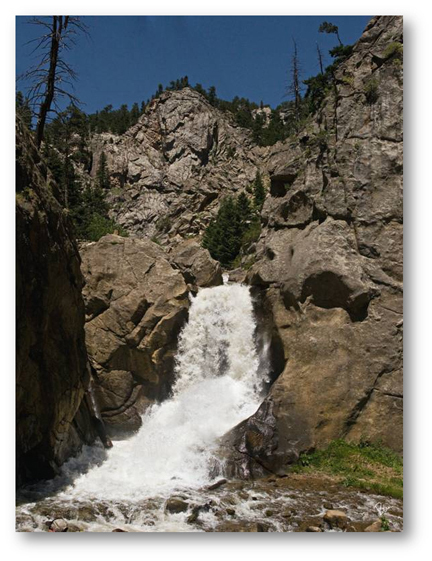 Boulder Falls captured 30 June 2008 2:00 pm @ 40° 0′20.44″N 105°24′22.77″W