A dangerous new super hero will make an appearance in Denver this weekend.
Set in Brooklyn, the film follows high school senior Sean Donavan (Caleb Steinmayer, True Blood), who hits the books by day and puts the hit on criminals by night.
"Comic books had a huge influence on the project and on me," Morrissey says. "I am a comic book nerd through and through. My favorite books were the ones that were dark in tone, closer to reality with really flawed characters, Frank Miller's Daredevil for example."
Morrissey has successfully darkened the landscape of the super hero genre. Recent attempts such as Kick Ass
have shifted towards a more realistic approach, which is evident in Boy Wonder from its real life shooting locations in Brooklyn, to the authentic, carefully crafted performances from each actor. He hasn't included anything that could be construed as tongue in cheek.
The hero doesn't wear tights or sport a cape. Sean's costume is only practical, because he wears it at night. Just dark colors, with a dark cap and a hoodie pulled over. During one subway scene, Sean goes a step further to conceal himself by scrawling black paint on his face.
It's a big stretch to compare him to Robin, the Boy Wonder. Morrissey says about the film's title, "The name Boy Wonder comes from the idea of this seemingly extraordinary kid. Sean is this perfect student, amazing athlete who fights crime in the streets, a real hero. But in reality he is not that, in reality he is a really fucked up kid but we don't want to acknowledge that part, we want him to be a hero."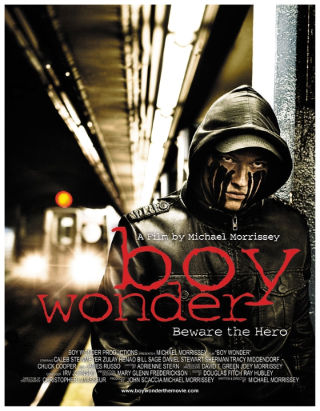 Morrissey forces us to reconcile whether he's a hero, or as the poster suggests: the hero we must beware. Complicating Sean's intentions are problems with his father, Terry (Bill Sage, Precious). Both are troubled by their past, having witnessed a tragic carjacking that left Sean's mother killed. Sean vows to get revenge.
Given the dark places Sean goes to serve his dish cold, he seems inspired by Travis Bickle from Taxi Driver. "I did watch a lot of Taxi Driver, funny enough," says Morrissey. "Travis Bickle and Sean have a lot in common."
Boy Wonder marks the debut feature film for Morrissey, but the result looks like he's done it before. For Morrissey, he's just thankful it can finally be seen by audiences.
"It took me literally ten years to get this movie made. I begged and borrowed and begged some more to find the money to get this movie made."
One of the film's biggest strengths is its casting (many of the actors are regulars in television and feature films), which he encourages other filmmakers never to rush. "Take your time and find the right person for the role. Great performances are more important than cool camera moves and great shots."
Boy Wonder plays at the Festivus Film Festival on Friday, 6:45pm at the Oriental Theater. For tickets and a complete schedule, visit www.festivusfilmfestival.com.
FOLLOW HUFFPOST