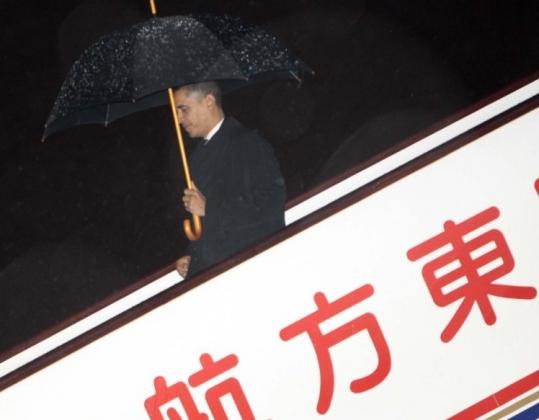 "If you can tell people, 'We have a president in the White House who still has a grandmother living in a hut on the shores of Lake Victoria and has a sister who's half-Indonesian, married to a Chinese-Canadian,' then they're going to think that he may have a better sense of what's going on in our lives and in our country," the Nobel Laureate once mused. "And they'd be right."
--Senator Obama to the New York Times Sunday magazine, November 2007
"The burdens of global citizenship continue to bind us together. Partnership among nations is not a choice; it is the one way, the only way, to protect our common security and advance our common humanity."
--Senator Obama, ""A World That Stands as One," Tiergarten, Berlin, Germany, July, 2008
"I know there's been a lot of publicity about this speech, but no single speech can eradicate years of mistrust, nor can I answer in the time that I have this afternoon all the complex questions that brought us to this point."
-- President Obama, "On A New Beginning," Speech to Muslim Nations, Cairo, Egypt, June 2009

"Let me be clear: I do not view it as a recognition of my own accomplishments, but rather as an affirmation of American leadership on behalf of aspirations held by people in all nations"
-- President Obama, Remarks After Winning the Nobel Prize, October 2009
"I do not bring with me today a definitive solution to the problems of war. What I do know is that meeting these challenges will require the same vision, hard work and persistence of those men and women who acted so boldly decades ago. And it will require us to think in new ways about the notions of just war and the imperatives of a just peace."
-- President Obama, "A Just and Lasting Peace," Nobel Acceptance Speech, Oslo, Norway, December 2009
"As someone who stands here as a direct consequence of Dr. King's life's work, I am living testimony to the moral force of nonviolence. I know there is nothing weak -- nothing passive -- nothing naive -- in the creed and lives of Gandhi and King. But as a head of state sworn to protect and defend my nation, I cannot be guided by their examples alone. I face the world as it is, and cannot stand idle in the face of threats to the American people. For make no mistake: Evil does exist in the world."
-- President Obama, "A Just and Lasting Peace," Nobel Acceptance Speech, Oslo, Norway, December 2009
Obama's Nobel Prize has his progressive base scratching their heads at his defense of War.

But many complicated dynamics swirl around the prize and the president's acceptance speech.
The prize signals hope for deeds to come and approval of cosmopolitanism. Obama's personal biography and governing strategy make him the U.S.'s first post-American president. More importantly, the very prize, and subsequent political debate, spotlight the brewing battle in the U.S. between post- and patriot-Americans. "Patriot-Americans," occupy "these wonderful little pockets of what I call the real America," as Sarah Palin declared in 2008, thanking the "hard-working, very patriotic, very pro-America areas of this great nation."
Post-Americans, meanwhile, are post-national. They are a mandarin class of urbane professionals, jetting between New York and London, between the Sunday morning talk shows and late-night bites of sashimi. Their life perspectives and cultural tastes are no more aligned with a middle American's than a Spaniard's or a Singaporean's.
The patriot- and post-American worldviews skirmish ever more fiercely, because America is fighting two global wars and recalibrating itself after a triumphant American Century. We stare a post-American century in the face.