Confronted with political minefields and enormous national problems, President Obama delivered a brilliant speech on multiple levels. For those unable to grasp -- never mind appreciate -- the President's address in all its nimble luster, here is a lexicographer's guide: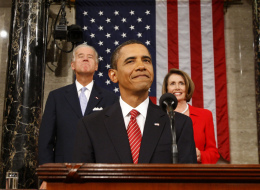 Afghanistan ("Gays should have the right to die there.")
Bailouts ("I know, like a root canal.")
Corporations ("They are not people, too!")
Deficit Reduction ("Political cover to win independents!")
Education and Energy Policy ("Our best defense against China.")
Future Generations ("Remember them?")
Geithner ("I rather talk about Jeremiah Wright.")
Healthcare Reform ("I will not be bowed.")
Immigration Reform ("Let's punt. See above.")
Jobs Bill ("On my desk without delay.")
K Street ("Worse than even Wall Street.")
Lost Decade ("AKA Republican Voodoo Economics.")
Middle Class ("SOS. Endangered species.")
Nobel Prize ("Seems like forever ago...")
Obesity ("Michelle is on it, America's Fat Kids Scourge.")
Permanent Campaign ("Crippling you cowards.")
Qaueda, Al ("On the run.")
Recovery Act ("Not so bad after all.")
Small Businesses ("The new, new Socc-ckey Mom.")
Tea Baggers ("I don't quit.")
Unions ("I rather talk about Tim Geithner.")
Values ("Dancin' the electric slide to the political center!")
Washington ("For Shame.")
Xtradition and Enhanced Interrogation Tactics ("I rather talk about root canals.")
Yes, we still can!
Zen ("Still got it.")
SUBSCRIBE AND FOLLOW
Get top stories and blog posts emailed to me each day. Newsletters may offer personalized content or advertisements.
Learn more