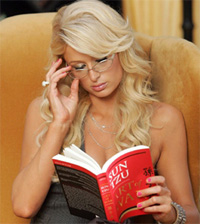 What do Paris Hilton and Twitter have in common?
Runner Up Answers:
- The content stops at or before 140 characters.
- You never feel fresh no matter how often you refresh.

Correct Answer:
- They are easy, but you are never really sure why you are doing it.
OK, OK, begin your "you are a sexist pig" comments below. Or how about, "wow, you are so desperate for blog readers that you resort to Paris Hilton jokes? You sad, little man..."
Actually, there is a point here - stick with me for a second.
The other day I was on the Internet, when my wife asked "Why are you looking at photo's of Paris Hilton?!" To which I quickly replied, "Honey, I am simply looking for inspiration for my blog. What...you didn't think...Oh honey, you are SOOO silly!"
(enter a week of eating fast food. on the porch. without my computer.)
So, what's the tie between Paris Hilton and Twitter? Over the last decade, Paris has created an incredibly ubiquitous brand, mostly through random acts that would seem to have no intention (or at least no obvious path toward a tangible, positive outcome). Her love life was well documented (perhaps directed by Roman Polanski?). She showed up at all the right parties. She became the most googled person on the planet.
And then, she turned it all into a multi-million dollar product empire!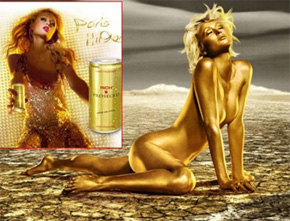 Twitter is also a second bounce activity - you don't see (or can even predict) the benefits immediately. It is not about just advertising yourself. It is not about espousing the details of your most recent breakfast sausage. Twitter is about simple actions that add value to a community. Actions that build your role in that community. Actions that overtime, can build ubiquity of your personal brand - put you right smack in the center of the conversation. And once that is accomplished, the benefits will come at you from unexpected sources and with surprising frequency.
Simply put: Over time, your tweets grow into destiny.

Special Note: The title of this post could have easily been The ROI of Twitter, but I thought, why deprive an entire generation of 15-25 year old boys of the content from this important post!

I WILL GIVE AWAY A SIGNED COPY OF MY NEW BOOK, THE LEAP, TO THE 2 BEST COMMENTS ANSWERING THE TITLE QUESTION. POST COMMENTS HERE!
SUBSCRIBE AND FOLLOW
Get top stories and blog posts emailed to me each day. Newsletters may offer personalized content or advertisements.
Learn more