Are you in a job that leverages your strengths and passions every day?
As your career continues on its current direction, are you getting closer to your ideal role, or farther away from it?
Are you willing to invest 15 minutes of your life to find out?

I am excited to debut on the HuffingtonPost the Primary Color Assessment. This tool was conceived from a single insight I had 8 years ago, and developed and tested since that time in partnership with a leading industrial psychologist.
For a limited time, I am making this available to all HuffingtonPost readers for free! (and NO, this is not a sales pitch for ANYTHING. really.)
First, Some Background
In early 2000, while conducting research for a white paper on leadership, I became increasingly frustrated with the amount of complexity associated with describing human ability (and the resulting absence of usefulness). In a cab leaving LaGuardia airport, I noticed a billboard with three overlapping circles representing the primary colors, and wondered, "Why is there not a similarly simplistic model with which we can understand and analyze our own abilities?" In the cab, I scribbled down on a napkin this image: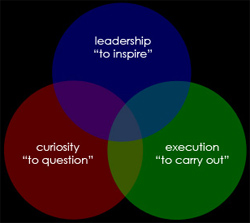 I then completed the diagram with the logical extensions (leadership combined with execution is management, leadership with curiosity is creativity, etcetera).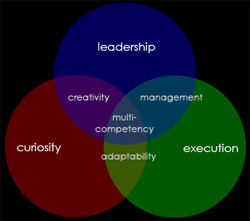 Over the next several years, I continued to refine and test this model, eventually using this framework to develop a spectrum of ability. Working with psychologists and other experts, I was able to mathematically map distinct sets of behaviors onto specific sections of the spectrum...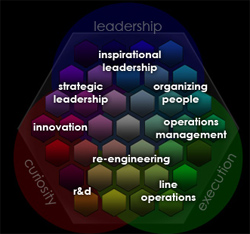 Now, this assessment can help you identify your own unique Primary Color - that point on the spectrum that is unique to your greatest strengths and passions. It also allows you to identify the region of the spectrum that your current job occupies - and highlights how close or far your primary color is to that. Close? Then you are more likely to be satisfied at work and developing rapidly. Far away? Likley frustrated and potentially stalled.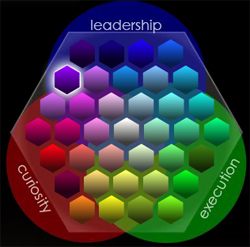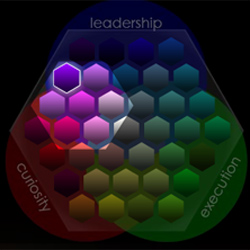 Additional research will even allow for the mapping of specific career paths over time (in this case, a Business Consulting career), or to project what types of jobs others with your color find the most satisfying as their career progresses. The future applications of this tool are extremely exciting.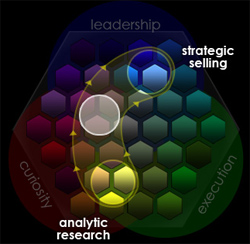 I am a Purple Heart. My wife is an Electric Lime, and my daughter is a Candy Apple Red.
What is your Primary Color? Take the test now and find out!
www.primarycolorassessment.com
This post was originally published at RickSmith.me
Subscribe to Rick's Blog.
Friend Rick Smith on Facebook.