"I am dragged along by a strange new force. Desire and reason are pulling in different directions. I see the right way and approve it, but follow the wrong."
- Ovid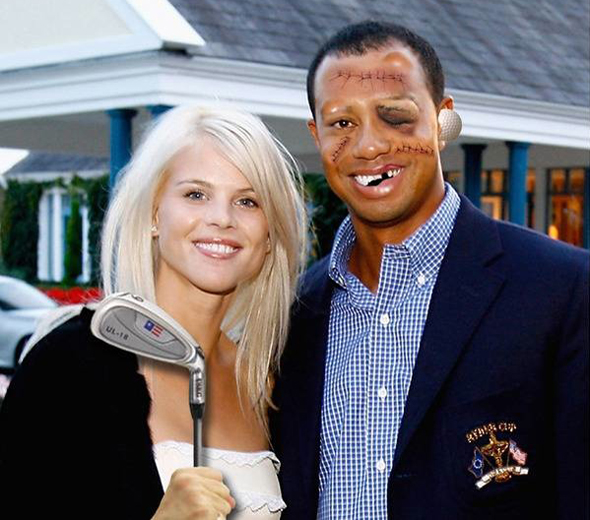 Why is the irrational often more powerful than the rational? What leads us to do really stupid things?
Locked up in his estate, this is certainly a question Tiger Woods is now asking himself. Why risk it all for a simple trist (or a series of them)? Why is lust so often more powerful than logic?
What's the difference between a golf ball and an Escalade?
TIGER CAN DRIVE A GOLF BALL 400 YARDS.
I offer no moral explanation, nor moral condemnation for Tiger Wood's apparent extracurricular activities. But as we are all once again exposed to what appears to be an incredibly costly tradeoff of seduction and sacrifice, I find it helpful to look to modern psychological for possible explanations.
Police asked Tiger's wife how many times she hit him...She said

"I DON'T KNOW, 5 OR 6...PUT ME DOWN FOR A 5"
In his wonderful book, The Happiness Hypothesis, John Haidt writes about the conflicting systems of the brain. Specifically, there are two competing systems at work in the brain at all times. The automatic system is derived from the oldest part of the brain, and triggers simple reflex (like sex and passion). The more sophisticated, controlled system manages processes like planning, weighing the pro's and con's of different paths.
When presented with certain stimulus, like a beautiful hostess in a romantic place, far away from home, the war between the automatic and controlled systems begins to rage. The controlled system confronts with logic - "Hey, Idiot - Over here! You can't be serious! Do you have any idea of the consequences?!"
But the automatic system fights back. "Wow....hot!....martini....REALLY HOT!"
WHAT WERE TIGER AND HIS WIFE DOING OUT AT 2:30 IN THE MORNING?
THEY WENT CLUBBING
The automatic system, powered by millions of years of evolution, runs automatically, effortlessly, and endlessly. The logical controlled system is powerful, but it has an endurance problem. Like a tired muscle, it eventually wears down and caves in. As Plato once said, "Reason is, and ought only to be the slave of the passions, and can never pretend to any other office than to serve and obey them."
DID YOU HEAR PHIL MICKELSON CALLED TIGER'S WIFE ASKING HOW TO BEAT HIM?
Tiger is in the deep rough, that is for sure. But we cannot fault his logic or his reasoning. It was the oldest part of his brain that fought harder and longer, and eventually sent Tiger's tee-shot deep into the woods...
and his driver into the bushes.
Follow Rick Smith on Twitter: www.twitter.com/RickSmithAuthor