This spring and summer, we're filming six new public television programs to wrap up our new season: Berlin, Prague, Amsterdam, the Netherlands, the Veneto, and the Cinque Terre. We do two shows (12 days) per shoot. Right now, we're having great fun in Italy shooting episodes on the Veneto and the Cinque Terre.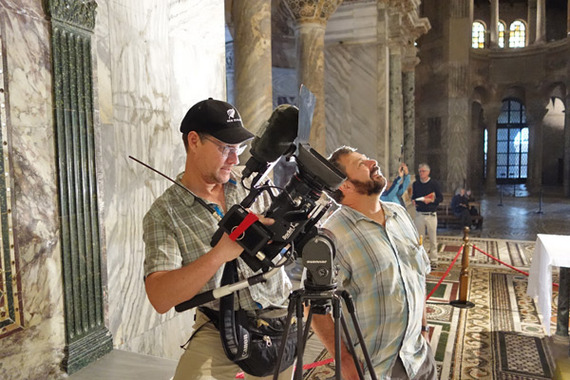 Cameraman Karel and producer Simon are artfully capturing some of Europe's greatest art on this shoot. Here, we're surrounded by exquisite mosaics in Ravenna.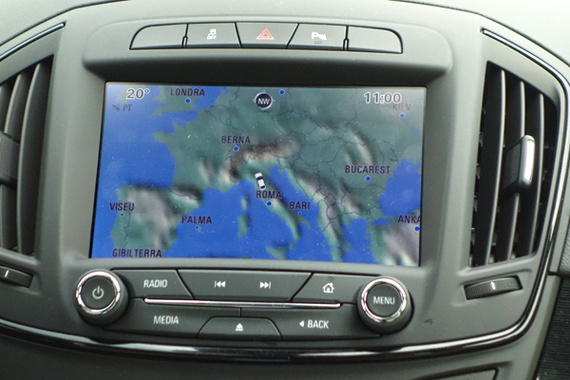 I love all the new technology that makes travel easier than ever. With the help of this rudimentary GPS system, we knew we were in Italy.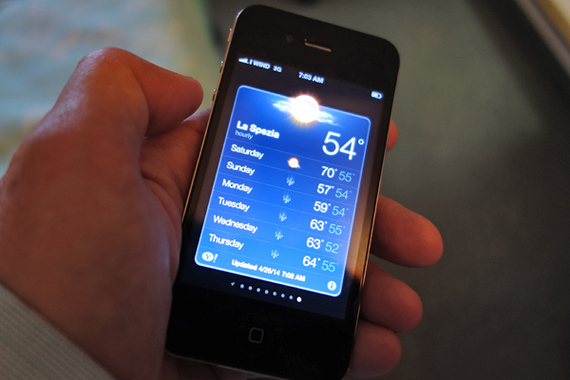 I generally don't care that much about the weather. But when filming, I live by the weather forecasts. We enjoyed perfect weather for six days shooting our Veneto show. But when we headed to the Italian Riviera, when the weather was critical, the forecasts were horrible. I search and search online for a decent forecast, and sometimes, I come up with nothing but drizzle. We started our Italian Riviera show (near La Spezia) with nothing but rain in the forecast.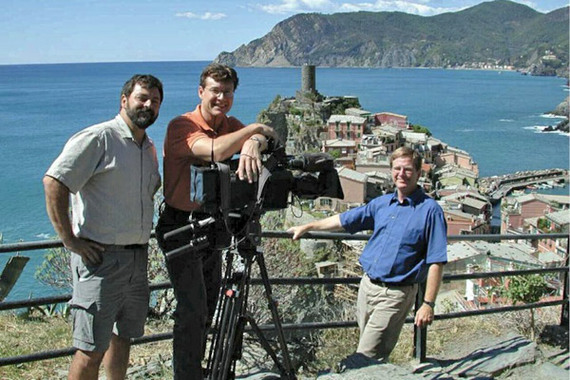 Our crew in Vernazza 2001: This favorite view of my favorite town on my favorite stretch of Mediterranean coastline doesn't change much. This is our crew (me, producer Simon Griffith, and cameraman Karel Bauer) in 2001. It was fun to update this episode with many of the same players among the townsfolk...and with my same, wonderful crew. (BG: Cumulus shows this as 2000; can change image name to 2001 if you'd rather not bother)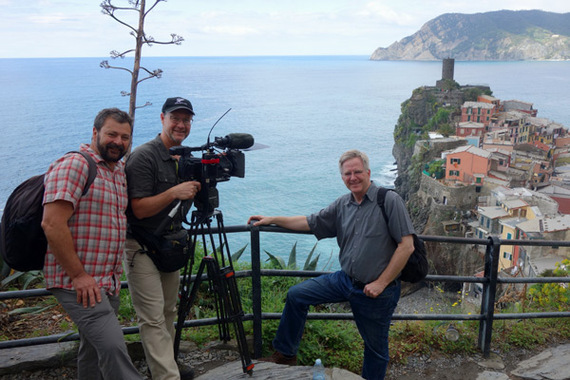 Same crew in Vernazza 2014: And this is the same crew, at the same viewpoint in 2014. Thankfully, as we get older, the camera gear gets smaller and lighter. At this rate, we'll be producing TV for a long, long time. By the way, TV production today is every bit as challenging -- and rewarding -- as it was in 2001.
SUBSCRIBE AND FOLLOW
Get top stories and blog posts emailed to me each day. Newsletters may offer personalized content or advertisements.
Learn more