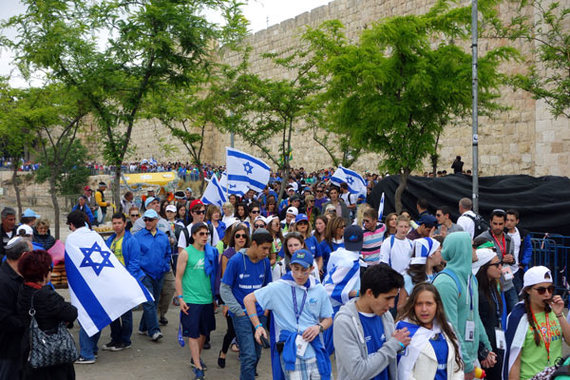 Earlier this month, my crew and I flew to Tel Aviv to film three new public television shows on the Holy Land: individual half-hour episodes on Israel and Palestine (part of our new eighth season of Rick Steves' Europe, premiering in October of 2014); and an hour-long special on the Holy Land as a whole, designed to give context to the challenges of that region, and to help viewers better understand and empathize with the people sharing it (scheduled to air in mid-2014). Over the next four weeks or so, I'll be posting every day right here about my experiences filming these new shows.
Hearing about my travel plans, several people have asked me whether I really want to wade into the quagmire of Israel and Palestine, where it seems like anyone who probes for the truth will anger people on one side or the other. Believing that the vast majority of Americans are not partisan on the issues here -- and emboldened by the burgeoning movement among Palestinians and Israelis to find an enduring solution that gives dignity and security to people on both sides of the divide -- I think this is an exciting and timely project. And, frankly, I'm tired of extremists exploiting social media to exaggerate their numbers, creating the illusion that a vocal fringe of our society is more legitimate than it actually is. With these new shows, my only agenda is to appeal to open-minded people who simply want to do some armchair travel, hear a variety of perspectives, and be given the opportunity to form their own opinions.
I was in the Holy Land this spring scouting for these new shows. Now I'm excited to head back and start shooting with our crew: my producer, Simon Griffith; two cameramen, Karel Bauer and Dean Cannon; and a cadre of both Israeli and Palestinian local guides, drivers, and helpers. We'll be working in Jerusalem (bursting with history and culture); Tel Aviv and Haifa (so joyful and full of modern life); and Masada and Yad Vashem (which give poignancy to the Jewish struggle, from Roman times to the Diaspora to our own generation). Then, heading into the West Bank, we'll be curious sightseers in Bethlehem, Hebron, Jericho, Nablus, and Ramallah -- experiencing "reality travel" in places almost completely unknown to most Americans. We'll walk in the sandal-steps of Jesus with Christian pilgrims at the Sea of Galilee, taking Bible stories to a new level. And we'll learn about the Separation Wall and the settlements that vex the desire for peace.
With the help of local Israeli and Palestinian guides, we'll make a point to listen to local voices on both sides of the issues. In Israel, I'll be wearing my yarmulke and eager to learn. And in Palestine, I won't be wearing my keffiyeh -- but I'll be equally ready to learn.
After several weeks of traveling throughout the Holy Land this year, it's my hunch that the majority of both Israelis and Palestinians have come to the conclusion that violence is not the answer. And I believe that, while any sane person wants peace, a wise person understands there can be no real peace without justice. Like the destinations themselves, these themes will prove to be a fascinating area to delve into.
The Holy Land -- which is "holy" to about a third of humanity -- is a richly rewarding place to travel. Join me right here over the next month, as I'll be posting every day about my explorations of this fascinating land. And share a link with your friends who might be interested in traveling along. Together, we'll strive to overcome fear with understanding.
Happy travels!
Rick Steves