It's fun to get off the beaten path when filming our TV series. The show we're doing now is all about not going to Venice -- instead, we're visiting nearby places we're calling "sotto-estimato"... underestimated: Verona, Padova, and Ravenna. While I love Venice, the welcome is warmer and less greedy in towns on the nearby mainland.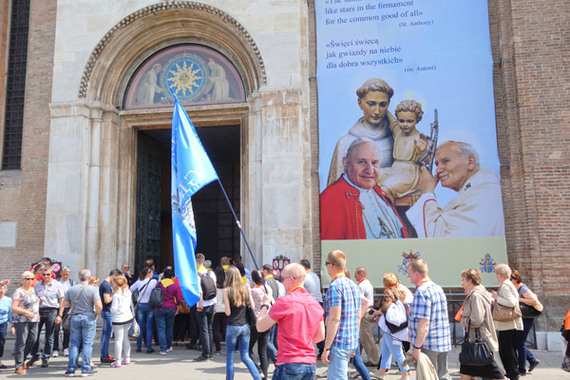 Pilgrims Converge on Padova's Basilica of St. Anthony
One of the most popular pilgrimage sites in all of Christendom is Padova's Basilica of St. Anthony. And plenty of pilgrims were here celebrating the canonization of two recent popes, John XXIII and John Paul II.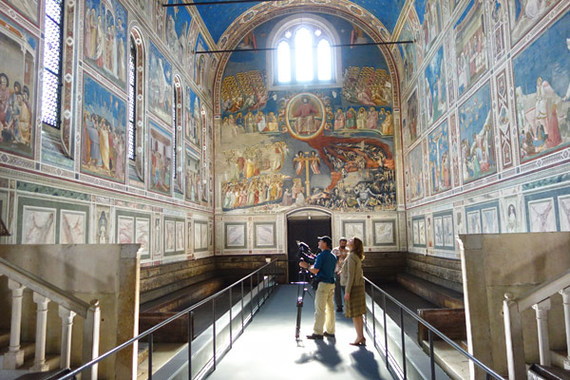 Just Our Crew and the Best of Giotto
Padova's Scrovegni Chapel, with a precious and exquisite series of frescos by Giotto, is one of those super-fragile and popular art treasures (like Leonardo da Vinci's Last Supper) where, in order to control the humidity, only a few people (who have reservations in advance) are allowed in for short visits. With our film work, rather than the normal 15-minute visit, we got to stay for two hours... and, four times each hour (as other visitors were ushered in and out), we had the chapel all to ourselves for a couple of delightful minutes. The last time we filmed here was 12 years ago, when it was covered in scaffolding. Making the best of a disappointing situation, we adjusted the script to focus on the restoration process itself. This time we enjoyed the chapel in all its Giotto glory.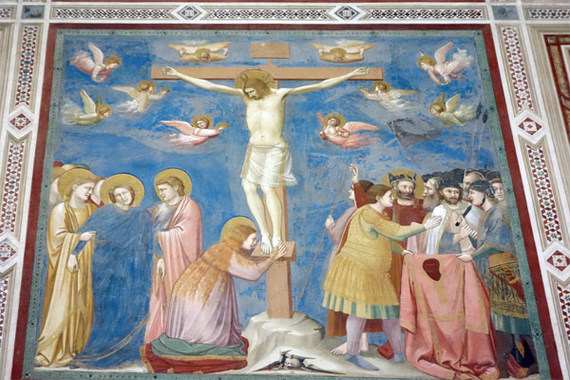 Grief Frescoed as Never Before in 1300
Enjoying the artistic genius of Giotto in Padova's Scrovegni Chapel is a highlight for any art lover. It's amazing to consider that these scenes, including this Crucifixion, were frescoed 200 years before the age of Michelangelo and Leonardo.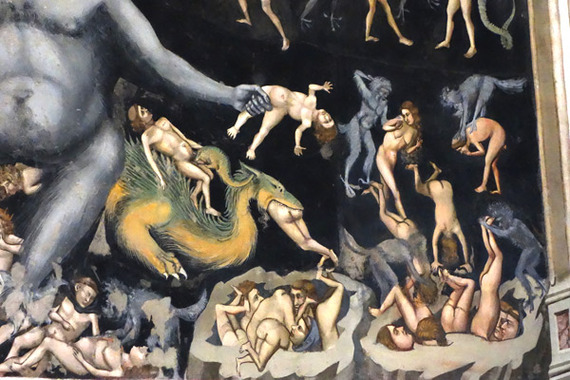 Damn You... All of You...
The entire Scrovegni Chapel is frescoed by Giotto. And, while it's a carefully designed series of panels showing events from the lives of Jesus and Mary with a dramatic Judgment Day filling the back wall, I enjoyed finding my own favorite little snippets. You can find countless details that, if framed and hung on a wall, would be gorgeously designed scenes on their own. This tiny segment is in the gruesome corner: the damned on Judgment Day, just kicking off what promises to be a pretty miserable eternity.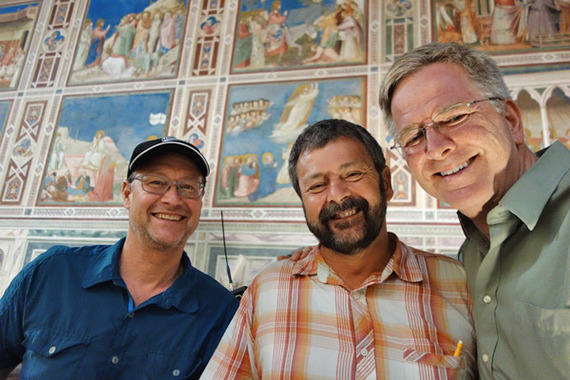 Man, I Need a Cigarette
I love working hard with people equally committed to our mission of sharing the wonders of Europe with our travelers. And my crew -- producer Simon Griffith and cameraman Karel Bauer -- make TV production both a joy and very rewarding. We get to be alone with Europe's greatest art. And after private time with the very greatest, we feel a special exhilaration. Even though none of us smokes tobacco, in moments like this, we joke that we need a cigarette.