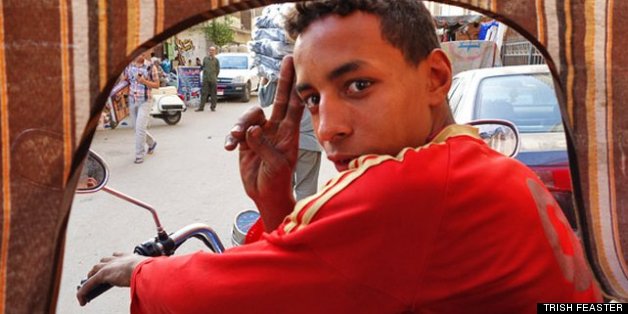 As you can tell by the flurry of posts, my 10 days in Egypt have inspired me to write. I've had an amazing experience here. My open letter to President Morsi actually earned me a reply from his assistant, who ensures me they are trying and that they appreciate the caring candor of this series on their country. I leave Egypt both exhilarated and exhausted from all that I've learned.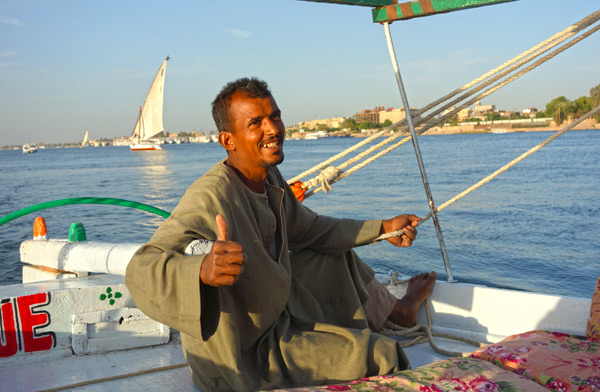 While travel to Egypt comes with plenty of uncertainty, one thing is sure: If you travel thoughtfully, you'll be charmed by a warm welcome from beautiful people.
,While I set out to scout for two shows, it'll be very tough to show what I want in two 3,400-word scripts. But making a logical structure for three different shows will be a challenge. Perhaps Ancient Egypt (light on Cairo with Abu Simbel), Cairo (light on ancient sites), and Highlights of the Nile (Alexandria, Cairo, Luxor, and the cruise to Aswan). But a tighter two-show plan--Ancient Egypt and Highlights of the Nile--would be stronger.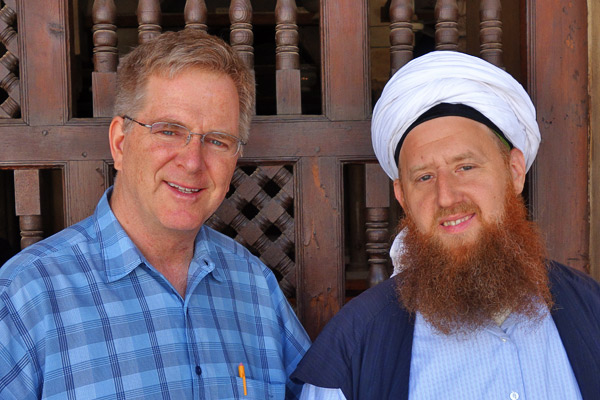 While traveling in Europe, I enjoy meeting countless Americans and fans of my TV series and guidebooks. While the political craziness has dented tourism across the board here in Egypt, there are plenty of visitors... but almost no Americans. In 10 days in Egypt I met exactly one person who recognized me (and was a public television supporter)--a Sufi Muslim from Toronto. Photo by Trish Feaster (for her Egypt blog, see http://thetravelphile.com/).
By the way, I purchased a Sony RX100 camera just before leaving (at $650, it's about the most expensive of the little pocket cameras). It slides like an armadillo into my pocket when not in use. I generally just shot on automatic but found the shutter-priority mode handy, too. It has incredible light sensitivity (I rarely used a flash and shot a lot at night). And its brain is mind-blowing. I like it a lot. My partner, Trish (a better photographer than me -- you can see her art from this trip at www.thetravelphile.com), uses one, too.
Staying at the Winter Palace in Luxor (for the price of a basic hotel in London) you live like a king. I was even assigned my own butler. Photo by Trish Feaster.
I have to admit, I was pretty pampered on this trip. To both stay safe and get the absolute most value out of my time, I hired Tarek Mousa, who runs Egypt and Beyond Travel to set up this trip. We brainstormed possible itineraries for the 10 days. He met me at the airport in Cairo and had hotels, a car, and local guides working with me each day. I went out a lot on my own and felt comfortable. But from a sheer efficiency point of view, with the language barrier and the complexities of post-revolutionary life in Egypt and real issues of safety, I was glad I worked with Tarek to create what was essentially my own private tour.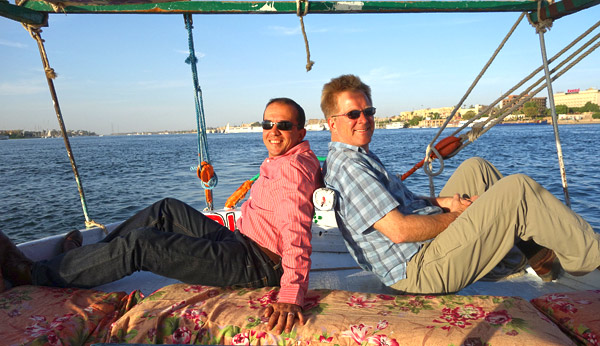 Tarek Mousa, of Egypt and Beyond Travel, made sure I enjoyed maximum travel thrills for every mile, minute, and dollar while I was in Egypt. Photo by Trish Feaster.
Now, after getting used to a world where I routinely find tiny pieces of stone in my food and am hob-knobbing with people with foreheads bruised from the intensity of their prayers, I fly to the Holy Land for 10 days split evenly between Israel and the West Bank, Palestinian Territories, or Palestine -- depending on your politics. This promises to be an equally stimulating and rewarding travel experience. I hope you'll stay tuned as I report on what I learn there, here on my blog.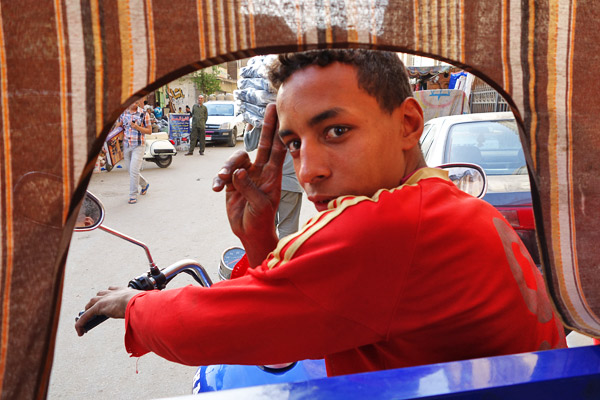 Photo by Trish Feaster.