For 30 years, I've spent all my travel time overseas, mostly in Europe. Finally, it's time I saw the good old United States of America. On March 3, I'm setting off on a road trip that will wind through 20 cities in 20 days. I plan to give talks in mostly smaller cities and towns all the way from Seattle, Washington to Tallahassee, Florida.
I've never been so excited about an upcoming trip, not only because I will be bringing my travel lessons to smaller cities, but to actually be driving across the entire US. For the last few years, I've noticed that every time I'm hired to give a talk in a "smaller market" -- places like Fort Wayne, Indiana, Fort Smith Arkansas or Peoria, Illinois -- I encounter lots of local pride, a super friendly welcome, and an auditorium packed with enthusiastic travelers. I was enjoying these middle-America gigs even more than my regular stops in the big cities.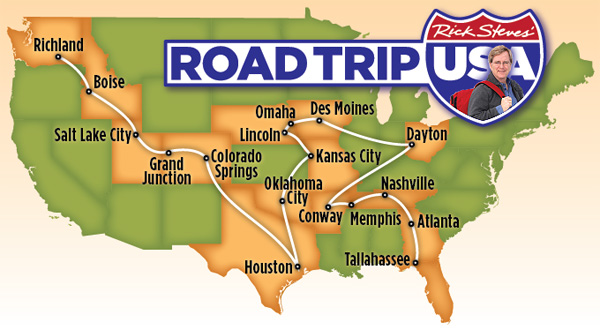 So, for 2012, rather than do my usual "8 major markets in 8 days" tour of the big P.B.S. stations during March pledge drive season (which I've been doing for more than a decade), I'm thinking bigger and smaller at the same time. On this year's 20-day trip, I'll have fun helping support smaller public TV and radio stations, giving lectures, and making impromptu stops at independent book stores that rarely get a travel writer visiting in person. I'm thankful for all the hosts who have already made it easy for us to book exciting events at each stop along the way.
Beyond all that, my "Rick Steves' Road Trip USA" agenda is to inspire people to get out and see our beautiful world -- and to inspire myself to explore and appreciate the great diversity and hospitality of my own country. Our Road Trip USA page at RickSteves.com will track my journey, and I'll be blogging daily right here on my Facebook page. And, each night along the way, I look forward to giving talks that help Americans enjoy maximum thrills for every mile, minute, and dollar they have for their next vacation.
If you live along my Road Trip route, tickets are now available at each stop. If you have friends and family who live nearby, share the news. And, wherever you live, I hope you'll travel along with me virtually.

Hop in, buckle up, and hang on. It's going to be a fun ride.
SUBSCRIBE TO & FOLLOW LIFESTYLE
We're basically your best friend… with better taste. Learn more