Have you ever heard of a turban squash? What about a black pumpkin? Hubbard? Rouge Vif d'Etampes? I have always been a big fan of one of mother nature's most stunning autumnal displays of artistry, winter squash in all of it shapes, sizes and colors. I was in Paso Robles, CA last week with members of my staff to cook a wine dinner at Justin Vineyards. We spent the next day tasting wine, of course. Weather has been cool in California this year so, much to the angst of the vineyard masters but to our great fortune as admirers of the vineyard farmland, grapes were still hanging this late in the season. We got to see and pick and taste them right off the vine. They were everywhere. But do you know what else was everywhere? Pumpkins! Even though I lived in California as a young adult, being a New Englander, I somehow feel that we own fall on the East coast -- foliage, Halloween, pumpkins. But, hello?? It is autumn in California and California IS agriculture.
That said, grapes and pumpkins were my harvest feast this week. California is a unique climate that takes the meaning of locavore to a whole new level. The quality and freshness of the produce is incredible and I wanted to smuggle the whole pumpkin harvest back to D.C. in my suitcase. But I knew I didn't have to since most of the varieties of squash I saw can be found around D.C., many of which are sitting right in my restaurant, garnishing for the moment, possibly turning into soups, gratins and ravioli for Thanksgiving.
Can you guess what kind of squash this is? At first glance it looks like it could be a regular pumpkin, but it is green with just a hint of orange. Almost like Cinderella's pumpkin slowily becoming her chariot. Actually it is called Cinderella's pumpkin.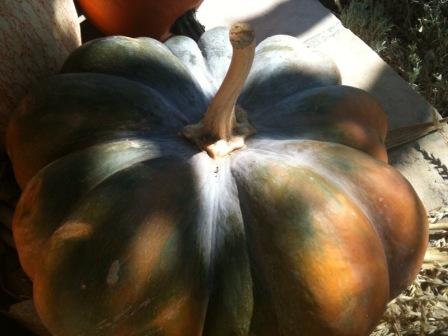 What about these beauties -- any suggestions about their names? Feel free to guess away in the comments. Some of the answers surprised me!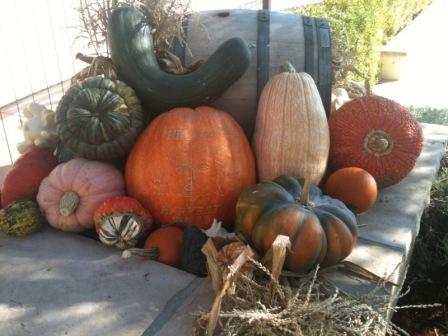 One of the benefits of shopping locally is that homegrown vegetables have character and personality. Seeing the different gourds got my mind churning with new recipes and flavor profiles I could experiment with in the kitchen. Of course, we all don't live in California, but here inside the beltway, we are lucky to have a wide variety of farms and markets from which we can select whatever the season has to offer. As I mentioned in my post last week, supporting farmer's markets and local organizations here in D.C. is one of my favorite pastimes and where I get most of my inspiration for RIS.
It's no secret that I love the fall weather, the foot ball games, the crisp air, the apples and the root vegetables and gourds that go along with it. Whether in California or Washington, pumpkins and squash offer hearty, comforting flavors for every type of climate. One of my favorite ways to enjoy them is as pumpkin ravioli with sherry caramelized onions, mushrooms and sage butter. I love to combine both sweet and very savory with squash, since it is sweet and needs the savory.
Butternut squash is a good choice because it is delicious and easier to work with than the rest. But there are so many options so don't be afraid to experiment with the unfamiliar. To make the filling, cut the chosen squash into chunks, remove the seeds and cover with a sprinkling of orange juice, maple syrup, a bit of butter, salt and pepper. Roast them, skin on, until they're soft, hoping for a bit of caramelization from the syrup and butter. Scoop out the flesh into a bowl and then put it in a skillet over medium heat, stirring constantly to both purée the squash and more importantly to dry it out. Once dried to your eye's liking, chill the purée. Meanwhile place some beautiful fresh local ricotta in a colander to drain, again trying to eliminate as much moisture as possible. When the squash purée is chilled, mix it with ricotta at about a 3/1 or so ratio squash purée/ricotta. Add some grated parmesan reggiano and additional salt and pepper as needed. Do not hesitate to add a little maple syrup or squeeze of orange juice if you would like, keeping in mind that the mixture needs to be as dry as possible and not too sweet. Make the ravioli into whatever shape pleases you. Blanch the ravioli and sauté them in sage butter. Garnish with sherry caramelized onions, sautéed mushrooms, dried cranberries, toasted walnuts and some shaved parmesan reggiano. Really delicious.
This post has been modified since its original publication.
SUBSCRIBE TO & FOLLOW THE MORNING EMAIL
Start your workday the right way with the news that matters most. Learn more