Video and photo credit: Guillaume de Vaudrey

Recently I found that driving the 2016 Volvo XC90 in Spain was the perfect combination. The Volvo folks brought us in to test the car in an area just outside of Barcelona where countryside met with beach and the roads were easy to navigate particularly in this snazzy set of wheels.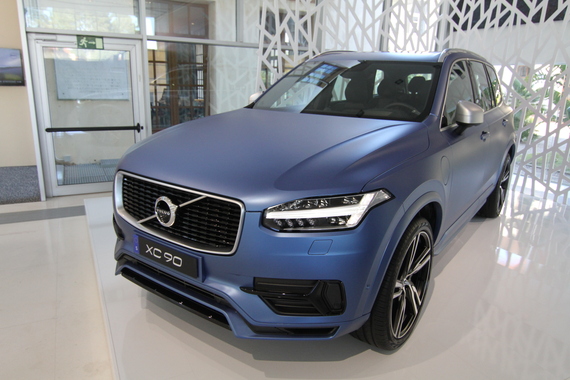 Mine and my colleagues greatest challenge seemed to be "not getting lost" as I kept saying over and over again as we drove around admiring the landscape. However, that was not to be and at one point during the afternoon drive we found ourselves down a dirt road in the middle of a vineyard. A man with a very large dog was walking down the same dirt road and chuckling to himself. When he came to our window for directions he just kept saying vino and pointing at a small house a few yards away. We finally found our way back to the hotel (thanks to the navigation being pre-set with an option to go home). We also found ourselves at one point in a very small village and on a very small street, you know the ones, in the movies you see these little streets all the time and this image is one way you can also tell when you are in Europe.
Well here I found myself behind the wheel of this Volvo looking at less than inches on either side and praying the car side mirrors didn't get scratched.
Happy to say all went well, so indeed, I love this car so much and when driving it the feeling is that of action and adventure and taking charge, who doesn't want to own a car with a vibe like that.
So let's go into some detail about this "oh, so cool" 2016 Volvo XC90.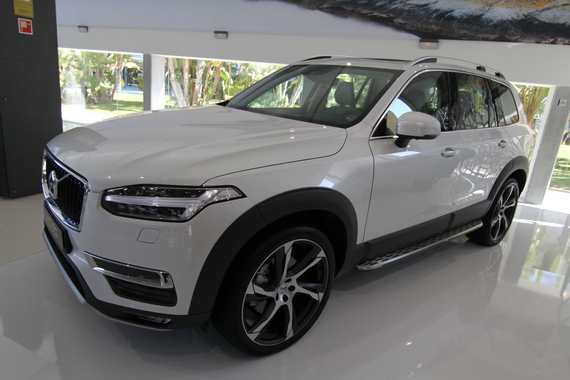 The more I learn about Volvo and its continual quest to move forward the more impressed I find myself regarding the Volvo brand overall. The Volvo XC90 is all about styling and comfort and this one is going to be one of the top choices in the SUV market alongside the likes of the Acura MDX, Infiniti QX60 and the BMW X5.
The 2016 Volvo XC90 has a totally new look and some big changes. For 2016 expect a smaller engine meaning good fuel economy coupled with a powerful punch. Keeping the Swedish style and culture in mind, Tisha Johnson, Chief Designer, Interiors for the new XC90 says the design reflects the Scandinavian lifestyle and the term Scandinavian sanctuary was even mentioned. A good point since, after all, these days people spend a lot of time in their vehicles so why shouldn't it be the best experience possible.

Johnson says the Swedish folks are "thoughtful before executing" and with that she says this new Volvo was designed in that same way. Highlights to point out include easy-to-use navigation, a seat design that took around seven years to perfect, 32 different combinations for folding the seats, zoned climate control, a very large sunroof and theater seating so everyone gets the same view and with just a simple wave of the foot under the bumper and the tailgate opens too.
On the exterior there is a larger grille, sleeker headlights and inside leather, wood and even crystal in some cases, making this a luxurious experience reminiscent of that sanctuary the Volvo folks eluded too and, with a great sound system to the tune of Bowers & Wilkins and 19 speakers.
The 2016 Volvo XC90 is a luxury crossover SUV that can carry seven passengers and comes in the base Momentum trim or the Inscription or R-Design trims as well. All of the extra package options not offered on the various trims are all priced under $2000 to add-on.
Going under the hood the 2016 Volvo is the world's first twin-engine on a seven seat four-cylinder with the Volvo execs noting "we aim for leadership." The engine is supercharged and turbocharged with 316 horsepower and 295 pound feet of torque with an eight-speed automatic transmission and AWD.
The XC90 will also come with a T8 powertrain that is a twin-engine plug-in model offering about 60-kilowatt of electric along with the fuel engine so as needed the electric and the plug-in hybrid will have 400 horsepower and it is said to be expected to get 25 miles on electric only with 472 pound-feet of torque.
Safety is also a consideration on the 2016 Volvo XC90 as on all Volvo's since the brand stands behind their Vision 20/20 that goes like this "by 2020 no one should be killed or seriously injured" in one of the Volvo cars. Remember too, it was in 2002 that Volvo released the rollover protection and in 1959 this was the brand that introduced the three-point safety belt development. On this 2016 Volvo you get imminent frontal collision detection with automatic braking as well as a feature that allows for the brakes to be applied automatically when the driver turns in front of an oncoming car and tightened seatbelts as needed called the Run-off Road Protection. I would say that the interior is nothing short of beautiful; elegant and classy and there is also plenty of room inside for the driver and passengers and the second row will give 2.4 inches of legroom, while the third row is not for long trips and is best served for children.
At a cost of $48,900 on the low end and $54,500 on the high end, the plug-in hybrid is being touted to offer 25 miles using the electric feature only.
After I had myself had the chance to drive the T6 and T8, in the afternoon we visited a Cava place (cava is sparkling wine in Spain) with 17 generations of family having made the place what it is today and checking out the cellar was a tour on a sort of rollercoaster like mode of transportation ala Disney Land on botox www.grupocodorniu.com.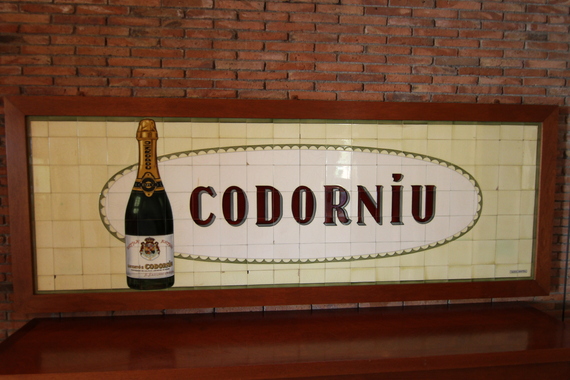 From there we visited the town of Sitges with great sightseeing and on the water for a look at history and some great boutique clothes shops.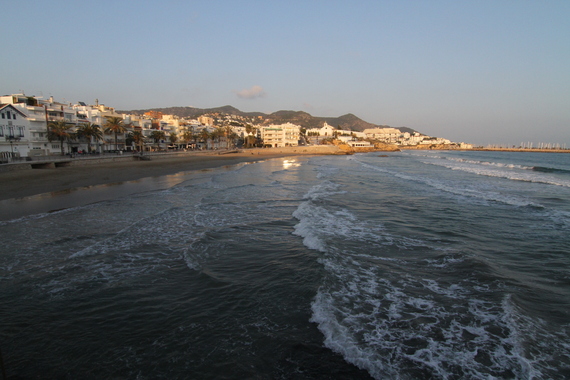 A great combination overall and the Volvo excels with this new one with Barcelona and its environs the perfect playground.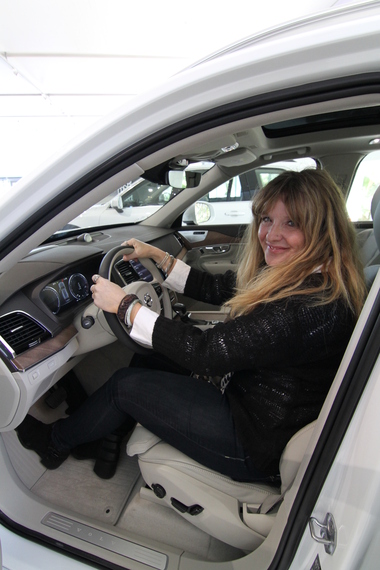 NOTE: This author does not and will never take any money from any automotive brand or destination/restaurant/activity, etc. in exchange for coverage, the views are strictly the author's opinion.

This Blogger's Books and Other Items from...
SUBSCRIBE AND FOLLOW
Get top stories and blog posts emailed to me each day. Newsletters may offer personalized content or advertisements.
Learn more