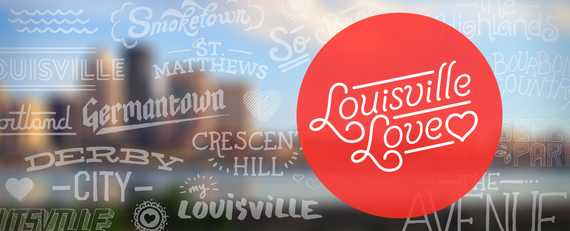 Hey Louisville, there's a new app out there created just for you and your beautiful city. The Louisville Love app takes your snapshots from around town and allows you to spruce them up with some Louisville-centric type and iconography. Heck, even the Dalai Lama likes it!
The app was a collaborative effort between the mobile geniuses at Forest Giant and the innovators at City Collaborative, both looking to create a way to explore the city in a new way.
"We're hoping that this app, in some ways, encourages people to think about their surroundings more," explains Forest Giant's creative director, Jon Shaw. "It will have a big impact on people; just being aware of how awesome this city is."
The app enables mobile users to choose from over 60 hand-designed pieces of art from the designers at Forest Giant, including custom typography created especially for the neighborhoods of Nulu, Germantown, The Highlands, and UofL. Snapped some great photos down by the waterfront? Add a custom title!  Gave the mayor a hug? Use the #LouisvilleLove tag and feature your snapshot in the photo stream! When you're finished, you can take your work of art and share it on Facebook, Twitter, Instagram, Tumblr, and more with the click of a button.
Quite simply, it's one of the easiest ways to show your love for the city. Appropriately enough, you can download the free Louisville Love app today..
Looking for a great place to start giving the app a test run? Use the map below to plan your Valentine's Day adventure to some of Louisville's best-loved local attractions!
---
Plan your Louisville love affair with Roadtrippers. Hit us up on Facebook.