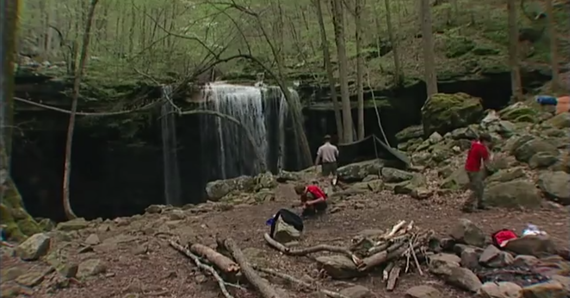 This past Wednesday, 1,157 acres located within Scott's Gulf near Sparta, Tenn., has been officially dedicated as the Virgin Falls State Natural Area. Virgin Falls is located within Scott's Gulf, an 18-mile long canyon home to one of the the country's coolest geological formations.
The crown jewel of the newly dedicated woodland is a spectacular 110-foot tall waterfall that appears to have no above ground water source at all. The waterfall is actually part of an underground stream that tumbles the 110 feet out of the mountain side, then disappears again into another open cave.
The state purchased the 1,157 acres of land in November of 2012 for a whopping $1.8 million dollars. Virgin Falls was just one of many locations protected this year, following Scenic Trail this September. More locations are slated to be dedicated in 2014, including Tennessee's first birding park.
Use Roadtrippers to plan your excursion to Virgin Falls and beyond! Follow us on Facebook.