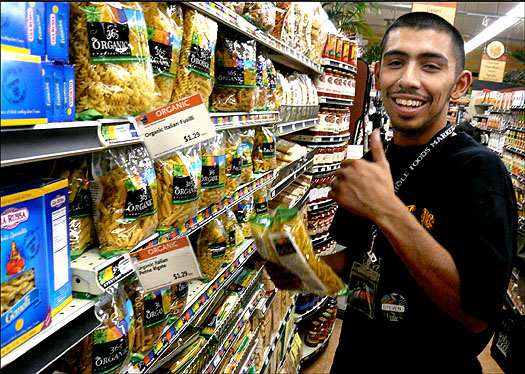 It's a busy pre-Thanksgiving evening in Whole Foods. Steven is standing on a crate, organizing the pasta shelves. He looks my way as I enter the aisle.
"How're you doing?" he greets.
"Fine thanks."
"Can I help you find anything?" he asks.
"How 'bout the meaning of life?" I reply.
Without hesitation, he tells me, "That's two aisles over, middle shelf, in a small can!"
"Great, thank you! ... May I make a photo of you?"
"Of course." He beams.
I tell him how I like to document moments of life's richness, such as this. "It's around us every day," I say.
"I agree," he says, stepping off the crate to help another customer. I walk out among fellow shoppers, past the dairy section to the second aisle over and, sure enough, it's here.
Follow up: Steven and I are good friends. We stay in touch and keep each other posted on our lives and families.
info@kindsightfoundation.org
www.robertzuckerman.com
For more by Robert G. Zuckerman, click here.
For more GPS for the Soul, click here.