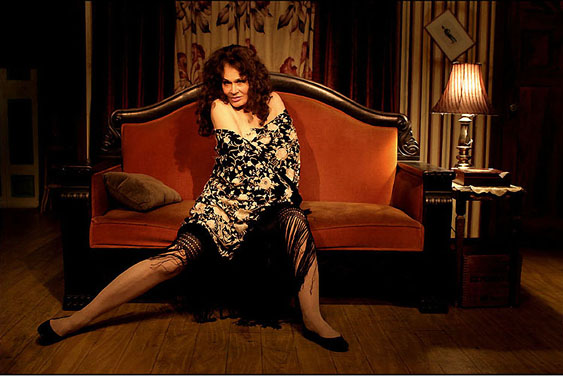 I've been blessed in my career to meet and work with many great artists and among these a handful who to me are truly legendary, for the memorable, profound influence they have had on my journey. So I am thrilled and nervous to be assigned by Venice Magazine to photograph Karen Black, who definitely is in my "handful."
I enter the theater in Hollywood where she is rehearsing for her play and introduce myself. Within about two seconds, all nervousness vanishes as she magically puts me completely at ease, as if we are old friends who've known each other all our lives (and beyond). I am right away "dear."
She takes me into her dressing area to check wardrobe options for our work together. She has a cool, smallish vintage suitcase with different things in it. I tell her how I recently did a session with a former "supermodel" who had a similarly-sized suitcase just chock full of clothes, much more than would appear to fit in it, and how, when the session was done, the model got everything in the suitcase, then sat on it in order to close the latches. "Here's how you do it, dear..."
And she proceeds to give me a lesson in the fine art of packing more clothes than seems possible into a small suitcase, a combination of layering and folding that achieves its goal successfully right in front of my eyes.
Then we get to work. "What do you have in mind, dear?" I like to find spots of light and feeling around a location, and have made some mental notes already. We move around the theater, and in each spot, she intuits the essence and poses in perfect accord to evoke the feeling of the moment and space.
I don't have to speak much. "What about this?" she asks. "This is your time," I say, "I'm here for you... keep going, you can do no wrong!" This proves to be an understatement...
In the ensuing years, I get her email updates and am inspired by her passion and dedication to her craft. If I ever want to help aspiring actors, female or male, I will urge them to study the life and work of Karen Black, including, for reasons obvious, lovely and enduring, the fine art of packing a suitcase.
info@kindsightfoundation.org
www.robertzuckerman.com