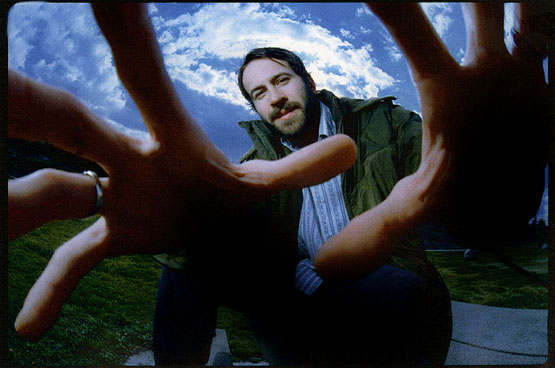 I am assigned to photograph Jason Lee for Venice Magazine. We arrange to meet at Pan Pacific Park during my lunch break from the film I am working on.
Jason is working on "Vanilla Sky," so I want to use the sky and clouds as an element in our picture.
The park is virtually empty of people. We meet on the corner and as we walk down the embankment into the park, we both see this woman sitting at a picnic table a hundred or so yards away. She is writing, it looks like a letter or journal. She wears a white turban and the white garb of some spiritual order -- I'm guessing Sikh.
Even from a distance, her beauty sings out. As we walk by her there is a silent greeting of the eyes. We continue walking another hundred feet or so to a big rock and begin to set up.
A moment later, she stands up to reveal her very pregnant, partially covered belly. All the noise of the day seems to stop as she glides across the field. Just as she is about to disappear onto the exit path, she turns to us, smiling, and says "Have a nice day." We look at each other. Then we make this picture.
info@kindsightfoundation.org
SUBSCRIBE TO & FOLLOW LIFESTYLE
We're basically your best friend… with better taste. Learn more