The day slipped up on me. But I just noticed that today is Norman Corwin's birthday. Not just his birthday, but he turns 100. And no, I don't mean this is the 100th anniversary of his birth -- it's his birthday, with a party and cake and everything. Norman Corwin is still going strong, writing, working, teaching. A day like that should not pass without mention. Actually, given that it's Norman Corwin, the day shouldn't pass without more tribute than one can imagine.
In his honor, I'm going to re-post a piece I did on the good fellow three years ago, in 2007, when he was just a whipper-snapper of a mere 97. It's about his most famous production, one of the two or three most famous productions in the history of American radio.
So, who is Norman Corwin? The article below will explain, but if anyone wants an even better idea, track down the film, A Note of Triumph: The Golden Age of Norman Corwin, which won the Academy Award for Best Feature-length Documentary, in 2005. As for the good fellow himself, he got an Oscar nomination for his screenplay Lust for Life, and received two Peabody Awards, and an Emmy.
Happy birthday, Norman Corwin. We are the ones who are all the better for it.


* * *


Today, May 8, 2007, is the 62nd anniversary of arguably one of the two most-famous radio broadcasts in history. One, of course, is Orson Welles's War of the Worlds The other is On a Note of Triumph by Norman Corwin, which celebrated the Victory in Europe by Allied Forces, commemorating the end of combat there in 1945.
Though his name is not likely recognized as readily today, there is a generation who grew up on, was entertained by and educated from the influential pen of Norman Corwin. He is easily the most-acclaimed writer in radio broadcasting, because no other name comes even a close second. His acclaim was such that his name was included as part of the title of his radio shows, a rare (perhaps unique) honor, something generally reserved for star actors - or corporations - alone. 26 by Corwin on CBS presented original hour-long plays written and directed by him each week, live.
On a Note of Triumph was a special broadcast. So renowned, even at the time, that it was released on record, and some CBS radio stations re-broadcast it every year for over five decades. It can still be heard online, in fact, on NPR's website. NPR has a wonderful hour-long radio documentary about Corwin linked on the same page, as well, hosted by Charles Kuralt, filled with many rich clips from the archives. Indeed, speaking of such things, there not only is a movie documentary on Norwin Corwin, but it won the Academy Award in 2006, A Note of Triumph: The Golden Age of Norman Corwin. And as for Academy Awards, Corwin himself was nominated for one, writing the adapted screenplay to Lust for Life, starring Kirk Douglas as Vincent Van Gogh.
Corwin's 1941 broadcast honoring the 150th anniversary of the Bill of Rights was heard by an unimaginable 63 million people, the largest in U.S. history. To comprehend this number, that was half the population of the entire nation. When CBS celebrated its 50th anniversary with a week-long jubilee of its primetime schedule, that glorious, epic tribute at the end, read by Walter Cronkite, to put a Network at Fifty in full perspective - was written by Norman Corwin
Take a listen to On a Note of Triumph, if you have a chance, even if only for a short part of it. The style will be something most people aren't accustomed to. But not only was it a different time, it was also a different medium than most people today are accustomed to. There was no television, remember. People listened to radio. Dramas, sitcoms, variety shows, news, talk, sports, political speeches, everything. They listened and created the worlds in their imagination. It was also a profoundly patriotic time, when the country had just finished one part of a world war that was deeply understood and just as widely supported, a war where the nation as a whole was asked to sacrifice, and did. A war that defeated the Nazis attempt to take over the world. On a Note of Triumph is a document, almost poetic, fully proud and grand, of another time and other sensibilities. A majestic reminder of art, craft and a people. Honoring the noble victory and hope of brotherhood, yet also asking hard questions about its cost.
Norman Corwin, by the way, is 97 years old. Still writing (his work can often be read in Westways magazine, among others), and still teaching - he's a professor at the University of Southern California. Not that he expects to slow down any time soon. His older brother Emil recently celebrated his 100th birthday, and their father Sam lived to 112.
Last year, when he was a mere, sprightly 96, I had the chance to briefly meet the good fellow a couple of times, and also hear him speak at one of the many events he's had in his honor. He ended the evening by answering a question of what he'd like his obituary to read. It's hard to describe his timing - but imagine laughter building after each perfectly-timed Corwininan pause. After getting the question, he thought a moment and then at last said:
"Norman Corwin was killed today.
But that will have to wait. Norman Corwin is still around. And so too is On a Note of Triumph. Written and presented 62 years ago, today.


* * *

On Saturday, the Writers Guild presented a gala 100th birthday celebration, with Norman Corwin in attendance. Performances of two of his works were presented. Tributes poured in. Writers, actors and the general public filled the theater to bask in awe.
The phrase, "living legend," too often gets mis-used and therefore diminished. If you'd like to know what what it's supposed to look like, this is it: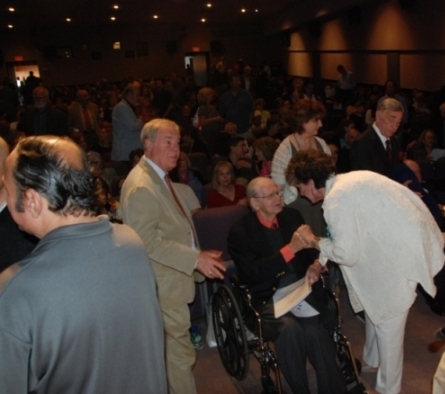 photo credit: Helena Yohannes, Writers Guild of America

SUBSCRIBE TO & FOLLOW ENTERTAINMENT
HuffPost Entertainment is your one-stop shop for celebrity news, hilarious late-night bits, industry and awards coverage and more — sent right to your inbox six days a week. Learn more