When Leslie Nielsen passed away on Sunday at the age of...well, about 12, I had so many memories of him that were joyful that it was easy to push out the sad. I got to work with Leslie on several projects, and most-happily those included the Naked Gun films, during my earlier-life days as a film publicist. They're among my favorite work experiences ever, and Leslie was a big part of that. He could have made life as The Publicist problematic, being demanding, unavailable, mistrustful and dismissive, as is not uncommon. But it's not that he was none of those things, it's that he was a pleasure to see every day. And every day he'd boom out a greeting to everyone. Me, I got a boisterous, "Roberto!!"
One afternoon I asked him about his attitude, which always seemed so upbeat and supportive. "I'm having the time of my life, and I don't take this for granted," he said -- not to any camera, just sitting quietly in his trailer. "You have to understand, I'm having a second career that's even bigger than my first career, and it's at a time when most of my contemporaries have been retired for years."
He understood. He was grounded. And no, he didn't take it for granted.
That's not as easy as it sounds. Many people in the same position might ride their success for all it's worth. Not Leslie. He just was a nice guy. His first "serious" career wasn't the real Leslie Nielsen. He always was funny and was miscast before, largely because he looked like a rugged, solid, serious and very traditional leading man. What he was was a goofball...and loving it. And he really, honestly did love his whoopee cushion, the beloved Handi-Gas. It wasn't something he just took out for show, or to throw off reporters with a fake fart. He even played with it in the privacy of his trailer, especially if a visitor was coming. If you were around him enough, you knew when to be prepared: it was when he wet his palm -- because that created the suction that helped make the sound.
It wasn't that he loved to act like a kid, he was just upbeat and energetic beyond his years. One of my fondest memories of Leslie was when a crew from Canada's Much Music TV network came to the set, and did some reports on their native son. Afterwards they asked if Leslie would do some promotions for them -- he could justifiably have passed, but being Leslie he was happy to help. All the more impressive because the promos they wanted had Leslie racing towards the camera and leaping high over a barrier. And then they asked him to do it yet again. Once more, he came rushing hard and jumping, again delivering his line to the camera pitch-perfect, not remotely out of breath. Off to the side, the Much Music producer said to me in shocked admiration, "I can't believe that he's that energetic for 60 years old." What I didn't tell the fellow is something I kept to myself: "If you think that was impressive for 60, what would you say if I told you that last week he just turned 70."
That was Leslie. Upbeat, and if you needed something on behalf of the film, he'd do it. That's not the common attitude, where if some promotion was needed it was only done grudgingly. Not Leslie. I remember one day when we had a major radio interview set up, but confirmation was needed from Leslie that he'd do it. There turned out to be a conflict, and he simply wouldn't be able to do it from home the next day like we'd hoped. I knew we'd just lost a big break. Yet before I could say anything, Leslie simply chimed in, "I'll just come in to the studio early, and do it from here." Very nice. But it's nicer than you think: coming to the studio "early" meant arriving at 6:30 AM. He probably had to wake up at 5:00.

On one project, we had to write something together. It was a small thing, but the only way his schedule could manage it was by having me over to his house -- on his day off. He was a gracious host, unpretentious. While that's normal for most humans, when you're A Movie Star (and Leslie was a big one at that point), and not working in your comfort zone, it's often thought in your best interest to let the other person in the room know who's boss. Leslie however was utterly thoughtful, readily asked for suggestions, and made very funny ones himself.

Born in Canada, Leslie's father was a Mountie. That's as far as most obituaries I read went into his background, but in truth Leslie had some impressive pedigree. His brother Erik not only was a member of the Canadian Parliament for many years, but eventually became deputy prime minister of Canada, under Brian Mulroney. And his uncle was Jean Hersholt. (Who is that, you ask? You know how every year on the Oscars telecast they give a big, special award, the Jean Hersholt Humanitarian Award? That's Jean Hersholt.)
Leslie Nielsen was quite simply a good guy. What you saw in his second career was no act, no matter how good an actor he was at it. He was a fun, fun-loving gentleman.
In Naked Gun 2-1/2, director David Zucker stuck me in a scene to be the humiliating butt of a joke. It would have been an inauspicious screen "debut" with no lines, except for one thing: ever-gratefully I got to be the recipient of a quip from Leslie Nielsen -
"Uh... that'll be all, McTigue."
But just for now. Because Leslie Nielsen will be around for a very long time, still making people burst out in uproarious laughter.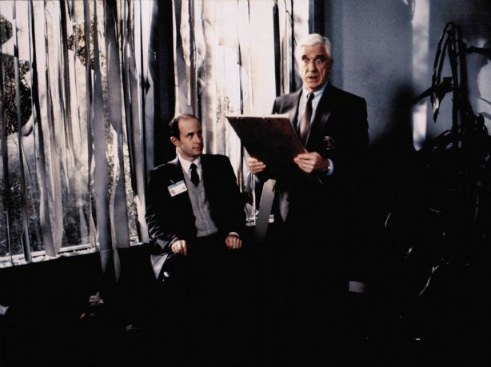 SUBSCRIBE TO & FOLLOW ENTERTAINMENT
HuffPost Entertainment is your one-stop shop for celebrity news, hilarious late-night bits, industry and awards coverage and more — sent right to your inbox six days a week. Learn more