On Monday, the torch relay began for the Beijing Summer Olympics. It was a festive occasion of world unity, and the grand party will remain until it arrives at gorgeous National Stadium on August 8.
But there's a nagging question I've had for a long time about this year's Olympics. I've heard little discussion about the subject, though it's starting.
How is China going to deal with the world press?
If I was forced to bet, I'd put my cash money on a one-word answer: badly.
China isn't the hot bed for tolerance, most especially the concept of freedom of the press. Two years ago, Google controversially agreed to placate the Chinese government by offering it a self-censored search engine. If China can't handle a simple Internet search, how in the world will it be able to deal with 20,000 reporters asking their questions?
Last year, Sun Lin, a reporter for Boxun News, published critical articles on conditions in China as it prepares for the games. A foreign ministry official warned Sun to stop reporting and took his press card. Then, on May 30, after writing about how his U.S.-based news service had been denied Olympic press credentials by the Chinese, Sun was beaten by police and arrested, charged with "running a criminal gang" and weapons possession, crimes which carry the death penalty. Insisting he's never done anything illegal, Sun was not allowed to see his lawyer for 6-1/2 months. His wife was arrested, as well.
At its heart, China is a government that doesn't like being questioned and does like controlling information. Not just sensitive information, but information the rest of the world doesn't even blink at for being everyday-normal.
Just three days ago, as the Olympic torch headed on its journey of world unity, Chinese officials reversed earlier promises and announced that they would bar live television broadcasting from Tiananmen Square. This is the largest, city square in the world. It is also a bit newsworthy: where pro-democracy protests 19 years ago led to a massacre by the military.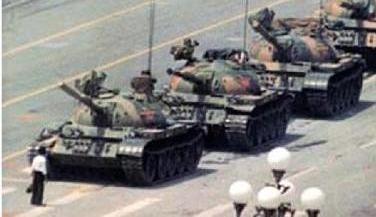 Two weeks ago, on March 15, the Los Angeles Dodgers played the San Diego Padres in Beijing in an exhibition playoff game. Cub Scouts had been promised they could go on the field after the game. Police stopped the children.
On the Security Crisis List, these don't even make the chart. We're talking Cub Scouts here. We're talking the equivalent of informing every news crew in the world that you can come to America but can't broadcast live from Times Square.
The world will be coming to Beijing for 17 days. And China had trouble with a single exhibition baseball game. As Kurt Streeter reported in the Los Angeles Times, TV screens were blacked out whenever CNN broadcasted stories about problems in China. Internet sites prohibited news about troubles in the country. (It's not like it was a slow news week. This is during protests in Tibet, and a reported 84 people were killed.) When Dodger pitcher Chan Ho Park wanted to sign autographs, a battery of police "pushed and argued" to keep him away.
Discussing the government control, Streeter wrote, "It was also the man who followed me as I interviewed fans at Wukesong Stadium, 'the 'hidden' cameras, the stern-faced police, soldiers and security guards that seemed to be everywhere. By my count, 67 of them stood outside the Dodgers' clubhouse after the game Sunday."
Remember, this is just one reporter. Covering one baseball game. An exhibition. Imagine now the Olympics. With 10,500 athletes. 302 events. And those 20,000 pesky journalists.
In fairness, it was a bad week for Chinese, with the Tibetan crisis. But anyone who doesn't think the upcoming two Olympic weeks won't bring the same protests and others isn't trying to think hard enough. The past few weeks aren't an aberration, they are a precursor. A handful of sports reporters were there to cover a baseball exhibition. 20,000 journalists will be there to cover the world event in China. If Tibetans, if Chinese are willing to protest in relative obscurity, who possibly thinks they won't consider continuing to do so with a world spotlight? Who possibly thinks journalists won't want to ask questions about everything in China? Who thinks journalists won't notice their CNN news channel blacked out and won't ask about? Won't notice they can't do a Google search -- and won't ask?
Journalists will write stories about all manner of things in China, wonderful and problematic. The Chinese government beat and arrested Sun Li over, in essence, the very same thing. This is not the sort of thing the Chinese government likes and wants.
They've already banned broadcasting live from Tiananmen Square. There are 134 days to go for the Chinese government to figure out what else they'll decide they don't like and don't want.
Beijing is a gorgeous city. From all reports, the Chinese are doing a remarkable job working hard to put on an amazing sporting event. But the Olympics are far more than a sporting event. And when the world, sports, repression, and 20,000 journalists meet for lunch, it does not appear to be a good mix.