Saturday marked the 50th anniversary of Ron Santo making his major-league debut with the Chicago Cubs. Today, the club is honoring him in a gala celebration at Wrigley Field.
"I am so fortunate to have been in baseball for 50 years, and it is incredibly heartwarming to be recognized by the Cubs for that achievement," Santo said in a statement. "I'm grateful and thankful to be associated with the Chicago Cubs. I wouldn't change the last 50 years for anything!"
Baseball teams don't honor the anniversaries of players starting with their organization. If it happens, it's rare. It's special. But then Ron Santo is pretty rare and special himself. "Beloved" is not an understatement.
In his honor, I'm repeating a piece I wrote about the good fellow four years ago, followed by an update. It's important to know who Ron Santo is, because it helps make people understand the best in all of us most especially when facing unrelenting adversity. But the thing is, Ron Santo is not about adversity. Ron Santo transcends adversity. It's that Ron Santo simply makes you feel good.


August 22, 2006
The Perfect Antidote for Pessimism
Nature abhors a vacuum. So, where pessimism sucks the air out of life, Nature created Ron Santo. Even if you hate baseball - or just reading about baseball - it's hard not to love Ron Santo.
One must experience Ron Santo to do him justice. The legendary third baseman for the Chicago Cubs, a nine-time All Star, has been the team's radio analyst for 17 years. The closest way to describe his broadcasting is that it's like listening to your crazy uncle yelling at the TV with a beer in his hand.
But even if you wince occasionally, just knowing he's part of your family makes you feel good.
Santo regularly complains at length about how his broadcast partner Pat Hughes eats soup with sandwiches. He'll come back to the booth halfway through an inning and apologize, "Sorry, I was in the bathroom." Once, he brought his cleaning woman in and introduced her. It's a daily occurrence to hear him agonize over Cubs misplays with "Oh, nooooooooooooooo!! What is going on here???!" His most common Expert answer to questions is an honest, "I don't know." He talks openly about everything...including his toupee, which he acknowledges once caught on fire during a broadcast
Pure, utter honesty is Ron Santo's hallmark, and why he's loved in the city. Never mind that his voice sounds like a broken cement mixer. You know that "Ronnie" cares profoundly about the Chicago Cubs, and will always, always, always tell you the truth.
In this day and age, it is terribly refreshing.
Example. Hughes and Santo interview a guest celebrity each day. One memorable game, Olympic gold-medalist Bruce Jenner was in the booth. Afterwards, returning from commercial, listeners were treated to Pat Hughes calmly doing play-by-play, all the while hearing Ron Santo venting in the background, "Can you believe the ego of that guy???...Man. What an ego...Talking about his airplanes...Oh, man. Oh, man." For five minutes.
[Update addendum: If the name Bruce Jenner sounds familiar to those who don't remember his Olympic exploits, it's because - subsequent to this article - he has become known to reality TV audiences as the father on Keeping Up with the Kardashians. When I accidentally passed by that show one time, watched aghast for a few minutes and remembered Ron Santo's annoyed mutterings, it's always struck me that if Bruce Jenner of all people is able to come across as the one sane person on that show, it only tells you how seriously screwed up the rest of the family is. But I digress...]
Further, it's the engulfing passion of Santo's broadcasts that affects listeners because they know his personal history. That he has diabetes, failing eyesight, has had several heart attacks, quadruple bypass surgery, his heart stopping once, countless operations and both legs amputated. And all he does is exude joy and optimism - for a team that hasn't won a World Series in 98 years. Never a word of personal complaint. Instead, his Annual Walk has raised $50 million for Juvenile Diabetes.
(A wonderful documentary on Santo's life, This Old Cub was made by his son, filmmaker Jeff Santo. Like the man, it's honest, open, moving, wistful, hilarious, joyful and utterly optimistic.)
When the Cubs made the playoffs in 2003, Santo couldn't be there, because he needed his bladder removed. As tribute, the ballplayers themselves kept his old uniform in the dugout. This for an announcer.
And all that only touches the surface.
A Hughes and Santo broadcast is like nothing else. It's less play-by-play than a vaudeville act that happens to take place during a baseball game. People don't say they're going to listen to the Cubs game, they (literally) call it "The Pat and Ron Show."
This is a broadcast where you can hear extended debates about the best pillows to take on vacation. About cloud formations. Where celebrity visitors are handled so freely they once provoked Billy Dee Williams to admit, "This is the strangest interview I've ever done in my life" -- prompting Pat Hughes to laugh, "Hey, we do this every day."
It's unique. And uniqueness can be foreign to an untrained ear. But it's Mozartian opera to the aficionado.
The Hughes and Santo relationship is a complex novel that weaves stories and themes and brings them up again many chapters later. It's the development of a friendship that seeps through the loudspeaker and becomes endearing. They'll drive to work together. Support one another. Ridicule each other for being cheap, or dressing badly, or anything.
It's real life, it's human, and when Santo explains he won't be there tomorrow because he's got a doctor's appointment, you know you are a part of that family.
Pat Hughes is an accomplished and engrossing broadcaster. "And Ronnie..." - as a WGN announcer once noted - "Well...Ronnie is Ronnie."
Ron Santo is a force of nature. One night in Milwaukee, Santo saw an opposing pitcher and was reminded of another player. For 10 bewildering, frustrating minutes, he kept trying to think of the name, getting more maddened by each agonizing minute. Finally, he realized who it was the pitcher reminded him. It was - the pitcher himself! Pat Hughes politely chimed in, "Proving once again, folks, that we do this live."
It's what makes Ron Santo a joy. On a blistering afternoon in St. Louis, Hughes commented it was so hot that he forgot what he was talking about. Santo openly replied, "I do that every day."
The truth is, you always know what Ron Santo is talking about. It's that in the midst of any suffering, there is hope. And comfort. Even if it means, "We'll get 'em tomorrow, my man."
Ron Santo has always worn his heart on his sleeve. Even as a Cubs player, he would sometimes leap in the air after a victory and click his heels.
The only remaining question for Ron Santo is whether he'll get elected to the Hall of Fame. With 342 homeruns and five Gold Gloves, he's come painfully close. Too many times. But his legend is set. His number has been retired by the Chicago Cubs and flies high above Wrigley Field. You can hear his acceptance speech, or hear him broadcast. But more than anything, even on your worst day - especially on your worst day - you just appreciate that he's been here.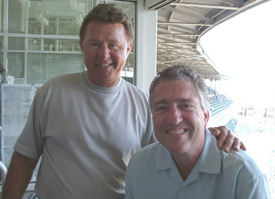 Ron Santo (l) and Pat Hughes

===========================================================

That brings us up to the present day. And lest one think that something written four years in the past means that Ron Santo's health issues are in the past, as well, that's unfortunately not the way it is with diabetes. It's debilitating and only gets worse. And when you turn 70, as Santo recently did, the complications pile up. Weakening eyesight, for just one, is a specter facing all diabetes survivors.
And now, the last few weeks, Santo has had to miss several broadcasts for the Cubs. Earlier last month, he was hospitalized when the team was in Pittsburgh and a few weeks later passed out before a game in Milwaukee. He flew back to Chicago from a road trip for reasons of health, and though the issue was relatively minor, with lifelong diabetes nothing is really ever "minor." These latest problems are the result of a nerve in his leg, which makes it difficult for him to walk when the weather heats up.
And so he realized he had no choice but to pass on going to Seattle for the team's trip west last week. "I have to start thinking about the travel," Santo told the Chicago Tribune. And for Ron Santo to miss being at a Cubs game is significant. "I want to be around. It's therapy (to be at games), believe me, except moaning and groaning."
Actually, one suspects that the moaning and groaning is itself all part of the therapy. After all, being otherworldly-emotional is who Ron Santo is and part of what endears to him listeners. "How's your blood pressure, Ronnie?" Pat Hughes regularly asks in the ninth inning of a close game, with the potential tying runs on base.
The happy thing is, it takes much more than high blood pressure, passing out, hospitalization and not being able to travel to keep Ron Santo off a Cubs broadcast. Because on that Seattle road trip that he couldn't go on, there was Santo on the broadcast anyway, telephoning in from home and analyzing the series on the pre-game show, along with his other broadcast partner Judd Sirott. And even during the games, Santo also called into the booth to talk with his good pal Pat Hughes for the play-by-play.
He just goes on and on. Indefatigable. With enthusiasm. And life-affirming joy.
Admittedly, there are those who don't like listening to Ron Santo's gravelly voice, rambling style and periodic bewilderment. But they're missing the point. Missing it by so much that you almost feel bad for them. You don't listen to Ron Santo for statistics and insight. You get them, but it's a bonus. You listen to him because he makes you understand perseverance. Makes you appreciate the simplest details. Makes you part of a friendship between close friends. Makes you grasp the deep reaches of loyalty. Makes you thankful for open honesty. Makes you remember that sports can still be about passion, personality and effort, and joyous fun. Makes you hopeful. Makes you feel better about life.
In looking to the future, Santo said that there possibly will be more trips this year he won't go on. And for next year, Cubs fans have to prepare for hearing less Santo, since he and WGN have agreed to limit his travel to Midwest trips only (along with home games in Chicago), so that he can keep his health strong. But even if he doesn't travel, one can fully expect that Ron Santo will still be there, calling in for every game.
Health, Santo said, "is the main thing. And I want to be around. I'm not complaining. I'm very fortunate to be here, the way I look at it. I have my moments with diabetes. Otherwise, I'm feeling fine."
"I have my moments with diabetes. Otherwise, I'm feeling fine."
That's Ron Santo. Still going strong after 50 years.


ADDENDUM:
Here is a brief interview done just yesterday with Ron Santo being as open and optimistic about himself, his health and his love for the Cubs as he always and only does.
SUBSCRIBE TO & FOLLOW THE MORNING EMAIL
The Morning Email helps you start your workday with everything you need to know: breaking news, entertainment and a dash of fun. Learn more