Going through airport checkpoints these days can be an adventure in juggling that would test the greatest circus star. And it's made all the more challenging when you have a notebook computer, having to remove it from your bag and keep an eye on it -- one more thing to watch.
A relatively new development has eased this a bit -- the advent of TSR-approved luggage, which allows you to keep your notebook safely in the bag. The notebook is kept entirely to itself in a compartment, no accessories allowed, and see-through plastic allows the bag to be seen. Additionally, each bag has a hinge which lets you open it flat for the conveyor belt. When done, just grab the bag, re-zip and your off. No repacking your notebook. It's one less headache in a world of airport headaches.

"The Writers Workbench" appears monthly on the website for the Writers Guild of America. To see this entire column, with complete product graphics and additional "TWW Notes," please click here

SKOOKBA CHECKTHROUGH MESSENGER
In Skooba's extensive line of what it calls "Checkpoint-Friendly" bags, their Checkthrough Messenger is a good balance between attaché and carry-on.
The bag holds a 15.4 laptop in its separate computer compartment, which unzips from the bag and folds out at the hinge. (The company says that even some larger 17" notebooks can fit in.) Since the hinge is at the top, you can carry the bag unzipped. Once opened and laid out for the X-ray inspection, a clear plastic screen gives full view of the contents.
Additionally, there are three other compartments in the other portion of the bag: A fairly good-sized main sections holds one's bulkiest items, like books and such. There's a smaller document compartment with a variety of pockets - as well as a removable, zippered plastic pouch that's the required size for carry-on liquids. And finally a "flap-over" outside pocket has more pockets.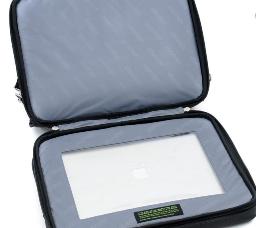 The bag is extremely well-made with a solid feel and webbing. Its handle is extremely comfortable There's a shoulder strap included, and a strap on the back of the bag lets you slip the Skooba over the telescope handle of your pull-luggage, so you can pull it along with the rest of your bags..
There are a few small negatives with the bag, however. It doesn't have the greatest amount of padding for the computer, though it should reasonably suffice. Also, there are no zippered or Velcro pockets inside, in case you have items you don't want jostled around. And there are only two pen holders, which seems the barest minimum.
The Checkthrough Messenger measures 17"L x 13"H x 5.5"D and weighs just 40 ounces. At the time of writing, it retails for $130. On sale for $100. It's a nice bag that's extremely well-made with heavy Ballistic nylon and effectively designed, which makes it all the more surprising that it's skimped on what would seem a few basic requirements.


MOBILEEDGE SCANFAST CHECKPOINT FRIENDLY BRIEFCASE
MobileEdge is another company with has its own extensive line of Checkpoint Friendly bags. The briefcase model tested here is very similar to that from Skooba. Although the differences are small, however, they're noteworthy.
It too is made to carry a 15.4 notebook. When you lay the bag open for inspection, a heavy "pocked" plastic covers your computer in its compartment. However, its hinge is at the bottom, so you can't carry it unzipped, like the Skooba. While there are definite conveniences to carrying a bag unzipped as you approach a checkpoint, it's a minor one for my taste. In fact, I prefer re-zipping a bag from the top, rather than having to turn the bag upside down or lay it on its side. Your mileage may vary on this.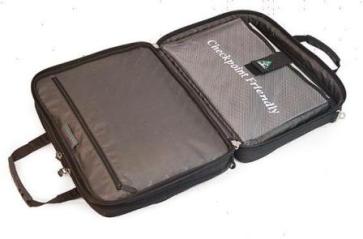 The briefcase has numerous pockets and compartments, but what I especially liked was the thought that went into their layout - an excellent mixture of full-sized pockets, as well as small pouches for individual items you want quick access to. And importantly, there are three pouches are on the outside of the bag, so you can get to items in them without having to open up the briefcase - and there's a full-sized zippered pocket outside, as well.
Further, I happen to like it when a bag has more than one inside compartment, as the MobileEdge does - one compartment holds the notebook and also has a big, full-sized pocket. The other compartment opens with its separate zipper and serves as your main briefcase. There are three Velcro pockets here, a small see-through mesh pocket, and yet another full-sized see-through mesh pocket. And finally there are four pen holders.
The ScanFast Briefcase is 16.5"x13.5"x6" and weighs approximately 50 ounces, a bit heavier than the Skooba, but it still feels light. It comes with a shoulder strap and Velcro backstrap which allows you to slide the bag over a telescoping luggage carrier handle. Made of Ballistic nylon, it is very solidly made and quite well-designed. The handles are rubber and comfortable. It retails for $100 and comes with a lifetime warranty.
I could nitpick on a few matters - it would be nice to have a pocket on the back, and perhaps divide one of the large outside pouches into two small ones. But these are, as noted, reaching for quibbles. The MobileEdge ScanFast Briefcase is an excellent briefcase, and of the two reviewed here (both of them good), it is one I much prefer.
If your taste runs to a case that allows it to be carried open at the bottom, then the Skooba allows for that. But in most other ways, the MobileEdge has the edge



To see this column with complete product graphics and additional "TWW Notes," visit the WGA website.

SUBSCRIBE TO & FOLLOW THE MORNING EMAIL
Start your workday the right way with the news that matters most. Learn more