In the MP3 world, there is the iPod and everything else. In part, that's because it's a good device. In part, that's because it's an innovative device. But, in truth, there are other good and innovative devices. What most has kept the iPod as the King of the Mountain is the world of accessories that have built up around it. Today, if you can plug it in, there's a good chance an iPod accessory will be created for it. From time to time, we like to look at a few of those accessories, and here's the latest few.
iHome IP9 Clock-Radio
Otter Box Defender Case for iPod Touch
GRIFFIN NAVIGATE
Griffin Technologies has long been one of my favorite innovators, and they've come up with yet another, in their Navigate, a wired remote control with FM radio for iPods and the iPhone. (This is no smaller matter - on some remotes, the iPod connector is so large that it covers the bottom-based earphone jack on the iPhone and iPod touch. Not an issue with the Navigate.) I'm a bit of a stickler when it comes to remotes, and the Navigate hits most of the notes.
As noted, this is a wired remote, and I tend to prefer wireless since there isn't a mess of cords to deal with, and you have more freedom of movement. But the Navigate handles the issue extremely well. Rather than require the earphone jack to be separate from the connecting cord, you simply plug the earphone into the opposite end of the Navigate, and it's as if there's just one seamless cord, rather than having a jumble, twisting one another.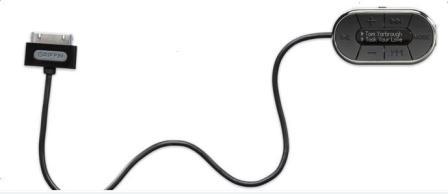 The Navigate is small, yet with six buttons big enough that you can control it easily. I wish that the tactile feel of each button was a bit more differentiated, so that you can control the device easier without looking (despite what the company suggests), though it's still possible to do so. The buttons provided are forward, reverse, volume up, volume down, play/pause and Mode. To make these remotes small, most manufacturers today are eliminating the mute button, and that's my biggest disappointments with the Navigate. It's not necessary when playing the iPod, since you can just Pause - but it is an issue when listening to FM. Obviously, you can always just lower the volume, so it's critical, but a mute button would be so much nicer.
It's the Mode option that helps make the Navigate special. From your remote, you can toggle the button and chose songs by artist, playlist, shuffle or album. Usually, these choices have to be made directly from your iPod. It's extremely convenient. Also, you can adjust EQ settings from the remote via Mode.
Additionally, a wonderful feature is that the Navigate includes an OLED screen. And though it's small, it still provides helpful information, displaying the songs you're scrolling through and playing. Of course when listening to the FM, the OLED displays the station, but it also provides information on the broadcast, such as the name of the show, and also the song playing.
One small inconvenience about scrolling through albums, playlists and such. You're only given a couple a seconds to decide if you want to choose that selection. Then it reverts back to the mode it was in before, and you not only have to start scrolling again, but scroll from the top of the list, rather than returning to where you left off.
The only other issue to be aware of with the OLED screen is that if you're outdoors in bright sunlight, it's unusable, completely washed out. But as long as you can find some shade (or of course are indoors, though remotes are usually meant to be used outside), it's fine. To be fair, this washing-out occurs with most OLED screens, unless they're higher end with heavy backlighting, something one would not expect on a small remote.
The Navigate also deserves particular praise for its FM I've yet to find any FM players for iPods that have exceptionally strong reception, but the Navigate has perhaps the best I've come across. Stations that other players have struggled with, to the point of unlistenable, the Navigate handles respectably, though not without some static. Also you're given four presets to set to your favorite stations, and - this is an odd comment - it's extremely easy to use...but the description in the manual was so poorly written that I was actually bewildered for a while trying to figure it out. Once I finally did, I basically slapped my forehead because it was so simple.
All in all, the Griffin Navigate is a wonderful remote/FM radio. For all the issues, they're reasonably minor - and often for features that other remotes don't even provide. The features the Navigate does have are generally excellent, and it's well made, like all Griffin products. It retails at the time of writing for $60.
(Side note. Griffin offers a free iPod app download, the iFM Radio Browser, a standalone program for iPhone and iPod touch. I didn't test it for this review, but thought it worth mentioning. The app integrates with Navigate, and identifies your location, automatically creating a menu of local radio stations. You can also manually choose from a list.)


iHOME CLOCK RADIO IP9
One might not think of a clock radio as a traditional iPod accessory, but of course the concept of being able to wake up to the tunes on your iPod is a natural. The question is whether the execution works.
Setting up the iHome IP9 is relatively easy. In fact, a button adjusts the time for whatever time zone you're in. And a Daylight Saving Time toggle that let's you adjust the display with the flip of a switch. The latter is very handy. The former is good in theory, but didn't work properly - my Pacific Coast Time Zone was two hours off, but this isn't a big deal. Honestly, it's simple to just readjust the time manually. Or you just set it for the "wrong" time zone. All that matters having the time correct.
(While setting the time manually is easy - you spin a dial - it's just a tad bothersome if you have to make a long time change. More preferable is when you can adjust the hour and minutes separately.)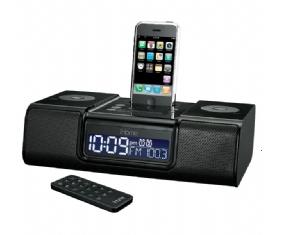 The most important part of a clock radio is, of course, the alarm, and the IP 9 provides two. You can set either for radio, iPod, an iPod playlist, or any separate line-in device you want to connect, like a CD player or MP3 player.) But beyond this are several nice touches.
For starters, you can set either an alarm to wake you the same way seven days a weeks - or just the five weekdays. Or the two days of the weekend. Additionally, when an alarm goes off, it starts out very soft and then soothingly builds up over about 10 seconds, rather than blasting you with loud music right off. It's a clever idea, and understandable why people would appreciate it. That said, I personally don't mind being blasted, and at times even prefer it - the whole point is to wake you up, after all,
Note that this "soft start" is the way the radio works in general. So, when you turn it on, you not hear anything immediately, as it gradually grows louder. I don't care for that (it can be disconcerting, thinking the radio hasn't gone on), but it's the trade-off with the alarm feature.
I also like that you can adjust the Snooze feature (temporarily turning the alarm off) to any time period you like, down to the minute. This can be quite handy - for instance, the broadcast I wake up to has an annoying four-minute feature, and now I can set the snooze to fit that exactly, and just hit it when the feature starts. Four minutes later, the radio returns.
But how well does it all work with an iPod, I hear you cry? The answer is pretty good, with one glaring exception.
The IP9 comes with a set of iPod inserts, so that a wide variety of iPods will fit in the slot. Then, just select whatever album you want to wake to (and again, it starts softly and builds up). It will also wake to a playlist, but not any playlist on your device - you have to create a playlist with a specific name ("iHome"), the only one the clock-radio will recognize.
All in all it works very well - with that one glaring exception (though, in fairness, it's an intentional decision, and makes sense, but can be problematic to some.) If the IP9 doesn't detect loud enough sound for about 20 seconds, it presumes that the sound isn't working and immediately switches to buzzer mode. This is a great safety net - except that it renders a lot of music unusable. For instance, I like waking to classical music, and much of that is orchestral only and has soft passages. The IP9 was regularly switching to the buzzer. Given that many classical music pieces start quietly, often that means that the alarm was switching to buzzer mode almost immediately. It should be noted that the alarm has worked perfectly with popular music, particularly that with singing. To be clear, it is great to have such an effective backup, one that you know will always get you up. And if you don't tend to wake to classical orchestral music, it shouldn't be much of an issue, if one at all.
You can play your iPod regularly through the IP9. The "no sound" feature doesn't apply here - it just plays normally. By the way, when an iPod is sitting in the cradle, it's always being charged (and will stop charging when full). It's a very nice feature.
If you want to wake to the radio, the stereo sound is quite nice. Hardly great for audiophiles - a touch thin, this is not high-end, home theater equipment, after all - but crisp and clear, not tinny. The two speakers don't provide much separation, but it adds a richness, and there's an EQ setting option to adjust tones. Separate AM and FM antennas are also included. There are six station pre-sets for AM and FM each (a total of 12), and they are very easy to set.
The IP 9 offers some beneficial twists for Sleep Mode, which will play music in five optional increments of time and then shut the system off. A terrific touch is that you can set it to any volume separate from the volume you wake up to. (After all, you likely want to go to sleep to something soft, but wake to something loud.) And the sound will progressively get softer as it nears the shut-off time. (While this is nice, it doesn't strike me as all that important.) You can use Sleep Mode with either the radio or an iPod.
There are eight different dimmer settings for the display. That's probably more than you'll need, but it beats not having enough. But best of all (and this is important) is that you can turn the display completely off, something many clock-radios miss.
The clock-radio comes with a remote control that works well, and even lets you control the iPod. However, it has to be pointed pretty much at the front of the radio - too far off to the side doesn't work, so its usability is limited. There's also a battery backup, with two AA-batteries, that will keep your clock setting in case of a power failure. Note that the radio will not work on battery power, though the buzzer alarm will.
The iHome IP9 retails for $100 at the time of writing. I'm a bit disappointed with the "soft/silence" issue with using the iPod alarm - but to be fair, this will not be a problem for most people, who likely wake to non-classical music. And it's not a problem at all for those who wake to the radio (though, of course, the point of this clock-radio its iPod functionality). And, at heart, this feature gives the confidence of a good, safe back-up. And the slow build-up of volume may not be everyone's prefernce. Other than that, tough, there are a great many very thoughtful features, and the sound is very respectable. So, overall, the IP9 is a good, diversified clock-radio


OTTER BOX DEFENDER CASE FOR iPOD TOUCH
The challenge for protective cases of the iPod touch is how to handle the touch screen. The difficulty is that the protective cover has to be thin enough to allow the touch features to work - yet thick enough to actually protect the screen. Most cases I've come across opt for a thin film. That's great for working the touch commands, but I've never felt the screen was well-protected - and with the touch, having the screen well-protected is paramount, because the touch screen (and its crisp image) is all important.
As a company, OtterBox has long made arguably the most incredibly protective cases of rock-hard plastic for all manner of products. They've begun to branch out into MP3 players, which generally don't need the level of protection they offer, but require protection nonetheless. In fact, Otter Box offers two levels of cases: their waterproof, rugged Armor series (most-suited for those who are going camping, or are perhaps paranoid...), and the more home-use Defender series.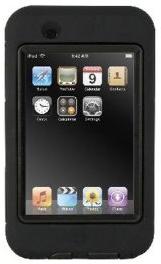 I opted to test the Defender case - yet, though the "less rugged" of the two, it's still seriously solid. It comes in three pieces: a very hard Polycarbonate, hi-impact base with a cover that has a very thick, but flexible, clear Polycarbonate membrane screen. The iPod is snapped into this, which you then slip into a hard Silicone sleeve for bump and shock protection. (Note: OtterBox makes separate cases for the first two generations of the iPod touch, which have different dimensions. In fact, OtterBox is always expanding its product line to meet the ever-changing iPod and have already come out with a new case for the latest iPod touch.)
While the clear membrane does not offer the protection you'd get from the kind of transparent hard plastic used on other iPods, that obviously wouldn't allow you to use the touch features. On the other hand, it provides much more protection than the normal thin screen that most touch cases use. It also provides extremely good operation of the touch, although you occasionally have to press down a bit harder than you would otherwise, particularly for commands in the corners of the screen, sometimes needing to press twice if the first attempt didn't take.
As far as protection goes, it's very good. The iPod dock connector and earphone jack are both solidly covered. You flip open the rubber tabs that make the holes accessible. (Though this gives more protection, it isn't my own choice, but that's personal taste -other people may prefer to have the holes covered from dust. Me, I don't mind that as much, particularly since having them covered means that rubber tabs must hang loose when you have the iPod cord or earphone plugged in. But OtterBox always opts for as much protection as possible.) The on/off button is completely covered, but fully responsive. The menu button at the button works well, though it requires a heavy push.
[Insert Otterbox back.jpg]
For a case that's so protective, it should be noted that there is one open space where the light sensor is, on the upper front, and dust could conceivably enter there.
The biggest quibble is that, because the plastic screen is much thicker than most, you generally have to press down a bit hard to make a connection, most especially for icons at the edges, rather than just a simple touch. Also, because the case is so high on protection, you have more levels to remove if you want to take out the iPod for docking. Finally, there is no belt clip available.
Note: there is a very thin film protecting the plastic screen for shipment. While identified to remove, it's easy to miss, and the image will be blurry. (Properly removed, the image is perfectly clear.) Given that many user comments on the Internet have commented on the blurriness, I suspect they missed removing the film.
My current favorite case for the iPod touch is from Griffin, the Convertible, which resolves the screen protection issue by having an open screen with no film at all, but a flip cover. This provides the greatest possible protective, and gives direct access to the screen. The flip cover is removable, as well, for those times you feel well-protected, and there's also a removable belt clip. The only downside is that it's a bit thicker than most.
If you prefer a more traditional "clam shell" type case, the Otter Box is a strong contender, arguably the best of that type. It has its small issues, but since the point is protection, it offers an excellent balance of that strong protection and use. At the time of writing, it retails for $30, but is available on Amazon for $18.


To see this column with complete product graphics and additional "TWW Notes," visit the WGA website.
"The Writers Workbench" appears monthly on the website for the Writers Guild of America. To see this entire column, with complete product graphics and additional "TWW Notes," please click here

SUBSCRIBE TO & FOLLOW THE MORNING EMAIL
The Morning Email helps you start your workday with everything you need to know: breaking news, entertainment and a dash of fun. Learn more