It's only natural, of course, that as people use more and more portable devices, the need for portable rechargers will grow exponentially, as well. After all, having a device go dead on you away from home borders between a teeth-gnashing annoyance and a significant problem that can leave you stranded. But with so many incompatible portable devices raining down on the world, how can a person deal with staying at full power? The options are many - often highly innovative - and we only touch on a few of them here, in our latest, ongoing look at more portable choices.
"The Writers Workbench" appears monthly on the website for the Writers Guild of America. To see this entire column, with complete product graphics and additional "TWW Notes," please click here


CALLPOD FUELTANK
Fueltank comes from the Callpod company, which makes the inventive device, Chargepod, that can charge six devices simultaneously, using proprietary adapter plugs. Fueltank is based on a similar principle, but makes it portable. You can charge two electronic devices at the same time while on the road, using the same plugs as the Chargepod. It uses two rechargeable lithium ion batteries which the company says have over seven times the capacity of a mobile phone.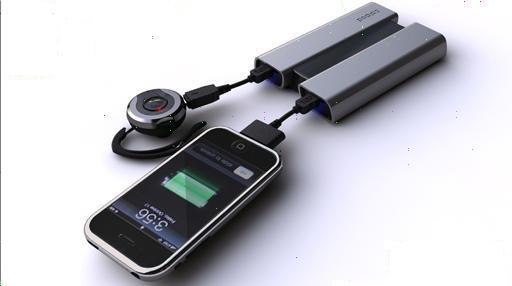 An AC adapter is included to charge the Fueltank, though it can also be charged through your computer's USB port if you have a standard extension cord (however the company doesn't recommend this). A very clear display of indicator lights lets you know the status of the charge, which you can access at any time by pushing a button. The capacity is significantly large that it can charge your devices numerous times before needing to be re-charged itself.
A green light shows when the unit is charging, and goes off when fully charged. While this is convenient, there's also a slight downside since you might not know if the light went out because the device stopped working, or if the plug fell out. Of course you can always just check the capacity status manually if you're unsure.
Fueltank is respectably small enough to fit in a jacket pocket or purse, though too big for a shirt pocket. It weighs about eight ounces and is approximately 5x3x3/4". It comes with an AC/DC wall plug, carrying pouch and a mini-USB adapter - as well as one free voucher for an adapter of your choice. My one quibble here is the same as with the Chargepod, and has nothing to do with quality, but more aesthetic. Everything fits compactly in the pouch - except that the wall plug is bulkier than the rest, especially with the prongs sticking out. Far better would have been a thinner AC/DC power block with prongs than fold in, such as ones from Griffin Technology. It would make everything a touch more compact.
The Fueltank works with thousands of mobile devices, and the adapters are available for purchase on the Callpod website. It's a bit convoluted trying to track down a specific device matched with its correct adapter - not difficult, just that there are so many. On the other hand, that means that you should be covered, whatever you use, from iPods to cell phones, digital cameras, portable games, MP3 players and more.
Fueltank is an elegantly-designed product from a company that does such things well. It's a touch bigger than some other portable options, but it also provides much more charging power, so if you travel around with a lot of devices, this extra power can be a benefit to you. Having to keep track of all the adapter plugs is a bit of a bother, but that's the simple reality for all universal chargers. There's no other way around it, until all the manufacturers of the world unify around a standard plug. And that's not about to happen. At the time of writing, the Callpod Fueltank retailed for $60.


ECOSOL POWERSTICK
One of the smallest portable charger is the Powerstick, which prides itself for being "green energy" and won a CES Award for Best of Innovation. About the size of a tall pack of gum (3 inches), it is extremely light - just over an ounce - and has no replaceable batteries or power adapter, but charges itself by plugging into the USB port on your computer. (If you're on the road without a computer and need to recharge it, you could always forego being green for the time being and plug it into an AC wall charger that accepts USB.)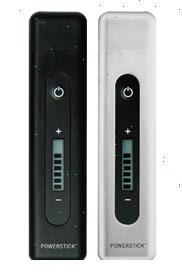 The Powerstick also charges all manner of mobile devices using its own proprietary tips - from iPods, to digital cameras, PDAS and...well, you get the idea. As a nice touch, it comes with nine adapters included. That should cover most needs, but check the website to find out compatibility. Ecosol doesn't sell additional tips.
It charged fairly quickly (between 90 minutes to two hours), using a lithium polymer power cell. To see how much charge is remaining, push a button and bars appear on an LCD viewing panel. There is a pass-through feature, as well, whereby you can have your device plugged into the Powerstick, and charge both at the same time. It does pack the most power among charges, and you might only be able to partially-charge your most power-hungry devices. But the portability of the Powerstick is its greatest strength for emergencies.
The Powerstick is extremely well-made. My two biggest quibbles with it are that there's no pouch for carrying all the tips (though it's easy to track one down on your own), and it doesn't hold the longest charge. But its strengths, as noted, are being green, being able to plug into any USB port to charge, and being very portable. At the time of writing, it retailed for $60.


GRIFFIN POWERDUO RESERVE
Griffin Technology has long been one of my fave technology companies. They've occasionally had a few mis-steps, but that comes with being innovative. In general, their products are extremely well-made and clever. Their new PowerDuo Reserve fits right in.
The PowerDuo Reserve is a portable power solution for any device that can be charged with a USB connection. There are no proprietary tip adapters, so there could be some devices it can't handle, but most will be covered. However, what makes the product unique is a device-specific solution for iPods. It's an all-in-one package that does a great many things wonderfully.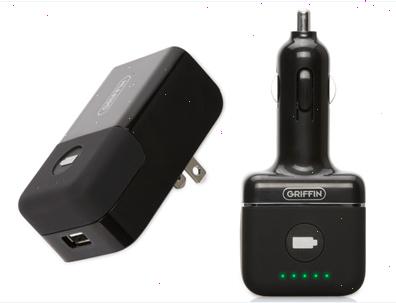 In a sense, the PowerDuo Reserve is three separate products, seamlessly combined. It's an AC wall charger, 12-volt DC car charger and pocket-sized portable battery pack for iPods. (And by "pocket-sized," I mean about one-third the size of a cigarette pack.)
It begins with the AC wall charger (also sold separately as PowerBlock) - this is what you plug your USB connector into for recharging Like most chargers in Griffin's line, as mentioned above, it stands out from the competition because its prongs fold up, making it so much easier (and smaller) to carry around. What makes this wall charger even more different, however, is that it divides itself: while the PowerBlock is charging your portable device, it's also charging the pocket-sized battery pack, which pops out to be carried around when needed, and snaps onto any iPod connector.
But that's only part of the story. Because there's also the 12-vote DC car charger (sold separately, too, as PowerJolt) - which not only will charge any portable device that has a USB connection ...but the pocket-sized battery pack fits into it, too! So, if you're on the road, and your battery pack is now out of power, you can recharge it in your car charger - and then pop it out again, available now to charge your iPod anywhere.
(To be clear, unlike the other portable chargers reviewed, the portable battery pack only charges iPods. The wall and car chargers do charge a range of devices.)
The portable battery pack that comes with the PowerDuo Reserve won't carry the longest charge, but it's respectable. The company claims it will provide up to 24 hours of music and six hours of video. For an iPhone, Griffin says you'll get two hours of talk time.
My one small quibble with portable battery pack is that it only shows you its charge capacity when plugged into an iPod. (A series of lights brightens.)
One issue to know about is that you when you're charging an iPod touch or nano with the portable battery pack, you won't be able to listen to them at the same time. That's because the headphone jacks for these two, specific iPods are at the bottom and will be covered by the battery pack. It's unfortunate because, on the iPod touch, the overlap is only about 1/8". Too bad Griffin didn't make it that much smaller. Then again, it's more "too bad" that Apple put the headphone jacks at the bottom in the first place.
By not using proprietary tip adapters, the PowerDuo Reserve potentially limits itself on what devices it can charge. But relying solely on USB connection also gets rid of the need to carry around a stock of these tips, so it's a much simpler, provided your device is covered.
Also, since many people may already have a car charger in the form of an FM transmitter (in fact, Griffin makes one), it might be a bit of an overkill for them to also have a plain PowerJolt car charger, despite its utility
Note that, as mentioned, you can get the PowerBlock wall charger or PowerJolt car charger separately. It's only when sold together that they become the PowerDuo Reserve. At the time of writing, it retails for $60.
Creating a wish list, what would make the PowerDuo Reserve ideal is if Griffin could figure out a way to make the PowerBlock a dual wall charger (handling two devices at once - Griffin sells one of those), and make the PowerJolt car charger work as one of the company's existing FM transmitters. This could resolve the matter of overkill mentioned above.
But wish lists aside, the PowerDuo Reserve does plenty all on its own, as is.
To see this column with complete product graphics and additional "TWW Notes," visit the WGA website.
SUBSCRIBE TO & FOLLOW THE MORNING EMAIL
The Morning Email helps you start your workday with everything you need to know: breaking news, entertainment and a dash of fun. Learn more