Portable solar power charging has been around a while, but in its infancy there were a lot of trade-offs, in terms of charging capacity, weight and (perhaps most notably) features. Much has changed, and an interesting company, A-Solar, has some particularly inventive solutions. A caveat here: A-Solar is Dutch and its products are not readily available in the United States. But thanks to that Internet thing, we can now purchase from just about anywhere, even if it means you pay a little more for shipping. Also, keep in mind that this being the Worldwide Web, there's that whole "world" thing were people all over are able to read what's written here. Also, to be clear, by no means should it be assumed that A-Solar is your only choice. Far from it. They just happened to have some products that caught my interest. But Goal Zero has an impressive solar line, and we've reviewed other companies in the past, as well.
When dealing with chargers and especially solar chargers, there might be a lot of gobbdygook technobabble. Feel free to turn your nonsense filter to high, and read through a few of the cracks. For those who like such things, however, we aim to please.
A-Solar Quartz Platinum Plus Charger AM-112
A-Solar Quartz Charger AM-111
A-Solar Titan Laptop Charger AM-600
A-Solar Powerbooster 4-Watt Panel AP-100
Goal Zero Switch8 Solar Charging Kit
Goal Zero Guide10 Plus Adventure Kit
Gomadic SunVolt Portable Power Station
A-SOLAR PORTABLE POWER CHARGER AM-112 PLATINUM PLUS
One of the challenges that most solar chargers face is that they can take quite a while to re-charge themselves. A-Solar's AM-112 Platinum Plus improves on that long-time reality.
A-Solar is a Dutch company that makes a long line of interesting solar products that often take a unique and innovative spin on the technology. Though the products aren't readily available in the U.S., everything can be ordered online and shipped - and the company sells widely in Europe, so overseas readers (and people traveling there) have easy access to the products.
The AM-112 Platinum Plus uses a new technology that the company calls its Sun Boost3 Smart Cell. Being higher performance, it charges faster - in fact, the company says it will charge 100-150% faster than normal solar panels. What this means is that it can charge 50% faster than most smartphones can consume it. To put this in more human terms, solar charging the device for 15 minutes will give 20 minutes of talk time. (This may not sound particularly impressive if you're used to plugging your charger into a wall socket, but for solar charging - which as I said can take a loooong time - it's uncommonly good.)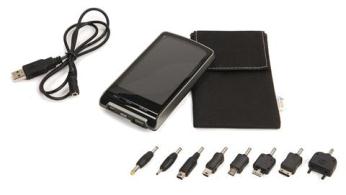 Being a "smart charger," its smart cell protects from over-charging. Also, though all solar chargers will perform significantly better under ideal conditions, the AM-112 is able to do a better job than most when charging under cloudy weather. It also has a very low discharge and therefore will hold a charge much longer than most solar batteries. (One particular, very good solar charger I've reviewed in the past only holds its charge for a month. But the AM-112 comes pre-charged, which means the company has serious confidence in it holding its charge. After all, sitting on the shelf for a month would have drained that other solar battery - the A-Solar was almost 75% full when I received it. It's continued to hold half its charge over the next three months.)
The charger is also nicely designed. For starters, and most noticeable, it is incredibly light, only 3.5 ounces, again something not common with all high-end solar chargers, which can often be quite weighty. It's also quite small and could even fit in your pocket It's 5x2.5x.75 inches. Four LED lights show the current power. And its separate USB-out and USB-in ports are very clearly marked. (With some devices, you need a magnifying glass or prayer.)
The battery is 2500 mAH with an output of 5V/1A. This should provide about 1-1/2 full charges for a Smartphone. That's not high-capacity, but then, being solar you have the potential to start recharging immediately, wherever you are. The package comes with a cord and adapter plugs for many phones, Nintendo, Sony PSP, and mini-USB and micro-USB.
Charging time using AC is 3-5 hours. (A red light flashes when charging.) Charging time by sunlight is 11-15, which is quite respectable for a solar charger, but know that that's' under ideal conditions. (An orange/yellow light flashes when charging.)
A yellow light flashes when the unit is being charged by sun, and a blue light flashes when it's charging another device - and goes off when the device is fully charged. (When you're charging the AM112 using AC, a red light flashes.)
A few minor quibbles. Though it comes with a pouch for the charger (which is nice for protecting the solar panel), there's nothing for the plugs which are easy to misplace - you might as well just use the charger pouch for the accessories. Also, oddly, there's nothing on the charger that identifies its model, its number or the capacity, the latter of which especially is a very helpful reminder.
At the time of writing, the AM-112 Platinum Plus retails for 55 Euros, which is about $71. However, it could be found online here at Amazon UK for $50.
A-Solar's Quartz Charger has a nice twist on the typical, portable charger and most especially on solar chargers. In additional to charging your handheld devices with solar power...it also charges AA/AAA and camera batteries. This can come in particularly handy if you're a camper or on the road without access to AC power.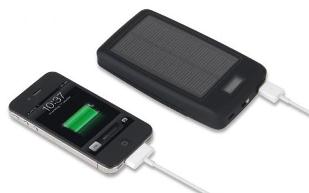 The charger if fairly low capacity, at 1800 mAh, This will give you about one recharge of a Smartphone. But it's small and quite light, about 5x3x1 inch, at 4.5 ounces.
An LED screen shows how much charge is left, whether charging by sun or AC, and also indicates if you're input charge or there's an outgoing charge (when you're charging your handheld. It's effective, though I found the light a little dim.
There is a switch for the type of output charging you're doing (for example, if you're internally charging standard batteries, camera batteries, or charging a device using a USB.) The output and input ports are well-marked, something not always the case with chargers.
The back has a spring-loaded cover - you pull it open to insert batteries. It's very solidly made, but a little awkward to use. You have to hold it carefully while inserting batteries, or it will snap back.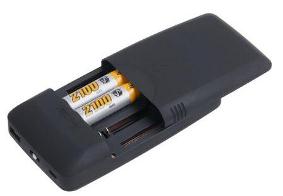 The AM-111 comes precharged which speaks well for how long it will hold a charge, something that some solar batteries do poorly. This arrived fully charged and has held at three-quarters of its charge for three months already. It comes with cord and plugs for phones and Nintendo, Sony PSP, and mini-USB, micro-USB, which is very nice - but there's no pouch, and therefore would be very easy to lose the many plugs.
At the time of writing, the A-Solar Quartz Charger AM-111 can be found online at Amazon UK here
or in many outlets through Europe. It retails for $76.50, but could be found online for $49.
A-SOLAR TITAN LAPTOP CHARGER AM-600
The next entry in the A-Solar lineup is significantly different - and not only addresses a charging need I've tried to find for a while, but does it with solar power (as well as AC). That need is the ability to charge a laptop when you're on a long airplane flight - or anywhere for that matter. When the Titan is fully charged, it should give your laptop an extra five hours of power.
The Titan can also charge two mobile devices simultaneously. Indeed, it's powerful enough to charge a laptop and a tablet at the same time. It has a good-sized and powerful 2.5 watt solar panel which charges the device's large, 13,200 mAH internal battery. (For comparison sake, charging a Smartphone uses about 1,500 mAH.)
An AC power adapter is included, and this will, of course, be the fastest and most efficient way to charge the Titan. But if you're without access to AC wall-outlet, that's where the solar feature comes in. The solar panel is good-sized, but know that it's pretty small for realistic charging.
(Solar panels work by surface space - the more surface, the better the charging.) However, to help speed things up, A-Solar sells an auxiliary panel, which you can connect to the Titan. (More on that below, in the next review.)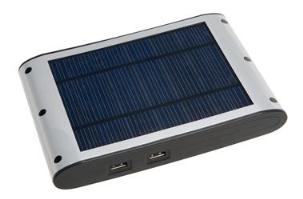 Like much of the A-Solar line, the Titan comes with adapters and plugs for a wide range of laptops. Also, there are two cords and adapters for USB devices, which is thoughtful, but honestly all these cords and plugs are sort of a mess. Ultimately, most people these days have their own Apple and mini-USB plugs and such, and that's more convenient. There was also one plug that I had no idea what it was for - it's not shown in literature, or described on the website. However, contacting the company, it turns out that it's for charging an Apple MacBook. They said that they'd many questions about it, so they added it later on, but hadn't yet be able to update the documentation.
It also comes with a charging cord for AC, but know that it has a European connector. So, if you're in the U.S. or some other territory, you need to have an adapter.
The A-solar Titan Solar Laptop Charger has adapter plugs can charge the following laptops brands f.e.: Asus, HP, Acer, IBM, NEC, Toshiba and Sony. (This charger is also compatible with Macbook and iBook, though it requires an Apple Magsafe Airline Adapter.).
One quibble - while there is an adapter plug for older Dell laptops, Dell has come out with a new line of Windows 8 touchscreen convertible laptops, and they use a new charging port. As such, the Titan doesn't work with them. I suspect that the company will release an appropriate plug at some point.

The Titan can charge laptops at a wide variety of voltages -16V /19V/ and 21V. The bottom of your laptop should say which yours uses. (My Toshiba says it's 19V.) Just flip the switch on the Titan to your proper voltage. An LCD display on the top shows the status of what kind of device is being charged, and a battery icon displays how much charge remains.
The Titan charger is heavy and big - but then this is a battery to charge your laptop. It's 5x7x1 inches and weighs1 pound, 5 ounces. It is also very solidly made. The device comes pre-charged, but mine was very low, almost out of power. So, I just charged it up.
To charge the Titan by AC only takes 2-3 hours. To charge by solar power, though, was 25 hours. Obviously, this is something you'll use when AC power simply isn't an option - it will be tremendously handy at such a time. But also, read below about the A-Solar panel to augment this. By the way, to charge a mobile phone from empty takes about 2-3 hours.
With the one issue of the adapter for new Dell laptops (something I expect addressed), I was very impressed with the A-Solar. Not just that it resolves the "out of battery" problem on long airplane flights, but that it combines that with solar power.
Like all A-Solar products right now, it's only available in Europe, but you can purchase it online. It retails for 139 Euros, which is the equivalent of $180. But it can found at the time of writing here on Amazon UK for the equivalent of $151.
A-SOLAR SOLARBOOSTER 4 WATT PANEL AP-100
As mentioned above, solar charging relies on the surface area of its solar panels. The more surface area, the faster and more efficient the charging. Most portable, solar charging devices understandably have small surface-areas. It makes for great convenience, but slooooow and inefficient solar charging. That's where external solar panels come in. It will significantly speed up the process of solar charging. (And the more surface area to the panels, the more the increase.) There's a bonus to them, as well - an external solar panel can provide power to almost any handheld device. Some devices use proprietary power systems, but for the most part if you have a device that charges when connected via USB, a solar panel will charge your device if there's sunlight. It might be slow, but if you need power and there's no other alternative, it will be very handy.
To be clear - solar panels do not store power for later use, like a power bank does. They just provide immediate power to external devices, converting the sun. I've reviewed solar panels in the past, but since we have a parade of A-Solar products this months, it's worthwhile taking a look at their own entry.
The Solarbooster is a portable solar panel that's extremely well-constructed and solid, though that makes it a bit heavy, at over half a pound (10 ounces, actually). It's conveniently small, though - 5x7x.5 inch when folded. It then opens like a book, to reveal the solar panels pan

When the panel is open to the sun, you simple connect a USB cord to it, and attach the other end to whatever device you want to charge - whether a Smartphone or a solar charger like one of those above. A red light flashes when it's charging with the sun. The panel outputs to either 5V & 12 V, and comes with an adapter plug to convert 5V to 12 V that allows this.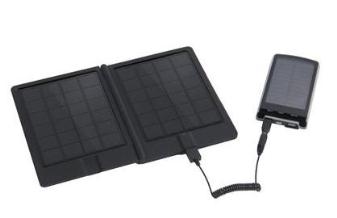 The AP-100 is a wonderfully made device, though a little heavier than I'd prefer (but it's not heavy and slips easily into an attaché). There is a hidden clasp that slides out and can attach to backpack with the included Velcro strap. Oddly, the clasp is the only flimsy part the construction.
I have a couple of other small quibbles. It includes a USB adapter for plugs (that will allow for connecting the panel to other devices) - but no plugs. This isn't a big deal, since most people have their own USB cords, but still surprising. Also, other panels I've tested have a built-in pouches that let you carry a connecting cord. The AP-100 doesn't. A very small matter, but a touch less convenient. I liked the AP-100 a lot, mainly for its wonderful construction. But a carrying pouch would have helped.
Think of a the Solarbooster as a power extender. It's not a charger, per se, but using the sun can speed up the use of a solar charger, or (in an emergency) add power slowly to most any handheld device. Basically, it helps rapid charge a solar device, and can significantly speed up the charging time of A-Solar solar charger when connected.
The Solarbooster AP-100 retails for $76.50 (that's 59 Euros), but can be found online at the time of writing from Amazon UK herefor the equivalent of $63.50.
GOAL ZERO SWITCH 8 SOLAR RECHARGING KIT
Amazing as it may seem this month, there actually are companies that make solar charging devices other than A-Solar - and are sold in the U.S. Okay, quite a few. And one of the more notable is Goal Zero, a company that has a deep range of solar products, most on the heavy serious, "We're really serious," level for professional grade camping (solar generators and such), but they also delve into the home market.
(It's worth nothing that Goal Zero works hand-in-hand with its sister non-profit organization, Tifie Humanitarian, to help individuals "provide for themselves and their families," working on illiteracy, hunger and poverty. It receives proceeds from each Goal Zero purchase.)
On the simpler end, they too have a solar panel, but do it with a bit of a twist. A double-twist, actually. The Switch 8 kit includes three different pieces that work together. At its heart, the kit begins with a solar panel, which they call the Nomad. But there's also the Switch 8, a power bank recharger. And then, oddly, a sort-of flashlight.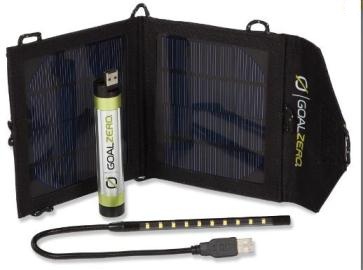 We'll start with the Nomad. It's a simple, fold-open solar panel that provides 3.5 W of power (slightly less than the A-Solar). It's small and light, though, just half-a-pound, and 6.5x5.5x .5 inches. It's covered with a thin sort-of canvas...and has a mesh pouch, which is an important feature. This is where the USB "solar port" sits - it's a little bulky, but it's where you plug in the devices you plan to solar charge. This includes the Switch 8, which is compact enough to fit in the pouch. Also, the flashlight fits here. It's all very convenient, a real carry-all.
The 3.5 watt Nomad isn't terribly powerful - indeed, an admonition inside says that that it's not intended to charge devices like Smartphones or tablets directly, but is meant specifically and solely to charge the included Switch 8 charger. That well may be, but from what I've been able to track down, this seems mainly a "warning" to protect the company since it should be able to handle most Smartphones. (Goal Zero does make a larger Nomad 7 -for 7 watts - which easily will do the trick.)
But mainly, the Nomad solar panel is meant to charge its Switch 8 power bank. The Switch 8 is a Lithium-ion battery about the size of a short cigar, just under 5 inches long, only about three ounces. An included, small USB cord plugs the Switch 8 into the Nomad to charge. It doesn't carry a great deal of juice, but will give a full charge to a Smartphone in about 1-3 hours, or will charge an eReader up to 50%. As noted, it fits into the Nomad's mesh pouch. But it's also meant to be carried separately, in an attaché or purse, for emergency power.
You don't only have to charge the Switch 8 from the sun through the Nomad solar panels, of course. It will charge through any USB power source, like a laptop or wall charger. (If you do use the Nomad to charge the Switch 8 with solar power, it should take 6-12 hours, depending on the sun that day. Charging from the wall should be about 2-4 hours.)
That leaves the sort-of flashlight. It's almost more of a reading lamp, with a long, twistable neck and LED lights. Why it's included, I'm not quite sure. Perhaps it's meant to make the kit all-encompassing for camping needs, when you might need a light. In any event, this is not a criticism since the light is my favorite feature of the kit! It's meant to plug into the Switch 8 - but you can plug it into any USB power source, like your laptop's USB port and give extra light when you're at your computer. And boy, does it give extra light. This is wonderfully bright, and with the long, twisting neck, you can maneuver it to almost any comfortable position. The only quibble is that it takes a bit of maneuvering to get it to fit into the Nomad's mesh pouch - but it does fit. Along with the Switch 8 charger and USB cord. That's what ultimately is the strongest value of the kit, its great convenience.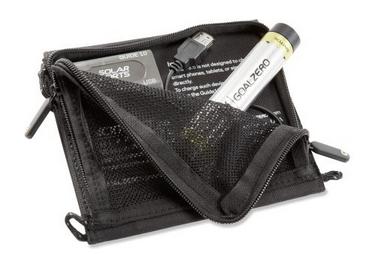 The Switch 8 Solar Recharging Kit is not the most powerful kid on the block, whether as a solar panel or power bank charger. But it's meant to be...well, a kit. With everything included working together. That's its strength, its all-in-one compact convenience. If you want something that's more versatile or powerful, look elsewhere. But the light alone might be worth the cost, it's that nice. The kit retails for $120, but can be found online at the time of writing for $100.
GOAL ZERO GUIDE 10 PLUS ADVENTURE KIT
In many ways, Goal Zero's Guide 10 Plus Adventure Kit is very similar to its Switch 8 kit - at least in concept and how the thing works. So, I won't go through a similar review. I'll just note a few differences.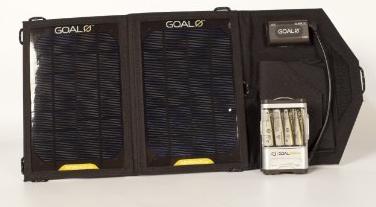 The solar panel is the Nomad 7 - so it's 7 watts, rather than just 3.5. That means it's size is larger, of course, 10-6x1.5 inches. But it's still reasonably light with a far greater solar output. It's just not something you'll stick in a purse, or perhaps even an attaché, though it's highly portable for a suitcase, though mainly for camping or car trips. (A car cigarette-adapter is included.) It can charge the Guide 10 power bank charger in just two hours (depending, as always, on the sun that day).
The Guide 10 is also different from the Switch 8 charger in that it doesn't use a single, rechargeable Lithium-ion battery but rather four, replaceable, AAA rechargeable batteries. Also, there's no separate LED flashlight included, but an LED light is built into the Guide 10 itself, which is rated to run for 100-150 hours on a single charge.
The Guide 10 battery pack can supply two charges for a Smartphone - and charge the phone in only an hour. It can also boost an eReader by 50%, or increase the power on a tablet by 25%.
The Guide 10 Plus kit is bigger all around than the Switch 8 kit. To be clear, the battery pack itself is still small enough for a purse. The Nomad 7 solar panel, though, is likely something of more interest to campers or road trippers. Also, good as the LD flashlight is here, I really loved the external unit with the Switch 8 kit. In the end, both kits are very similar, so the choice depends on your needs. The Guide 10 Plus kit is more versatile and powerful, though less convenient for home use, and better for more rugged needs. It retails for $160, but I've seen it at the time of writing for as low as $100 online.
GOMADIC SUNVOLT PORTABLE POWER STATION
When it comes to portable solar panels, we now go from the sublime to the - well, I don't know, this may be the ridiculous or the sublimest. The Gomadic SunVolt is not anything you'll stick in an attaché, and it's not even for basic home use, but you can certainly use it at home, though it's at its best camping or on the road.
The SunVolt may be heavy at four pounds, but it zips up into its own attaché-like carrying case, made of tough and water-resistant Ballistic Nylon. Open it up, and then fold the solar panel into the adjustable slots, and the high-output 10W Monocrystalline-based panels can provide outlet-like charging speeds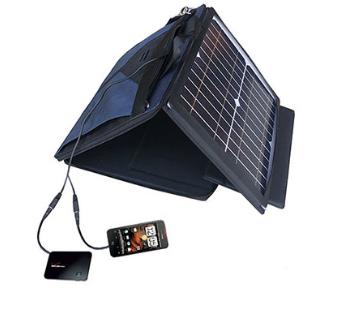 The reason for the adjustable slots are so you can get the best angle to the sun. Much of the SunVolt is adjustable - the slots and the panels itself are connected with Velcro strips and can detach. (The solar panel can also be removed from its holder.)
There is a hardwired cord though which you connect your devices to be charged. Gomadic uses proprietary tips, and provides several standard ones, including basic USB and a double-cable so that you can charge more than one device at a time.
To clarify, the SunVolt does not store power, it just provides power from the sun through its solar panels. However, also included is a Solar Cache high-capacity battery pack. (The documentation doesn't say so, but it appears to be 7000 mAh, which can charge a Smartphone up almost five times.) It's very small and light, maybe half the size of a pack of cigarettes. Just connect it to the SunVolt to charge - or through a wall socket.
There's also a very convenient outer pocket with a couple of inner pockets to store the cables, tips, Solar Cache battery pack, a strap (for shoulder use or slipping over a backpack), and any of your handheld devices.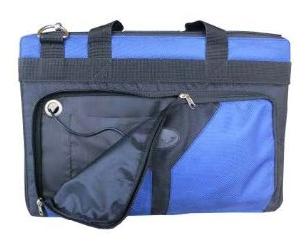 The smaller inner pocket is a tight squeeze for the Solar Cache and could have been a little bigger. Also, I'm not a huge fan of proprietary tips, and there are a lot to juggle and keep track of. But you can just carry along any standard cables you have and plug them into one of the included USB cables.
Gomadic also makes a larger model, the SunVolt MAX that provides 50% more power. Clearly, the SunVolt isn't meant to be used the same as the other products here. It's far bigger and heavier, but much more powerful and ruggedly made. But if you're interested in solar power and have a serious use for such a thing, it's highly valuable, and reasonably priced at $100.
*
Robert J. Elisberg's new novel The Wild Roses, a comic adventure in the spirit of The Three Musketeers but with three women, is now available here in paperback or as a Kindle eBook. His other writing can be found at Elisberg Industries.