The question that tends to come up most often when writing about technology is "What cool things have you seen lately?" After all, technology changes so fast, and what it can do gets more and more remarkable that the whiz-bang aspect can't help but be front-and-center. However, I've long felt that the smaller products that do things you regularly, actual use in your daily life and daily work - and do them simply - are among the most interesting to look at. Further, with technology allowing home offices to become more prevalent in our lives, I like occasionally looking at accessories that come along to make those home offices all the better, no matter how simple they may be. This month, we look at a few in the latest batch.


• Smartfish Whirl™ Laser Mouse
• Macally mCup Mount
• Seagate GoFlex Satellite ™
• Verbatim Bluetooth Mobile Keyboard
• Macally Tri-Hub



SMARTFISH WHIRL ™ MINI NOTEBOOK LASER MOUSE
The sheer portability of notebooks means having to live with tracking pads, which have never been as accurate to use as a mouse. With wireless so prevalent these days, however, the option of adding a portable mouse has become more common. Smartfish has added a twist to the concept.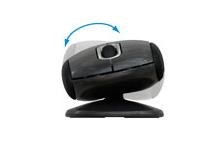 Also common with typing is carpal tunnel syndrome, the repetitive stress situation where one's wrist rarely moves its position. The Smartfish Whirl ™ mouse is an ergonomic solution to that: it sits on a pivot and allows you to find the most comfortable position or shift your wrist. Slide the base along just as you would any other mouse. A mini-transceiver plugs into a USB port, and it's so small you could probably leave it in place all the time.
For the most part, the laser mouse works very well. It's quite accurate and sensitive, and of course small enough to easily transport in a carrying case, though a tad bulky to stick in your pocket. It might also be a little small for large hands, but then the whole point is to be small for portability. And though small, it's still quite comfortable ergonomically with its tilting - one quibble: though it tilts very well to the left, right and backwards...when tilting forward, it can sometimes be easy to accidentally click the buttons. There are no bells-and-whistles, just those left-right buttons and a scroll wheel, but that's most of what people really use, unless you're big into gaming. Nice, too, is that it's ambidextrous. The transceiver can hide away inside the mouse when not in use, though, as mentioned, it's small enough to always stay plugged in your notebook. (That's a very good thing, because my one quibble is that the "door" on the Smartfish, where you'd tuck away the transceiver if you decide to remove it from the notebook, is a true pain to open. It's easier when you figure out the best way, but it still won't be simple for people with big fingers.) For all its fine ergonomic design, there's one other unrelated, yet very simple design tweak that is appreciated - it has an external on-off switch, something missing in several other portable mice I've come across. It retails at the time of writing at $49.


MACALLY mCUP MOUNT
Sometimes simple is better. And the mCup is a simple, well-designed proof of that. The car today has become an extension of the home office, and that raises the problem of what to do with your cell phone, not to mention MP3 player and GPS device. There's always juggling lessons, but that's probably less than ideal. Less than ideal, too, is having your GPS stuck to your windshield, which risks limiting your view. One alternative is install a mount onto your dashboard, which works well, but can be costly. That's where the Macally mCup comes in.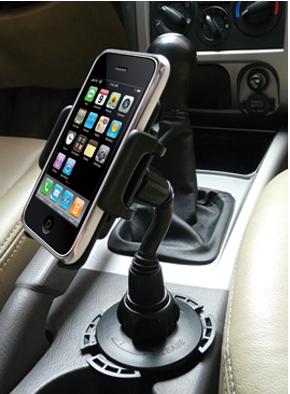 The mCup is an adjustable mount that fits snuggly in the cup holder of your car. It has a long neck and clamps that hold your device. The neck is very adjustable, not just for tilting the angle but also to twist your device from a vertical position to landscape. The clamps can also be easily adjusted depending on the width of your device. (It comes with two sets, one of which is longer in case you have something thicker to keep snug.) Though it's likely that a large GPS device will be too big to fit, small ones should work fine - and many people use their smartphone or iPod touch as a GPS, which fit perfectly.
There's nothing whizbang about the mCup. It's well-made, pretty solid and does a useful job simply. It can be found online for $18.

Though tablets have become a wave of personal computing, even their most ardent supporters recognize one of the bigger limitations of the products - storage space. Once upon a time, having 32 gigabytes of storage, or 64 GB, would seem massive. Nowadays, that's minimal. The problem holds for most MP3 players, as well. Seagate has entered the fray offering a possible solution with its GoFlex Satelitte ™.
It's important to note that while personal "clouds" are now prevalent for expanding the storage of such devices, that option is only available if you're connected to the Internet. That isn't an issue with the GoFlex, which doesn't require the Internet. Also, some people simply don't prefer using "clouds" for storage out of concern for security. Keep in mind that anyone can potentially access the network Wi-Fi signal of the GoFlex, though its range is fairly small, but not insignificant.
Basically, this is a 500 GB portable external drive that emits its own very-low level Wi-Fi signal (that reaches about 150 feet). First, after plugging the GoFlex drive into your computer, you copy/paste whatever media or files you want from your computer onto the GoFlex. Then, turn on the Wi-Fi setting of your iPad (or iPod touch or whatever Wi-Fi enabled device you're using), select "GoFlex Satellite" as the network to connect to - and the GoFlex drive then starts streaming all its media directly to your handheld device. In other words, you can expand your device's limited capacity to 500 GB.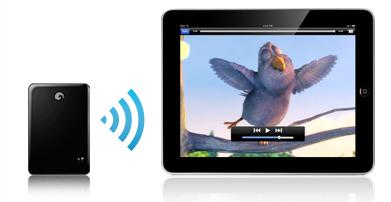 (To clarify, the files all stay on the GoFlex drive. You're not adding any storage to your handheld. You're just streaming them to the device, the same as you stream any Wi-Fi signal anywhere.)
There are two ways to access the media now being streamed to your device. The easiest is by downloading the free GoFlex Media app from iTunes. It organizes all the material into convenient tabs - Music, Photographs, Video, Documents. If you prefer, you can also choose "Folder View," which organizes the files according to the same folders they were copied from on your hard drive. Though GoFlex tabs look convenient, I much preferred Folder View. The tabs list everything alphabetically, so if you want to listen to a particular album or artist, you're out of luck, unless you're willing to scroll through everything and individually select each song you can remember. Folder View at least provides some semblance of organization.
But what if you are unable to download the app? There's another option. Just launch the browser on your handheld device, and enter an address for any website (it doesn't matter what) - you'll be automatically directed to a Seagate webpage that basically recreates the same tab view as in the app. It's able to do this because...remember...the network you connected to is Seagate's own GoFlex Satellite ™ network. So, you're not on the Internet. You're on Seagate's private, tiny network.
There are a variety of options in the app for how you want to manage files and change settings. The most notable might be the ability to transfer media from the GoFlex drive to your device. (It's sent to "Local Content" folder of the app.)
The company also provides free software you can download from its website, Seagate Media Sync. You install this on your main computer. Then, whenever you connect your GoFlex Satellite ™ and launch the software, it will automatically sync your GoFlex drive with any changes you may have made to your media on your computer.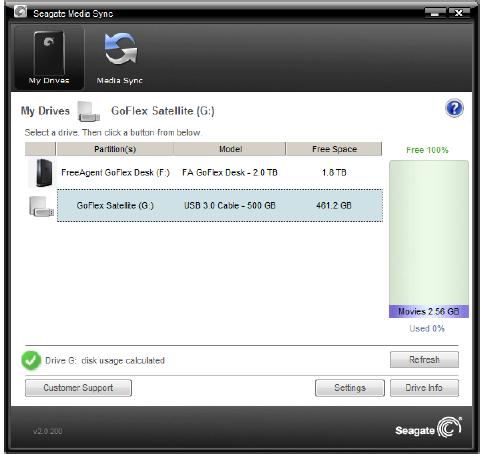 There is much to admire about the GoFlex Satellite ™, though it has some limitations of its own. On the plus side - and this is a major plus if you're hindered by the lack of storage space on your handheld device - is that you can add massive capacity. The app and Media Sync software help automate the whole process and make everything quite easy to use.
On the down side, know that this isn't not the ideal way to play your media, since all you get are file names, not song information. Also, in the main "tab" view, it's just a long list of file name (though, as mentioned, you can change to "Folder View"). There is a slight buffering pause whenever you change screens, so is isn't the instant response you might be used to. And on one occasion, I lost the Wi-Fi signal, and my iPod basically stopped operating as it kept looking for a signal, even after one was re-established. Rebooting brought everything back.
The GoFlex Satellite ™ runs for 5 hours (though less, if you're viewing high-def movies), with about 24 hours in standby mode. It's small, though a little thicker than other Seagate GoFlex drives, about 5x3.5x ¾" and weighs nine ounces. So, it's not something you'd likely choose to carry around with you for basic portability, but rather because you really want the vastly expanded storage capacity. At the time of writing, it retails for $199.
The Seagate GoFlex Satellite ™ isn't for everybody. But it fits an important niche for those who do have a need for storage that far exceeds the limitations of their iPad or other device. It works well (with the few caveats noted above), and can expand your handheld, when that's a critical issue.
One of the growing trends in computing - perhaps the growing trend - is the explosion of tablets. Though not at their strength as productivity devices, they do have "virtual keyboard" that allow for typing on what is basically graphical icon. Though it works to varying degrees, the process is not satisfying to those for whom typing is critical to their work. And where a need arises, technology often comes to fill the gap.
That's where Verbatim enters with its Bluetooth Mobile keyboard. While other add-on portable keyboards exist for this market, but Verbatim offers as a nice twist is a keyboard that folds-up for ultra-portability, even fitting in your pocket. (It will connect to any Bluetooth-enabled device with "HID Keyboard support." This includes the iPad, Samsung Galaxy Tab, Motorola Xoom, and Blackberry Playbook, as well as an iPhone or iPod touch.) The Verbatim is a real keyboard that provides real typing. So...how well does it work, and does it get the typing-needy over the hump?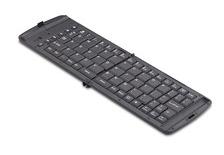 For the most part, it works impressively well, though with a bundle of caveats.
You begin by unfolding the keyboard and pairing it with your Bluetooth device, an easy process that requires not much more than holding down a button on the keyboard with a pen-tip and typing an access code into the Settings of your Bluetooth device. Easy though it is, I did hit a snag here, when I was sent a defective keyboard. (It worked fine when I'd turn off the keyboard but leave the Bluetooth on - not recommended, since that drains battery life. However, whenever I'd turn off the Bluetooth connection, I'd have to re-pair every time I wanted to use the keyboard. This isn't the way the keyboard is made to work: once paired, it is supposed to stay paired.) To be clear, even with this glitch, the keyboard was usable; it just meant having to re-pair, which occasionally is a standard procedure on some Bluetooth devices.
Once your Bluetooth connection is made, you're ready to go.
The keys are a little small, but have a very acceptable feel. If you have large fingers, however, it might be a bit cramped. You'll have to make a few other small adjustments, as well. For instance, because of the folding nature of the keyboard, there is a slight space in the middle (dividing each side) that makes the center keys a touch farther apart than spaces between the other keys. It shouldn't take your fingers long to adapt to this, though. Similarly, a few keys (Del, Ctrl, Alt) are in different positions that on your regular keyboard, so that will take some getting used to. Also, the keyboard generally uses its "Menu" button for commands, rather than the traditional "Ctrl" key in windows. (For instance, you hit "Menu+C" to copy.) These are all adjustments to make, but fairly easy ones.
To keep the keyboard open, there is a hinge that locks things in place. It works properly, though the connection isn't tight. Though the keyboard is most suited for tablets, it also will work with any smaller, Bluetooth-enabled device, as noted, so there's a pull-out holder stand for iPhone/iPod devices. It's not overly sturdy, but convenient
As a bonus feature, there is a Media Console with music player controls. This isn't overly necessary, but it's nice to have.
Under normal usage, the keyboard overrides the built-in virtual keyboard of the iPad/iPhone which won't load. However, if for some reason you do want the virtual keyboard, a button on the Verbatim will bring it up.
The keyboard is not tiny, nor light, but it is compact and easily transportable, particularly when carried alone, not in its carrying case. Folded, it's 6x4x¾" and weight 9 oz, and is small enough to fit in a pants pocket. (With its very protective case, it weighs 11 oz, and briefcase or purse, but even a jacket. .) Unfolded, it's just a touch over 12". It runs on two AAA batteries and comes with a carrying case.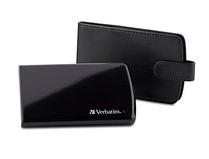 I had one, tiny glitch that even the Verbatim folks hadn't seen before and initially stumped them, but the resolution was simple. The "problem" was that if you shut down the Bluetooth connection first, you had to re-pair it every time it was turned back on. (This wasn't an issue if you simply shut the keyboard down first.) What it turned out to be happening is that if the keyboard doesn't didn't sense any activity, it shuts down, so it was showing "unconnected" when you turned Bluetooth back on. However, simply touching any key brought it back up immediately.
The Verbatim Wireless Bluetooth Keyboard works well and is reasonably compact, but not light. (It's much more portable if you don't use the protective carrying case.) It's not as solid as a desktop keyboard, though well-made. The biggest issue for some will be small keys for large fingers. Its greatest convenience, overcoming any adjustments one might have to make with its configuration, is being a real keyboard that folds up small enough to tuck away, for those who need one. At the time of writing, it retails for $104, but can be found for $88, so there are less expensive options around. But ultra-portability that fits in your pocket is still rare.


MACALLY TRI-HUB
Okay, it's just a hub for extra USB ports. Pretty basic. But there actually are differences among these things. And as more Plug-and-Play devices grow into a prominent party of our computing lives, and all manner of devices that can be charged in USB ports - and also, as more people rely on notebook/netbooks as they main systems with limited USB slots - a USB hub extender is becoming a more important accessory for computer users.
So, what are the differences here? For starters, it comes with an AC adaptor. While hubs that are powered by the computer they're plugged into are more convenient, they're also much less ideal. The devices you plug into a USB hub are becoming more energy sapping, and for everything to run best, having an AC adaptor to draw its own power is preferable. Secondly, this comes with seven ports. Of course, you can always "daisy chain" a hub upon a hub upon a hub to increase available ports, but that gets cumbersome and more expensive. Better to get a hub that should expand your needs as much as reasonably possible. But it's the third reason that stands out the most - not all USB devices plug in with a simple, small USB attachment. Many may have a bulky design that makes it impossible to use the port next to it. The Macally TriHub comes with two of its ports separated from the others, allowing you full access. It's a very nice design. The TriHub itself is small - about 7x5x2 inches, so it should fit nicely out of the way. It can be found online for $23.

"The Writers Workbench" appears monthly on the website for the Writers Guild of America. To see this entire column, with complete product graphics and additional "TWW Notes," please click here

SUBSCRIBE TO & FOLLOW THE MORNING EMAIL
The Morning Email helps you start your workday with everything you need to know: breaking news, entertainment and a dash of fun. Learn more