Peripheral Vision...

Last month, The Writers Workbench took a look at Microsoft's newest operating system, Windows 7. This time around, we check out Windows 7 again but with an eye on updating your home office.
When switching to Windows 7, there is the added question of what hardware (printers, fax machines, monitors and such) will be compatible. It's a matter of device drivers, the software for a piece of hardware that gives its "rules" to your computer and tells it how to run.
To be clear, when upgrading to Windows 7 from Vista, users should have no problem with their peripheral devices. Further, users coming from Windows XP will find that most existing hardware works, as well. All it takes is updating to a Windows 7 device driver. In some cases, the operating system may even install this for you, but if not, it's a simple process to download device drivers from a product's website.
But some old peripherals won't work under Windows 7. It's not that the hardware can't run, just that the manufacturer considers the product out-of-date. As a result, they've stopped supporting it, which is why no device driver for Windows 7 will be made available. It's not a Microsoft issue, it's a decision by the third-party company.
So, in some cases you may have to refresh your home office with new peripherals. And if that comes to pass, here are a few basic options.


BROTHER MFC-7340
As noted, it's possible that after upgrading to Windows 7 one's printer might no longer be compatible. Or your fax machine might stop working. Or scanner. But worse, all three. Happily, there are solutions, and the Brother MFC line offers one of them. The "MFC" stands for Multi-Function Center, and it's a laser printer, fax, copy machine and scanner - in fact, it's both a sheet-feed and flat-bed scanner. (More on that latter.)
In the past, I've been a bit wary of all-in-one units. If just one function breaks, you're faced with having to replace everything. And that can get you into heavy coin. So, it was with interest that I noted the 7340 was surprisingly low-priced.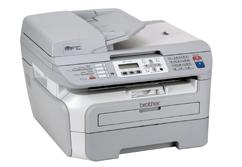 The street price of the Brother MFC-7340 is around just $200, at the time of writing. Yet if you're patient and search around, it often seems to go on sale for as low as $165. Especially at this lowest price, it removes the concern about replacing an all-in-one model if one function goes out. At $165, it's not much more than many single-function units. And importantly it's a high-speed laser printer, not inkjet.
A slight digression here. Usually, I hold off listing prices until the end. Here, though, it's one of the critical features. It's also important to note that the 7340 is black-and-white, not color. While color is very nice to have, I chose to review this model because most writers are largely interested in printing text. Color is generally secondary. And color not only significantly raises the cost of a unit (the least-expensive MFC color model is double, at $400), but the cost of color toner raises it even more. Further, Brother's color units are bigger and bulkier, and comparative models don't print as fast.
However, if having color is something one would like for an occasional print job, there is a low-cost workaround. A respectable color inkjet costs as little as $30-40. Connect it to a spare USB port on your computer, and it's a color backup. (This is even no-cost if you already have a color inkjet that still works under Windows 7.)
Which brings us to the Brother MFC-7340.
At its heart is the printer, and the unit is extremely fast, printing up to an impressive 21 pages a minute. The quality is very crisp, though for my taste a touch too light. But it was simply a matter of going into Printer Properties and changing the density. (While simple, it took a little exploration to find.)
Printing envelopes is easy. There is a feeder in the front, aided by opening a door in the back. Therefore, the envelope passes straight through, rather than having to curl through the printer which is how many paper-jams occur.
The paper tray holds a comfortable 250 pages. The only structural negative with the MFC is that the output slot is somewhat narrow and also a bit recessed. As a result, you may have to maneuver your hand slightly to get pages out. And while a printed screenplay should fit in the output slot, it doesn't leave much of a margin for error, so you might want to remove printed pages before it gets too full.
The scanner offers perhaps the most-welcome feature of the 7340 because it provides you with two options. There is a sheet-feeder, which allows you to stack loose pages in the holders. And it also has flat-bed capability, by lifting up the top, for a book or magazine.
To use the scanner, a starter version of the excellent PaperPort software is included. This is a rich software application that allows for a great deal of configuring and management of your scans. PaperPort gives both a desktop and individual page view.
PaperPort also lets you drag-and-drop the icon of your scanned document onto the application bar at the bottom of the screen, which sends the scan directly to that app. For instance, drop the scan on the icon for your email program, and the document will attach itself automatically to an outgoing email. Or if dropped onto the Microsoft Word icon, the OCR software will run. This is Optical Character Recognition, which converts a scanned document -- which is a graphic -- into editable text.
As full-featured as PaperPort is, you might find yourself using Brother's own Control Center 3 even more. This is much simpler and -- more importantly -- lets you configure preset buttons. You can set one preset for scanning text documents at a lower resolution (and therefore smaller file size), and another for color documents. And one for photos. Control Center also lets you set up copying and faxing options. It's all very convenient.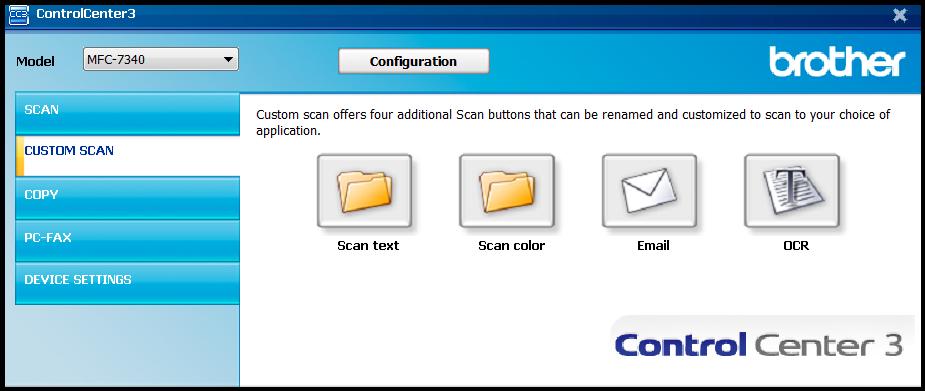 It's here, too, that I had my only big problem. To be clear, this is very rare and bewildered Brother when I spoke with the company, who was unable to fix it. It likely has to do with how an individual's computer is configured. The problem was that when I scanned a document using Control Center, it wouldn't create a .PDF file. Every other file format worked perfectly. (Unfortunately, .PDF is the ideal format for most documents.) To be clear, there is a simple alternative - I was able to scan into a .PDF file using PaperPort. (This was a software issue, not a hardware problem.) Every other feature of Control Center worked as it should. To repeat, this is an utterly rare, odd problem that most people will not face. But -- it was a glitch on the system I was testing.
Faxing works well and reasonably easily with the 7340. Faxes will print out normally as pages, but if you want an incoming fax to be saved as a document file, you can do so using the aforementioned Control Center. To send an outgoing fax directly from a document you've created on your computer, just use the File/Print option in your software and (from the drop-down menu) change the printer from the default Brother to Brother PC-Fax.
As for copying...well, copying is copying. It's basic and works just as you'd want it to. Open the top of the unit and go. The results were very crisp and clear.
The front panel menu of the 7340 is fairly intuitive to use, but you might feel comfortable referring to the manuals. However most of your setting up with be completed during initial installation, and the Quick Setup Guide does a good job in walking you through.
In the end, I was impressed with the Brother MFC-7340. I wish the paper slot was more convenient, and I especially wish I didn't have that rare .PDF glitch. And importantly, it is only black-and-white. But -- it's quite compact; very fast; does an excellent job printing, scanning (with both sheet-feed and flatbed), faxing and copying; and is ridiculously inexpensive, especially for a laser unit. If you want color for a few occasions, you can just use a backup color inkjet. But if color is critical for you, take a look at the (untested) Brother color MFC-9010 CN.


MICROSOFT WIRELESS DESKTOP 3000
Your keyboard might not be something you think of as Windows 7-dependent. However, many keyboards today have added functionality with software. And if you haven't upgraded yours for a while (and let's admit it: a keyboard is like a comfortable pair of shoes to a writer), you might find that its software features won't operate anymore.
Keyboards are totally subjective. But with that awareness in mind, here are two notes:
I've long preferred a wireless keyboard. It not only has less clutter on your workspace, but it also gives much more freedom in where and how you type.
A "Desktop" in keyboard world is a combination keyboard and mouse. Costs are less when both are bundled together, and also you only need one "transceiver" for connecting the devices wirelessly. That said, a separate keyboard and mouse gives more flexibility of choice -- but that will likely require using up two USB ports for the two transceivers.
I looked at the Microsoft Wireless Desktop 3000 for several reasons. The keyboard is full-sized, but with a small footprint since it's not overcrowded with a lot of unnecessary buttons that are ideal for gamers and gizmo fanatics, but a waste of space for typing and raise the cost. It's therefore also on the lower-priced end, though not bottom-of-the-line. (At the time of writing, the Desktop 3000 combo could be found online for $53.) And finally, the mouse included was ambidextrous. More on that later.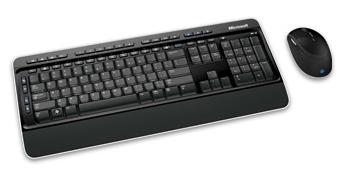 The most important thing first: how is it for typing? My initial reaction was that it was fine, though a bit soft. But as I typed more, I realized that it was just different from the keyboard I was used to. In fact, after a while, it felt especially comfortable. Not a solid snap like an old IBM or classic (and beloved by many) OmniKey, but firm. And quiet. (Some people though do like a clack sound, I know.) The curvature of the keys fit my fingers well, and the travel of the keys (the distance they go down) was very responsive. Yes, the overall feel is a bit soft, but it's crisp, and I liked it. And the keyboard is thin and light, too, so -- being wireless -- you can move around with ease.
The layout of the keyboard is generally fine. A good-sized Return key, with Alt and Ctrl keys placed properly. There's only one dedicated Windows key, but it's recessed and therefore easy to find. I do have two complaints with the layout, though. Both are bothersome, though both are easy enough to deal with and work around.
The first is that on most keyboards, the row of 12 "F-keys" are divided with spaces for easy access. On the Desktop 3000, however, they're all just one continuous row. Worse, the lettering for each key is near-impossible to read unless a light is shining on them. It's a terrible layout. Fortunately, I discovered an easy workaround: the F-keys are lined up almost above the normal number keys, so you just look for the F-key counterpart.
The second problem is that one of the Delete keys is placed under the PageDown key. So, if you're not careful, you can delete something by mistake. However, it's something your hands will get used to, and there is another PageDown key you can use instead.
Beyond typing, how is the rest of the Desktop 3000 system?
The keyboard has a 2.4GHz wireless connection up to 30-foot range, which is very good. And the connection was strong. A mini-transceiver plugs into a USB port and can stow under the mouse if you use it portably or want to save on the mouse's battery life. (Snapping in the transceiver turns off the mouse.) Microsoft also says that the keyboard is spill resistant with integrated water channels that drain liquid -- but for reasons that have to do with sanity, I didn't test this.
Most bells-and-whistles that come from any keyboard will be extras that I suspect tend to be rarely used. That's true with the Desktop 3000, but quite a few are, in fact, useful.
There are five programmable keys that work in a unique way under Windows 7: each key links to the first five icons on your Win 7 Taskbar. Further, if you move those icons around, the keyboard buttons will readjust themselves. It's not something I've found myself using often, but it's convenient to jump directly to one of these programs when open. (You can also program the five keys in the traditional way, linking them to any program on your computer, but since Windows 7 now lets you "pin" any program to the Taskbar, this makes traditional key programming less valuable than before. )
Having said all this, it's worth noting that programmable keys are more important with a wireless keyboard than a wired one, since you might be typing away from your desk where the mouse resides. To program the keyboard -- and mouse -- you use the enclosed Intellipoint software.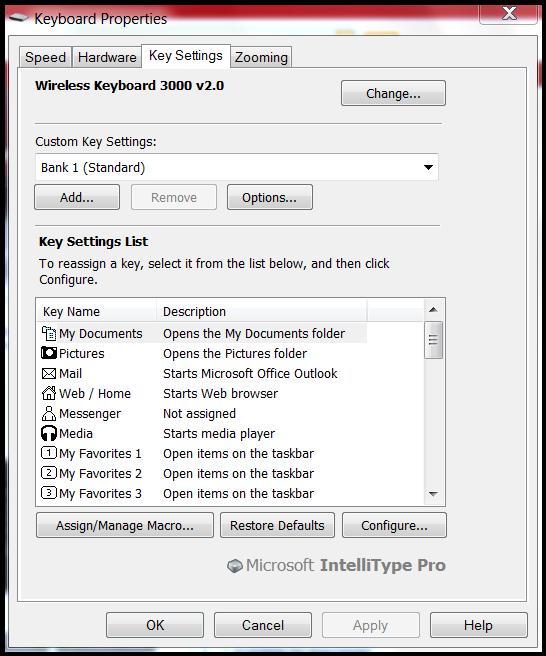 There are additional Hot Keys that give one-touch access to standard applications (like email and calculator), but for the reasons stated above, those are less important with Windows 7. However, Hot Keys that launch folders, such as My Documents and your Photograph library, are quite handy. Media Center controls are standard, but the volume controls are wonderful to have quick access to.
Also valuable are the Magnifier buttons that enlarge and reduce text on the screen. They don't work for every program, but are very helpful in Microsoft Word.
The F-keys have an enhanced capability to run common commands, though I've never found such things overly valuable. I prefer defaulting to standard F-key functions. (You can toggle between standard and enhanced usage.)
There is some duplication with all these many keys and buttons, but if it becomes bothersome, you can reprogram anything.
I have a one other quibble, though it's minor. When using the Number Lock, Scroll Lock or Insert keys (or the F-lock), a small notation pops up on your monitor, but quickly disappears, so it's easy to forget what keys are locked. Better would be to have a light.
That's the keyboard -- what about the mouse?
There are some great mouse pointers in the world, but their value is if you're a gamer or doing professional design work. For most people, you need a mouse to point and click. Beyond the two buttons, people may use the "scroll wheel" in the center. Other than that, buttons will add to the cost.
The bundled mouse is sold standalone as the Wireless 500. It's a very nice, comfortable size for most hands. What I particularly like is that it's ambidextrous. So, if you have a righty and lefty in the household, they both can use it. Or if your desk setup requires the mouse be on one side or the other, it will be convenient.
The buttons are simple and basic. Left-right clicks, forward-reverse buttons and a 4-way scroll wheel.
I did like one nice, non-basic feature of the mouse, Windows Flip. If you briefly press down on the scroll wheel, the Instant Viewer pops up (that's the Windows panel that shows your open programs), letting you select whatever open application you want to jump to. It's very convenient.
Scrolling with the mouse is good and very smooth. It took a little re-training to get used to line-by-line control, but you can adjust that (and any mouse-related command) with the Intellipoint software. Rubberized grips on the side add to the feeling of control.
(There's a Help file for the Intellipoint software, though I didn't find it fully helpful. It had instructions for all Microsoft models, which means information on features not available. It can get a little confusing. But it's not critical.)

When in Microsoft Word, you can use the mouse to zoom by holding down the Ctrl-key and spinning the scroll wheel. But I found that I had to spin it very fast, and had little control. Much easier was simply using the Magnifier buttons on the keyboard.
There is also an "accelerated scrolling option" where the faster you turn Scroll Wheel, the farther it will scroll. But I had trouble getting it to work.
My only real complaint with the mouse is that the only way to turn it off and save battery life is to stow the mini-transceiver under the mouse. But that requires constantly unplugging the transceiver from its USB port. As it stands, the mouse is rated for up to eight hours of battery life.
Okay, that's a lot of explanation for a keyboard and a mouse. But a keyboard especially is one of the most important peripherals for a writer.
There are higher-end keyboards out there in the world, and much higher-end mice. But I think for most people and especially most writers, a lot of this is overkill. What's critical is a good, solid, basic keyboard and convenient mouse where the bells-and-whistles don't get in the way of the important typing task at hand. If you do need those extras, by all means look for them. While I did have a few complaints with the Desktop 3000, none were problematic. Overall for a combination unit, I was generally impressed with the key quality, several surprisingly helpful Hot Keys and buttons, and a smooth - and (very importantly for my taste) ambidextrous - mouse, and all at a very reasonable price.


LG EV2350-SN
A monitor is another peripheral that you might not think of as Windows 7 related. But drivers can go out of date and not be supported, and most monitors come with software that adds usability features. Besides, monitors go bad, and as long as you're upgrading your home office, you might it's time to include a new monitor.
Monitors have improved drastically over the years, so it's possible to find a strong one in the lower price range. How low depends on the size. These days, widescreen are the standard, and the most popular tend to be from 21" to 23". But they go bigger, of course. Much of what you're looking for will be subjective, but brightness, crispness and resolution are features at the top of the list.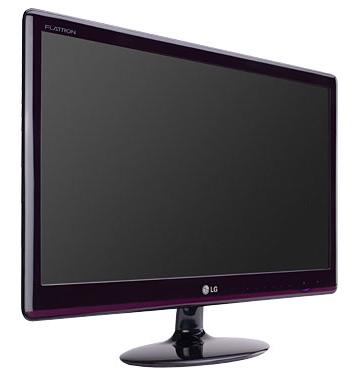 The LG EV2350-SN is an impressive monitor. It's a 23" backlit LED and has a top-end 1080p HD resolution. (This is also referred to as 1920x1080 -- the number of pixels in the display. The more pixels, the better resolution. And the higher the resolution, the more that can be displayed.)
The resolution is terrific on the EV2350 -- in fact, my personal taste is that for most usage, it's even higher than I prefer. At this highest resolution, images are small. That allows you to see more of the page you're writing -- or more of the website you're viewing -- run two copies of, say, Microsoft Word side-by-side. But I find myself squinting more at the small images. I chose to set the resolution lower, at 1280x720. Images and letters were "full-bodied," and I can still run Word side-by-side comfortably. If you ever want to watch a movie or TV at higher resolution, it's easy to switch, so it's good to have the option.
The response time is blistering fast, four milliseconds. (A baseline standard is around 12 milliseconds.) This is the time it takes to display moving images. In actuality, how fast pixels can change from black to white.
Another important standard to consider contrast, and the EV2350 has a seriously high 5,000,000-to-1 digital contrast ratio. This is most important when watching videos or if you use graphic-intense programs, so it really isn't an issue for writing. But given that people use their monitors for so much more than writing, it's worth attention. Additionally, with LG's LED Backlighting, colors are especially rich and vibrant.
LG also has a feature they call Auto Bright. This senses the ambient light and adjusts the monitor's brightness in a way that they say will reduce eye strain. It seems to work well. You can also, of course, manually adjust the light level. At full brightness, the monitor explodes across the room, and though it was too bright for my personal taste, I didn't get that "headache feel" that often results from over brightness. (In part, I imagine, due to Auto Bright.) I find 75-80% brightness quite comfortable, though obviously lighting conditions will differ.
Lighting conditions also impact glare, and here things tend to get personal. Some people prefer "shiny" screens which are especially vibrant, but also far more prone to glare. Me, I'm not a fan of that. I prefer a more "matted: surface, which is what the LG is. As a result, the anti-glare surface (which is still wonderfully rich, as previously noted) does a extremely good job keeping reflections to a minimum.
The monitor has very convenient and easy menus for adjusting settings, by touch-sensitive buttons in the monitor (rather than mechanical buttons). Touch a row of light-dots, and the menu pops ups. These dots then correspond to commands in the menu -- forward, back, up down. Though very easy, the only quibble is that it can leave finger prints. (So, you clean with a cloth; life isn't that hard.)
LG includes a software package, Easy Set, which adds a few tweaks for those who might be interested in such bonuses. Dual Web, which lets you run two monitors, and Cinema Mode.
Of the two, Cinema Mode is something more people would be likely to use. When viewing online videos, one normally has to choose between a good, crisp image that's small and has distracting web content pulling at your eyeline, or full screen mode that's picture only, but much grainier. Cinema Mode is for people who want to watch the highest quality picture, highlighting the video portion of the screen, while dimming the surrounding area.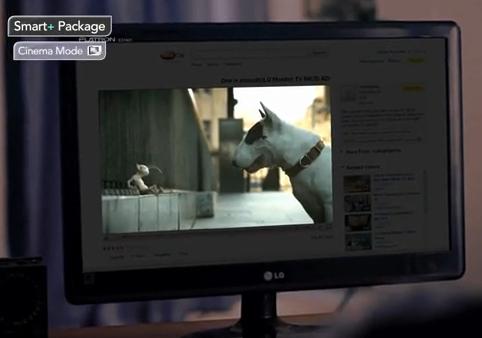 The monitor has an interesting two-way stand, that could be valuable for those who additionally want to run their laptop from a monitor. The EV2350 can separate from the bottom stand, and the its supporting arm is folded, and becomes the new stand, allowing you to place the monitor anywhere.
The monitor is Energy Star rated and therefore has low energy consumption. It's also very light and extremely thin, only 1.7 inches. At the time of writing, it sold for $270.
SUBSCRIBE TO & FOLLOW THE MORNING EMAIL
The Morning Email helps you start your workday with everything you need to know: breaking news, entertainment and a dash of fun. Learn more