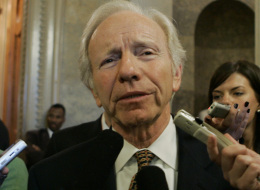 Just hours after the nominations for the 67th annual Golden Globe Awards were announced, Senator Joe Lieberman of Connecticut threatened to filibuster the ceremony should key concessions fail to be met.
"Unless Vince Vaughn gets a nod for his excellent work in Couples Retreat," said Lieberman, "I just cannot support the nominations. Sure, the American people love George Clooney and he was great in Up in the Air," continued Lieberman. "But if Vaughn is overlooked in the Best Actor category, I will have no choice but to filibuster."
Lieberman also voiced frustration in regard to the Best Performance by an Actress in a Television Series, Comedy or Musical category.
"Busy Philipps was snubbed," said Lieberman. "She is just stellar in 'Cougar Town.' Honestly, she steals the show from Courtney Cox."
It's not clear why Lieberman has chosen to filibuster the Golden Globes, since Congress traditionally has no authority or oversight in regard to the nominations. Still, Lieberman insists the ceremony will be spoiled for everyone.
"I'm going to grab the microphone from the host, Kanye style, if Vaughn's work is not acknowledged. I'll just read the phone book until everyone goes home," said Lieberman.