Let's face it, if your bank makes it hard for you to speak with a Customer Service Representative (CSR), it's because they don't really want to speak with you. The difference between some banks and bad plumbers is that instead of taking our business elsewhere, we lower our expectations and stay put. That's pretty dysfunctional.
So to help, we decided to measure how long it takes banks and credit unions to route us to a CSR. From March 3 to March 15, we called 75 banks, nine credit unions and five online banks each three times - in the morning, during lunch-time and at the end of the day. The result is "Time2Talk" (T2T) - the average time of these three phone calls. We learned that size matters (see Figures 1-1 and 1-2):
It took us 36 seconds longer to speak to CSRs at big banks. A lot of the time, you need to literally pound ('#') your way through banks' phone systems to get to a human. In fact, there are many examples where pressing zero won't get you to an operator (What?). But three big banks did a great job routing us to customer service: Fifth Third Bank (48 seconds), TD Bank (51 seconds) and Wells Fargo (1 minute 5 seconds).
Only 56% of big banks managed to route us to a CSR in under two minutes. Seventy-six percent of the rest of our list managed to achieve this reasonable expectation.
Twenty-nine percent of community banks and credit unions routed us to a CSR in under 30 seconds. No big banks did.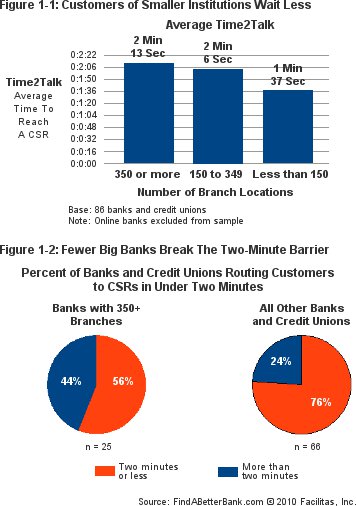 We've posted more detailed results and other information at Time2Talk.
Note: This is an analysis of our experience and your experiences may vary. We suggest you use T2T to help your decision process, but it shouldn't be your only criteria. For objective help finding a bank or credit union that suits you best, please visit FindABetterBank.
To keep track of the Move Your Money campaign, sign up for the newsletter here


SUBSCRIBE TO & FOLLOW THE MORNING EMAIL
The Morning Email helps you start your workday with everything you need to know: breaking news, entertainment and a dash of fun. Learn more