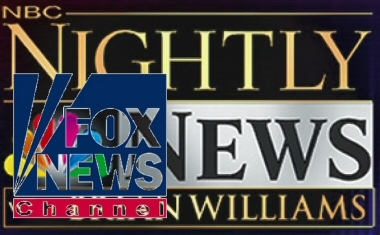 Tonight I watched NBC Nightly News with growing disbelief and anger. The first three minutes or so of the newscast were genuinely fair and balanced, focusing on the President's signing of the Health Reform bill and giving time to Republican critics.
Then, however, two minutes were given to what amounted to an advocacy piece for the Republican lawsuits charging that the bill is unconstitutional.
NBC's version of Fox News then really took over, with nearly three minutes devoted to a piece on critics' continuing fight against health care reform. Touring the offices of Republican senators, Kelly O'Donnell reported on all the outraged calls that were coming in.
"What are they mad about?" O'Donnell asked rhetorically. On the screen flashed: "Higher Taxes; Cuts to Medicare: Mandate for Health Insurance." Middle-class viewers were left with the impression that their taxes were going up and seniors with the impression that Medicare itself was being cut, both of which are false claims. NBC apparently didn't deem it necessary to inform its viewers of the facts, and just treated the charges and talking points as if they were true.
"People are sayin', 'What's happenin' to my country?'" South Carolina Republican Senator Jim DeMint declared. "They're not askin' for anything but their country back." John McCain then informed us of how angry "the people" are by legislation that will actually ease some of their worries about healthcare.
Next, NBC's piece went to the office of a Republican senator from Wyoming and reported that three out of four calls coming into to this office were against health care reform. Now there's news: Wyoming Republicans have Republican views!
Next, viewers were treated to two-and-a-half minutes about how "many Americans remain confused and angry" about the reform. This segment focused on a family in Oklahoma that "feels" "this isn't what the American people wanted." The piece concluded with the reporter saying, "For many beyond the Beltway, frustration and uncertainty as health care reform becomes law."
No mention was made of a new poll indicating that Americans now favor the health care reform by 49% to 40%.
After devoting half of the newscast to fueling the anger and frustration by treating the disinformation being disseminated by regressives as fact and offering no counters to it, NBC directed viewers to its website, where, they were told, fact would separated from fiction.
It would have been nice if they had done that in the newscast itself. As it was, NBC's presentation tonight was about as "fair and balanced" as what we get from Faux News.
We expect higher standards from NBC. Progressives -- and all believers in fair and accurate reporting -- should contact NBC News and make plain that the bias in tonight's newscast did not go unnoticed and we will expect that it not be repeated.
Historian Robert S. McElvaine is Elizabeth Chisholm Professor of Arts & Letters at Millsaps College. A 25th anniversary edition of his classic book, The Great Depression: America, 1929-1941, with a comprehensive new introduction comparing circumstances then and now, has just been published by Three Rivers Press, an imprint of the Crown Publishing Group.
SUBSCRIBE TO & FOLLOW THE MORNING EMAIL
Start your workday the right way with the news that matters most. Learn more